Britain's oldest golfer used to work on golf apparel.
Published: 30 December 2010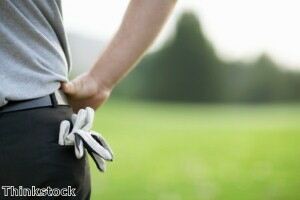 Britain's oldest golfer has revealed the work he used to undertake on
golf clothing
.
Speaking to the Daily Mail, Richie McKay of Ormskirk, Lancashire spoke about his job at the family business, the contract embroidery firm Lancaster Embroidery Company.
"We used to embroider garments for other companies. In fact we used to do work with golf clubs such as embroidering on their club logos to their clothing," he said.
Mr McKay went on to tell the publication that the firm has now been sold to a customer, since he did not want to continue running the company due to his age.
The World War II veteran, who was recently honoured by having a competition at the venue named after him, revealed that his regime consists of a diet of plain food and a few miles walking each day.
Despite playing at the local Ormskirk Golf Club for 44 years, Mr McKay still chooses to stroll round the course, although he does own an electric golf cart.
He may have made a good choice after the Herald Sun recently reported that Gold Coast Titans player Mat Rogers flipped his golf cart into a bunker.
© Copyright
News brought to you by Glenmuir, keep you looking and playing at your best.
See our collection for Golfing Kids
.