Golf news: The first hole-in-one has been registered at Donald Trump's new course.
Published: 13 July 2012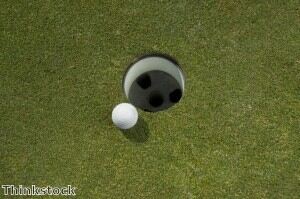 It did not take long for a big
golf news
story to break at Donald Trump's new Aberdeenshire course, as the venue's first hole-in-one was sunk the day after its opening.
Financial director Neale Stewart registered the ace on the 16th hole of the Trump International Golf Links - and was later given a handshake by the US tycoon by way of congratulations.
The Sun has shown a picture of Trump, wearing a red golf cap and black jacket, congratulating Mr Neale, who opted for a blue
golf shirt
and light trousers.
Mr Neale stated: "I'm thrilled. It was my first hole in one and that just added to the occasion. It's a stunning course."
The 49-year-old revealed he followed sporting tradition and bought everyone in the clubhouse a drink after achieving the feat.
Trump took the first shot on the course a day earlier, when he was joined by bagpipe players and golf professionals Colin Montgomerie and Paul Lawrie - who is supported by Glenmuir
golf clothing
- at the tee.
© Copyright
News brought to you by Glenmuir, first choice for an exceptional
golf gift
.
See our range of men's golf trousers.