Yani Tseng had a lot of fun when swapping her golf apparel for a style more associated with the catwalk.
Published: 04 August 2011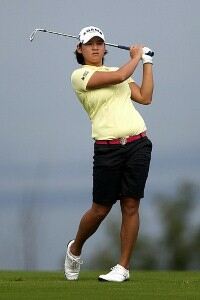 Women's golf star Yani Tseng swapped her
golf clothing
for a style more suited to the catwalk when she appeared at a high fashion event in Taipei.
The performer, who won the Women's British Open on July 31st, wore makeup and posed for photographs at the gathering, Focus Taiwan reports.
Tseng said she had lots of fun when trying out new styles and is looking forward to seeing pictures of herself trying on different outfits.
"I notice that a lot of female golfers wear makeup and I think maybe I can try something different and learn how to do that slowly," the 22-year-old added.
Tseng noted she is looking to show fans a more diverse style from now on, which means supporters may be spotting the star in other clothes apart from
golf apparel
going forward.
After her victory in the Women's British Open at Carnoustie, Tseng admitted she now sees pink - the colour shirt she wore as she lifted the trophy -
golf apparel
as her lucky charm.
© Copyright
News brought to you by Glenmuir, make you enjoy your golfing more.
Take a look at our high quality and fashionable golfing accessories