Charley Hoffman has gone under the golf fashion scrutiny of the Man in the Black Hat.
Published: 09 September 2010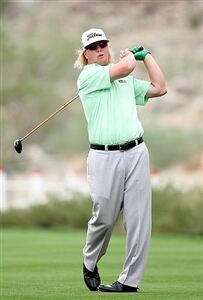 American golfer and Deutsche Bank Championship winner Charley Hoffman is the latest player to come under the scrutiny of PGA Tour
golf fashion
insider, the Man in the Black Hat.
When asked about his distinctive look, Hoffman claimed his long hair and unique
golf apparel
choices were all used to make him "stand out" from the average player.
"I guess golfers tend to sort of all look alike, and I try to stand out a little bit … to sort of showcase my personality," he said.
Hoffman's unique
golf clothing
tastes saw him take to the field in a host of green
golf apparel
at the Deutsche Bank Championship, incorporating a custom-made green belt into his outfit.
Golf fashion
star Rickie Fowler also received good news this week following an announcement from US Ryder Cup captain Corey Pavin, who revealed the young player as one of his wildcard picks for the upcoming event.
© Copyright
News brought to you by Glenmuir, delivering high quality
golf apparel
worldwide.
Keep dry this winter with Glenmuir men's Rainbloc golf waterproofs.