Daly's garish golf fashion raises a few eyebrows at the British Open practice.
Published: 17 July 2009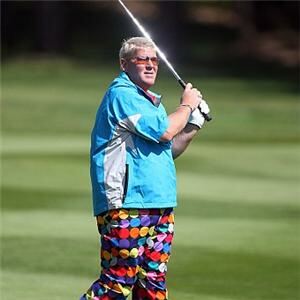 Golfer John Daly wore trousers to the British Open practice which could be described as "pushing the boundaries of good taste", a claim suggests.
According to the Associated Press, Daly wore striped
golf trousers
which were black, brown, pink, orange and beige - and were topped off with a pink belt.
Rachel Weingarten, a former make up artist to the stars and author of numerous books, tells the source that Daly's
golf fashion
choice was not a good look.
However, the source notes that what counts as good
golf apparel
could vary from player to player, with some people's garish being hip to someone else.
Writer Paul Newberry says that golf fans can see "snazzy"
golf apparel
all over the golf course.
He specifically mentions the
golf fashion
credentials of Ian Poulter, Darren Clarke and Sergio Garcia.
Ian Poulter is well known for his interesting
golf apparel
and often takes to the course in brightly coloured
golf trousers
.
© Copyright
News brought to you by Glenmuir, for fashion, style and performance.
Experience the neater athletic fit of our men's performance golf shirts
.