The crowd at the BMW PGA Championship at the Wentworth Club will have found it hard to miss British golfer Oliver Wilson, who sported a pair of bright blue golf trousers.
Published: 21 May 2010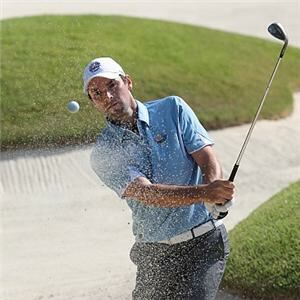 British golfer Oliver Wilson did not hold back with his
golf fashion
ensemble at the BMW PGA Championship this week, opting for a cheery sky-blue theme in his outfit.
The Englishman took to the field in sky-blue
golf trousers
and a white top with multicoloured stripes.
He teamed this bold combination with a chunky white belt and white cap, but his courage in
golf fashion
did not reflect his performance on the day, with Wilson failing to make it into the top 20 at the end of the second day at the Wentworth Club.
The player was not helped by scoring two double-bogeys during today's (May 21st) round.
This week, the Brit told the London Evening Standard he is looking forward to his first win on the European Tour and recognised that he cannot make mistakes if he is going to accomplish this feat.
"To be honest, I'm very happy with the way things are going for me. I feel like I'm getting closer all the time to where I want to be technically," he was quoted as saying.
© Copyright
News brought to you by Glenmuir, for fashion, style and performance.
See our range of men's golf trousers
.