The Open is poised to kick off and fans will no doubt already be wondering what golf fashion will be seen out on the links.
Published: 14 July 2010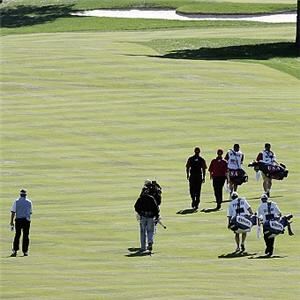 There are sure to be plenty of pros in
golf apparel
to be seen in one small area of Scotland this week, as The Open is poised to kick off.
Fans will have come from all around the world to see the contest take place at the Old Course, St Andrews, with some people sure to have one eye on the
golf fashion
on display as they march out to play.
It is likely that enthusiasts will get the chance to see plenty of
golf waterproofs
on show, since the weather is predicted to be very lively.
The BBC has predicted that there will be strong winds and heavy rain, which suggests we may not catch sight of too many of the players'
performance golf shirts
straight away.
Northern Irish youngster Rory McIlroy still seems full of confidence, despite the weather, saying: "Seeing [Graeme McDowell] win, it feels the right time for me to go out and play well and win one of these big events."
© Copyright
News brought to you by Glenmuir, add a touch of luxury to your game.
Complement your outfit with Glenmuir golf hats
.