Hollywood baby could be donning golf apparel and taking to the course.
Published: 21 October 2009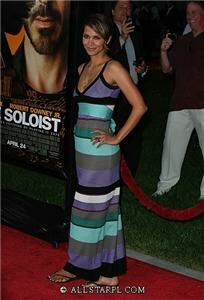 The young daughter of Hollywood actress Halle Berry and her partner Gabriel Aubry is learning to play golf, it has been reported.
Speaking to People magazine, Aubry said that one and a half-year-old Nahla has been playing golf in the backyard of the family home.
Such news could see the couple splashing out on
golf apparel
for the youngster if her interest in golf continues into her later years.
Aubry himself is well known for donning his
golf apparel
and taking to the course, the magazine said.
He revealed his daughter's new found interest in golf while speaking at the Maybach Golf Cup 2009 event in Pacific Palisades in California.
When asked whether he thought Nahla could eventually don
golf clothing
and compete professionally he said: "Well, let's just wait [and see]", the magazine said.
Hollywood actress Berry, who is 43, has starred in such films as Gothika and Catwoman and Nahla is her first child.
© Copyright
News brought to you by Glenmuir, ideal combination of comfort, style and performance.
See our collection for Golfing Kids
.