The golf apparel of Ian Poulter is one sight to keep a close eye on during tournaments, it has been suggested.
Published: 29 April 2009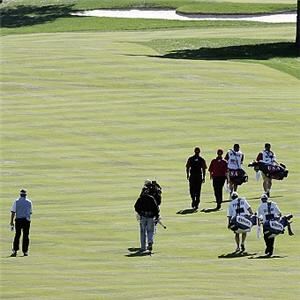 Ian Poulter's
golf clothing
is something that should not be missed by those watching the Quail Hollow Championship, it has been suggested.
Writing for the Charlotte Observer, Ron Green explains the player - who turned pro in 1995 - is often flamboyantly dressed and can be spotted from a mile away when he takes to the green.
The reporter notes that Poulter stands out from many other golfers.
"He has spiky hair and wears clothing that earned him notice in a British newspaper as 'Britain's golfing peacock'," he explains.
Those considering heading along to the tournament in person are advised to wear comfortable clothing in order to make sure they can enjoy the day without becoming restless.
"Do not wear high heels," the reporter recommends.
Other sights that should be looked out for include Camilo Villegas sizing up a putt as he often crouches so low that he has earned the nickname "Spiderman".
© Copyright
News brought to you by Glenmuir, make you enjoy your golfing more.
Complement your outfit with Glenmuir golf hats
.