Our Heritage

At the heart of the game of golf lies a Scottish brand name that is synonymous with quality in the golf and leisurewear market. Glenmuir has established a position as one of the most prestigious and successful golf and leisurewear brands. From Europe's Ryder Cup elite, to club members around the world, Glenmuir clothes golfers at all levels of the game. The company's passion for quality golf and leisurewear is as strong today as it was over a century ago in 1891 when it set up home in Lanark, in the beautiful surroundings of the Scottish Clyde Valley.
| | |
| --- | --- |
| | In 1891, local businessman Andrew MacDougall established a hosiery factory in the small village of Kirkfieldbank near Lanark, in the Clyde Valley. Legend has it that Mr. MacDougall's first work force initially consisted of five women, all called Mary. Mr. MacDougall was the inventor of a new power-driven machine that greatly simplified the design and manufacture of fancy golf hose. |
Before the turn of the century the company moved to a new factory on Delves Road in Lanark, which remains its headquarters to this day, and soon the premises were extended to accommodate the growing business. From its beginnings as a hosiery and knitwear factory, the company's Lanark site has developed over the years to provide a highly efficient club, corporate, and event embroidery programme, which has been hallmark of Glenmuir's success. Marketing and design, customer service and administration and, crucially, graphics and embroidery are all controlled under one roof, to maintain standards of quality and service.
In November 2009, an historic agreement between Glenmuir and Sunderland of Scotland meant Glenmuir became the official European distributor of Sunderland products. Founded in 1911 as a clothing company, Sunderland of Scotland began crafting golf apparel in 1932. In 1964 it became a pure golf brand started by P.T (Toby) Sunderland as a pre-eminent golf outerwear brand.

As a business founded by a golfing family who manufactured outerwear, Sunderland has a heritage of understanding the requirements of a garment to keep you dry in all the playing conditions that the Scottish weather can deliver. These needs are reflected in the design of all Sunderland garments. Selected over the years for Ryder Cup, Curtis Cup and Solheim Cup teams, Sunderland epitomises quality and playability, ensuring end users of lasting wear and reliability.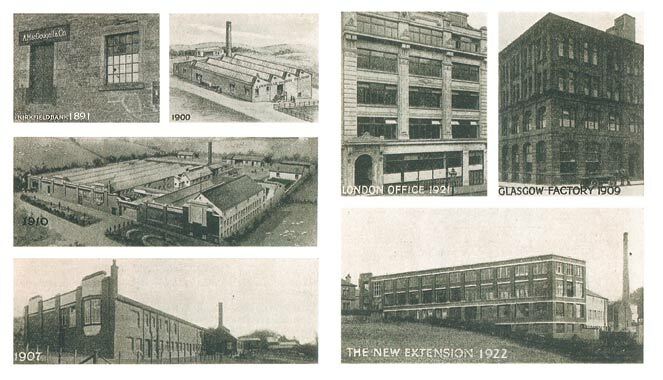 "'Tis not in mortals to command success, but we'll do more - we'll deserve it."