Glenmuir Unveils Its First-Ever Quilted Gilets
Published: 19 October 2011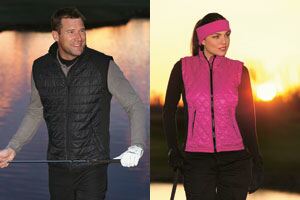 Glenmuir is capitalising on the rising popularity of Tour golfers' gilets with the launch of two new products for men and lady players - the Ossian and Poppy quilted gilets.
Stylish, fashionable and boasting Glenmuir's Storm Bloc® weatherproofing technology, the new gilets are lightweight but offer incredible warmth. Both garments feature a Teflon coated, 100% nylon ripstop outer which is both water and oil repellent.
The ripstop fabric uses a special reinforcing technique that makes the gilets resistant to tearing and ripping and is a technology used in many heavy-duty outdoor applications.
In Navy, Black and Lead colours, the '
Ossian'
for men is well-padded for superb insulation against the cold and wind and also includes stretch fleece shoulder and side panels for ease of movement during the swing.
Meanwhile, the '
Poppy
' for lady golfers features all the technology of the men's gilet and is available in Glamour/Black, Black and Satellite/Black options, all complementing Glenmuir's stunning Autumn/Winter 2011 colour palettes.
Launching Glenmuir's first-ever padded gilets, marketing director, Brian Mair, said: "Quilted gilets are growing in popularity and with the stretch panels the Ossian and Poppy work very well on the golf course when players are looking for that extra bit of warmth without having to wear restrictive clothing.
"Padded gilets have been extremely popular in the walking market for years, but their bulky nature prohibited their popularity in the golf market. But we've been able to keep the warmth-providing quilting and create a product designed for golf that is much lighter and less restrictive when moving."
The Glenmuir men's Ossian gilet (RRP £60) is available in sizes S-XXL, while the ladies Poppy (RRP £58) is available in sizes S-XL.
Based in Lanark, Scotland, Glenmuir's new Autumn Winter 2011 features more than 130 products for Men, Lady and Junior golfers in three all-new colour schemes; Aviator (blacks, browns, grey and creams); Titanium (blues, black, white, greys); Twilight (pink, blues, white, stone).
Main Product Details:
Ossian
: RRP £60: Colours – Navy, Lead, Black; Sizes S-XXL
Poppy
: RRP £58: Colours – Glamour/Black, Black, Satellite/Black; Sizes S-XL
Notes to Editors:
Glenmuir is a brand right at the heart of golf. Preferred Supplier to The European Ryder Cup Team for 23 years, Glenmuir enjoys partnerships with the PGAs of Europe, The PGA, The European Tour, The Open Championship, The English Golf Union, VisitScotland and EventScotland. Glenmuir is official clothing supplier to the Vivendi Seve Trophy.