Glenmuir Autumn/Winter – Performance Outerwear
Published: 01 February 2008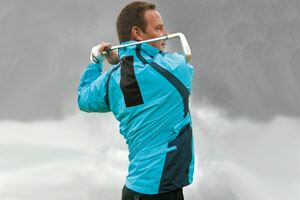 GLENMUIR BOOSTS PERFORMANCE OUTERWEAR RANGE FOR MEN AND LADY GOLFERS.
Glenmuir is providing outstanding choice from its renowned Performance Outerwear range this year – with a combination of 80 different designs and colours available for both Men and Ladies.
The waterproof market has been identified as a key area for growth by the Lanark, Scotland-based company and its 2008 range of jackets, trousers, wind shirts and fleeces uses a variety of fabric technologies to deliver superb weather-beating performance.
Fifteen different Men's and Ladies' jackets, trousers and wind shirts all feature the superb Glenmuir Rain Bloc ® waterproof system - a laminated microfibre fabric which uses a special inner membrane to allow moisture vapour created by the body to escape, but repels external wind and rain.
All nine wind shirts (six men's, three ladies') also boast a special Teflon coating, developed specially to combine with the lightweight performance fabrics and linings to ensure wind-proofing, shower resistance and stain repellency.

The Dry-Tech moisture-wicking fabric, which absorbs moisture from the body and allows it to evaporate through the outer layer at a rate 50% faster than cotton, has been used by Glenmuir in the Lismore men's fleece and Danby and Whitby ladies' fleeces.
"We are determined to give the golfer who is looking for top-quality outerwear a wide choice of products and also provide excellent customer service," said Andy Bough, Glenmuir Marketing Director.
"That's why our flagship waterproof jackets - the Ladies' Elie and Men's Inverurie - both carry a three-year guarantee."
Glenmuir is particularly looking to build on the success of the Inverurie. The jacket is packed with features including the Rain Bloc ® system, zip-off sleeves, stretch panels for freedom of movement, a high-neck storm collar, water repellent zip and side pockets, scorecard pocket and Velcro side tabs.
At the heart of the performance outerwear range upgrade is the introduction of several new colours from Glenmuir's three Spring/Summer '08 colour palettes – Freshwater (cool blues, white & khaki); Tropical (vibrant greens, fuschia & black); and Sunset Beach (cool yellow, deeper blues & white).
New Men's range highlights include:
Lismore fleece – two new colours (sand/black, light blue/black); Haslemere wind shirt – expanded to five colours, including new (light blue/black, kiwi/black);
New Ladies range highlights include:
Danby fleece – new colour (light blue); Whitby sleeveless Dry-Tech fleece – new colour (light blue); Forth sleeveless Rain Bloc ® wind shirt – new colours (light blue/white; citrus/black; navy/white; black/sand); Tallow draw cord wind shirt – new colours (light blue, citrus); Auckland half-sleeve wind shirt – new colours (light blue, citrus).

Glenmuir is a brand right at the heart of golf. A preferred supplier to the European Ryder Cup team for 20 years, it also has a close working relationship with the PGA, European Tour and is the official clothing supplier to the Golf Foundation.