Glenmuir Unveils Performance Sweaters For Spring/Summer 2010
Published: 18 January 2010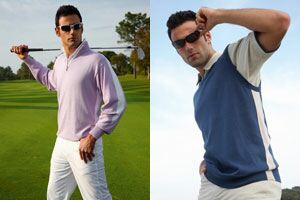 New Glenmuir performance sweaters
Glenmuir, one of Europe's leading golf apparel brands, has launched two new performance sweaters for the first time in 2010 as it builds on the success of its acclaimed
Men's Performance and Trend Collection
.
Made from a supersoft cotton, the '
Littlestone
' and '
Tandridge
' sweaters make ideal companions to the Lanark, Scotland-based company's renowned high performance golf shirts, which use the very latest technology to offer exceptional levels of comfort and moisture-wicking.
The long-sleeved '
Littlestone
' is manufactured from lightweight 2/32s cotton with a lockdown zip neck, contrast colour panels on the body and sleeves and Glenmuir 1891 embroidery on the sleeve.
Available in sizes S-XXL with an RRP of £53.50, the new sweater comes in six great colour combinations: Stone/Blue, Blue/Stone, White/Black, Lilac/White, Paradise/White and White/Paradise.
For fashion-conscious golfers who want a complete range of matching performance shirt, sweater and slipover – giving them total flexibility and co-ordination – the v-neck '
Tandridge
' slipover, comes in three colourways – Blue/Stone, Lilac/White and Paradise/White. It is also available in sizes S-XXL, with an RRP of £45.25.
Glenmuir Marketing Director, Brian Mair, says: "Glenmuir has a long-standing reputation in golf for providing exceptional knitwear and we have moved that expertise into the performance knitwear category for the first time with the '
Littlestone
' and '
Tandridge
'.
"One of the key ways to benefit from performance fabrics is through layering and the lightweight cotton used in these garments is the perfect complement to the Thermocool™, Coolmax®, Hi Cool® and Coolflex fabric technologies used in our performance shirts."
With 23 products spanning polo shirts, sweaters, fleeces, wind shirts and waterproofs, Glenmuir's Spring/Summer 2010
Men's Performance & Trend Collection
offers something for every golfer, in every weather situation.
'Smart fabrics' are at the heart of the new collection, where the thermo-buffering principle of the super-advanced ThermoCool™ system sits alongside CoolFlex HiCool® and CoolMax® technologies to give golfers the ultimate in performance golfwear.
Glenmuir has introduced three carefully-selected new contemporary colour palettes for the season – '
Blue Stone
' (three classic shades of blue combining with stone and white); '
Lilac Haze
' (vibrant raspberry and lilac infused with black, white and stone); and '
Paradise Mist
' (three cool greys mixing with paradise blue and white) – which feature across its entire range.
Notes to Editors:
Glenmuir is a brand right at the heart of golf. Preferred supplier to the European Ryder Cup team for 23 years, it is also lead vendor at Ryder Cup 2010. Glenmuir enjoys partnerships with the PGAs of Europe, The PGA, The European Tour, The Open Championship and The English Golf Union. Glenmuir is official clothing supplier to the Golf Foundation, Ryder Cup Wales 2010 and The Golf Union of Wales.