New Sunderland UV Shirts Launched
Published: 01 June 2012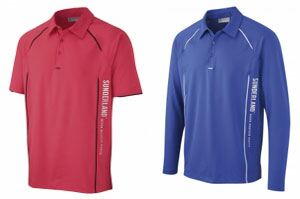 Sunderland of Scotland, the internationally-renowned golfwear brand, has launched a new range of stunning ultra-performance golf shirts for 2012.
The 'Arizona' benefits from the very latest developments in golf shirt design and fit and sport-technical fabric technology - the combination of Coolmax® Active and a high Lycra® elastane content keeping the golfer cool, dry and comfortable while delivering a contemporary fit and ease of movement.
In addition, and continuing Sunderland's groundbreaking commitment to skin safety, the shirts all boast UPF 40+ and give excellent sun protection, reducing the risk of sun-related skin damage and premature ageing.
Coolmax Active is one of the world's most advanced shirt fabrics and transports moisture away from the body and allows it to evaporate quickly. As the technology is fibre-based rather than added, the moisture management properties will never wash away providing a lifetime of incredible performance.
Over 30 minutes, Coolmax Active's fabric drying rate will allow over 90% of moisture to evaporate, compared to just 60% for treated polyester and 20% for cotton.
Golfers will also notice distinctive and eye-catching new Sunderland branding on the shirts.
The 'Sunderland Never Weather Beaten' slogan runs vertically in metallic print up and down front and back body panels, while contrast piping detail and the 'S' print logo on centre back collar are bang on-trend.
Launching the new UV Shirts Range, Sunderland marketing director, Brian Mair, said: "We believe these are the best looking shirts we've ever made.
"Add to this their incredible performance - not only in temperature and moisture control but also through the very high ultra violet protection - and it's clear to see why the Arizona should be an essential part of any golfer's wardrobe."

A long-sleeved version, the 'Sahara' is also available.
The Sunderland Arizona comes in sizes S-XXL and is available in six colours: White/Red, Black/Red, Empire/White, Royal/White, Soft Lime/Black and Geranium/Black, with an RRP of £50.

The Sunderland Sahara comes in sizes S-XXL and is available in four colours: Black, White, Empire and Royal, with an RRp of £55.
Notes to Editors:
Sunderland of Scotland was founded in 1911 and began making golf apparel in 1932. Selected over the years for Ryder Cup, Curtis Cup and Solheim Cup teams, Sunderland epitomises quality and playability, ensuring end users of lasting wear and reliability. European distribution of the Sunderland brand was taken over by Lanark-based Glenmuir, one of Europe's leading golf apparel companies, in January 2010.