Smart Fabrics Spearhead Glenmuir's New Men's Performance & Trend Collection
Published: 11 January 2010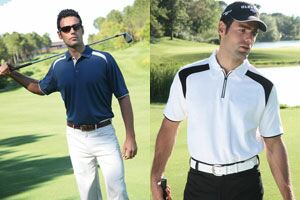 Glenmuir Spring/Summer 2010 – Men's Performance & Trend Collection
With 23 products spanning polo shirts, sweaters, fleeces, wind shirts and waterproofs, Glenmuir's new Spring/Summer 2010 Men's Performance & Trend Collection offers something for every golfer, in every weather situation.

'Smart fabrics' are at the heart of the new collection, where the thermo-buffering principle of the super-advanced ThermoCool™ system sits alongside CoolFlex® HiCool® and CoolMax® technologies to give golfers the ultimate in performance golfwear.

A highlight for 2010 is the introduction of three fantastic new shirts – Performance Curve, Hi-Cool Draw and Hi-Cool Fade – and two new sweaters, Littlestone and Tandridge.

Glenmuir has unveiled eight Performance Shirts in an ever-expanding category for the Scotland based company, spearheaded by the new Performance Curve polo using ThermoCool™ which consists of a unique blend of hollow and solid fibres that interact with the golfer.

When the user is hot and perspiring, the fabric allows evaporation, keeping the user cool and comfortable. When the user's body temperature drops, the fabric traps body heat and creates a barrier to external cooler temperatures, keeping the user warm and temperature-regulated – known as thermo-buffering.

Performance Curve is available in three contemporary colours with contrast body panels and placket trim.

For golfers looking for comfort and performance in a soft cotton/polyester mix, the new Hi-Cool Draw and Hi-Cool Fade shirts deliver outstanding moisture management in a stylish, modern package.

The Hi-Cool Draw is available in three colours, with seam detail and contrast colours at the cuff, zip and shoulders, while the Hi-Cool Fade features distinctive contrasting under-arm panels in a three-colour range.

All Glenmuir Men's Performance Shirts come in sizes S-XXL and in a neater athletic fit to enhance the performance of the shirts' fabrics.

For the first time, Glenmuir has introduced two complementary Supersoft Cotton Sweaters into the Men's Performance & Trend Collection for Spring/Summer 2010, which make an ideal companion to the shirts.

The long-sleeved Littlestone is manufactured from lightweight 2/32s cotton with a lockdown zip neck, contrast colour panels on the body and sleeves and Glenmuir 1891 embroidery on the sleeve.

This new sweater is available in six great colour combinations: Stone/Blue, Blue/Stone, White/Black, Lilac/White, Paradise/White and White/Paradise.

A v-neck slipover model, Tandridge, comes in three colourways – Blue/Stone, Lilac/White and Paradise/White.

Glenmuir Managing Director, Colin Mee, says: "The Men's Performance & Trend Collection is an all-encompassing range of products to suit any weather situation a golfer is likely to encounter – from a shirt to keep you cool on warm days to waterproofs designed to withstand the very worst of the British weather."

Glenmuir has introduced three carefully-selected new contemporary colour palettes for the season – 'Blue Stone' (three classic shades of blue combining with stone and white); 'Lilac Haze' (vibrant raspberry and lilac infused with black, white and stone); and 'Paradise Mist' (three cool greys mixing with paradise blue and white) – which feature across its entire range.



Glenmuir Men's Performance & Trend Collection updates

Finding co-ordinating outerwear in the Glenmuir Men's Performance & Trend range is now easier than ever as many products have been updated for Spring/Summer 2010 to incorporate the new colour palettes.

In the Rain Bloc® Waterproofs range, the zip-neck Rain Bloc® Stretch now comes in graphite/black, azure/navy and black/silver, while the Rain Bloc® Light jacket is available in black/garnet alongside silver/black, navy/azure and black/graphite.

The extra-flexible Rain Bloc® Pro and its half-sleeve Rain Bloc® Club cousin are available in garnet red, black, silver, azure and navy. All are complemented by the Rain Bloc® Drive waterproof trousers in black and navy and are backed by a three-year waterproof guarantee.

The popularity of Glenmuir's Storm Bloc® Windshirts sees the long-sleeve Storm Bloc® Pro adding a new Blue/Stone colourway to a total choice of seven designs, while the half-sleeve Storm Bloc® Club comes in Silver/graphite, Navy/ink, Black/graphite, Stone/black and new Blue/stone.
Notes to Editors:
Glenmuir is a brand right at the heart of golf. Preferred supplier to the European Ryder Cup team for 23 years, it also enjoys partnerships with the PGAs of Europe, The PGA, The European Tour, The Open Championship, and The English Golf Union. Glenmuir is official clothing supplier to the Golf Foundation, Ryder Cup Wales 2010, The SLGA, and The Golf Union of Wales.