Glenmuir Are #Rydercupready
25 September 2018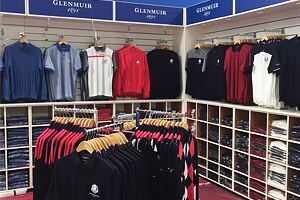 The collection will be showcased and available for sale at the Merchandise Pavilion at Le Golf National, Paris. Glenmuir have embarked on an Instagram campaign with #RyderCupReady on their account @glenmuir1891 to activate their retail experience.
Mikhel Ruia, Glenmuir's Managing Director commented, "Being part of this truly global sporting spectacle since 1987 is a great honour for Glenmuir. When the matches were played back in 2014 at Gleneagles we managed to sell out after the first match day and had to get replenishments in overnight on the Friday to ensure all spectators were able to enjoy the full retail merchandise experience. We very much hope to see the same success in Paris as well as a Team Europe win".
The Official 2018 Ryder Cup Range is available online at www.glenmuir.com and will be retailed in the West Merchandise Pavilion at Le Golf National Paris during practise and match days of The 2018 Ryder Cup.