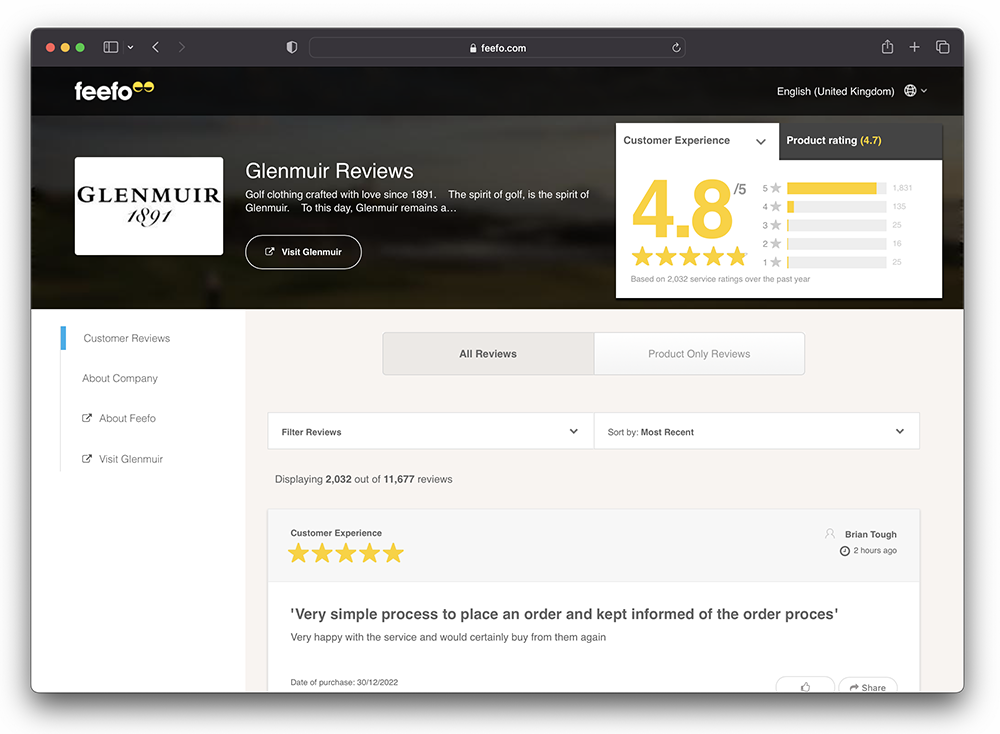 What our golfers say about us
You our customer, our golfing partner, are at the heart of everything we do. The feedback you provide, whether good or under par, will help us on our journey of crafting the world's most loved golf clothing which has been our purpose ever since our beginnings in 1891.
What is Feefo?
Feefo isn't your average reviews platform. It is an independent customer feedback platform that collects the real opinions of golfers, just like you. They contact our beloved customers after their Glenmuir purchase on our behalf to ensure that 100% of the reviews you see on our website are genuine and can be trusted.
FIVE STAR RATED SERVICE
Independent Feedback based on 1897 verified reviews.
Wednesday, 08 February 2023
Great choice and looking forward to wearing it on and off the golf course.
Wednesday, 08 February 2023
Straightforward quality service every time. Simple.
Tuesday, 07 February 2023
top quality trousers delivered very quickly indeed
From the easy to use website to the fantastic quality of my pullover.............It was a wonderful experience. I will be wearing it at the 2023 Ryder Cup.
Good quality clothes with very quick delivery at an affordable price.
Wednesday, 01 February 2023
Easy to order & use the website. Item arrived quickly, and fits perfectly. No excess packaging
Wednesday, 01 February 2023
Delighted with speed of delivery
Tuesday, 07 February 2023
have ordered many times from Glenmuir. Always satisfied with product. needed a replacement item for sweater for a friend who had stained his latest gift. called Glenmuir as the colour wanted was no longer available. customer service located one on sale and we were able to purchase and surprise our friend with a replacement sweater because he loved the colour so much. (Sorbet)
Tuesday, 07 February 2023
Delivery was unbelievable. Garment quality excellent. Thank you. Ian.
Wednesday, 01 February 2023
Speedy delivery and great customer service.
Thursday, 02 February 2023
Great service from start to finish. Great quality products, that look fantastic.
The top is lovely but a bit on the small size , I can't change it because it was in the sale and there wasn't a larger size.
Great price and super quality, love the environmental friendly packaging with a personal note
Everything great with ordering and delivery.