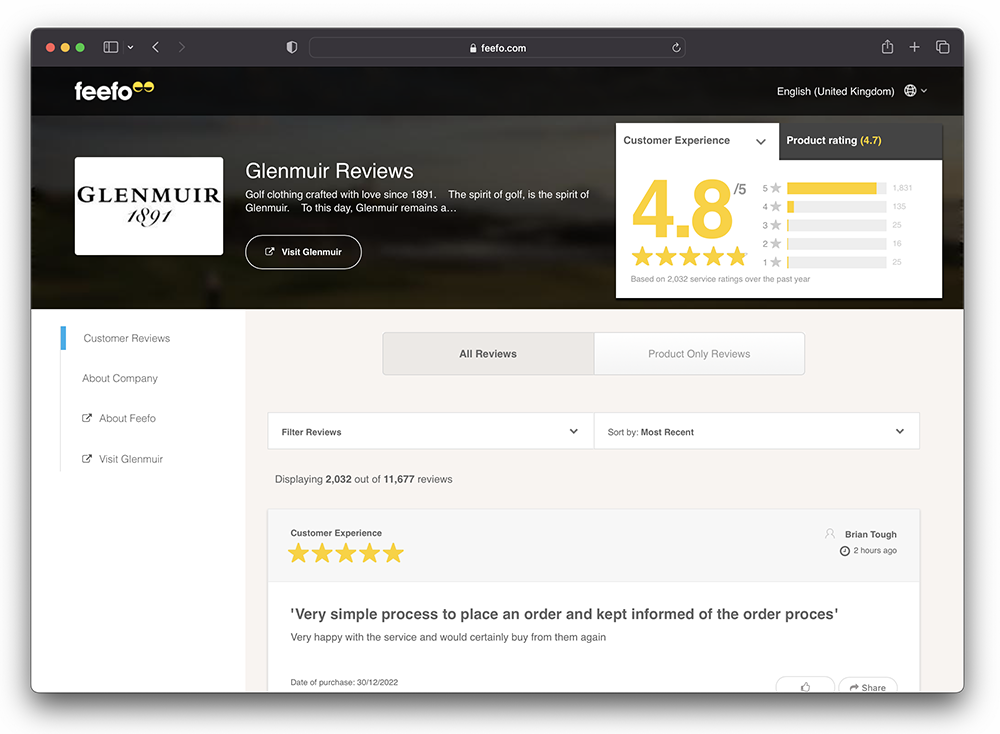 What our golfers say about us
You our customer, our golfing partner, are at the heart of everything we do. The feedback you provide, whether good or under par, will help us on our journey of crafting the world's most loved golf clothing which has been our purpose ever since our beginnings in 1891.
What is Feefo?
Feefo isn't your average reviews platform. It is an independent customer feedback platform that collects the real opinions of golfers, just like you. They contact our beloved customers after their Glenmuir purchase on our behalf to ensure that 100% of the reviews you see on our website are genuine and can be trusted.
FIVE STAR RATED SERVICE
Independent Feedback based on 1898 verified reviews.
I will certainly buying again at a later date and will recommend your clothing to my friends
Thursday, 26 January 2023
Poor PO wouldn't accept return label and customer service were unable to help
Laura Bell
, Glenmuir
27 January 2023 10:15
Thank you for your feedback. We are sorry to hear this and apologise for any inconvenience caused. We can advise that your return was successfully received and a refund was issued for the returned item.
Thursday, 26 January 2023
Good quality ,fast delivery & reasonably priced
Thursday, 26 January 2023
Easy to use service and rapid delivery of items ordered
Thursday, 26 January 2023
Great service, fast delivery. Would Recommend to everyone.
Thursday, 26 January 2023
Excellent communication and instructions for return.
Thursday, 26 January 2023
Website is brilliant, products are very good quality, checkout is easy and confirmation of products being delivered are excellent, always arrive on time and well packaged, will definitely be ordering again top quality products
Thursday, 26 January 2023
Came very quickly, very impressed with the service. Highly recommend
Thursday, 26 January 2023
Speed of delivery very good only issue is you say you iron the garments on dispatch but when arrived badly creased Regards Mr grieve
Wednesday, 25 January 2023
Some of the clothes I ordered were too big. They kept the smaller sizes for me. Sent back my purchases and had my clothes within 4days
Quick customer service contact regarding a personalization issue. Prompt product delivery.
ei puutteita. Katso alla olevaa.
Thursday, 26 January 2023
Extremely pleased with my purchases. Website easy to navigate and items as described and presented.
Thursday, 26 January 2023
Excellent service and products, had to change to a larger size all without fuss
Wednesday, 25 January 2023
Speedy delivery in good condition. Quality product which was good fit. Happy with purchase.