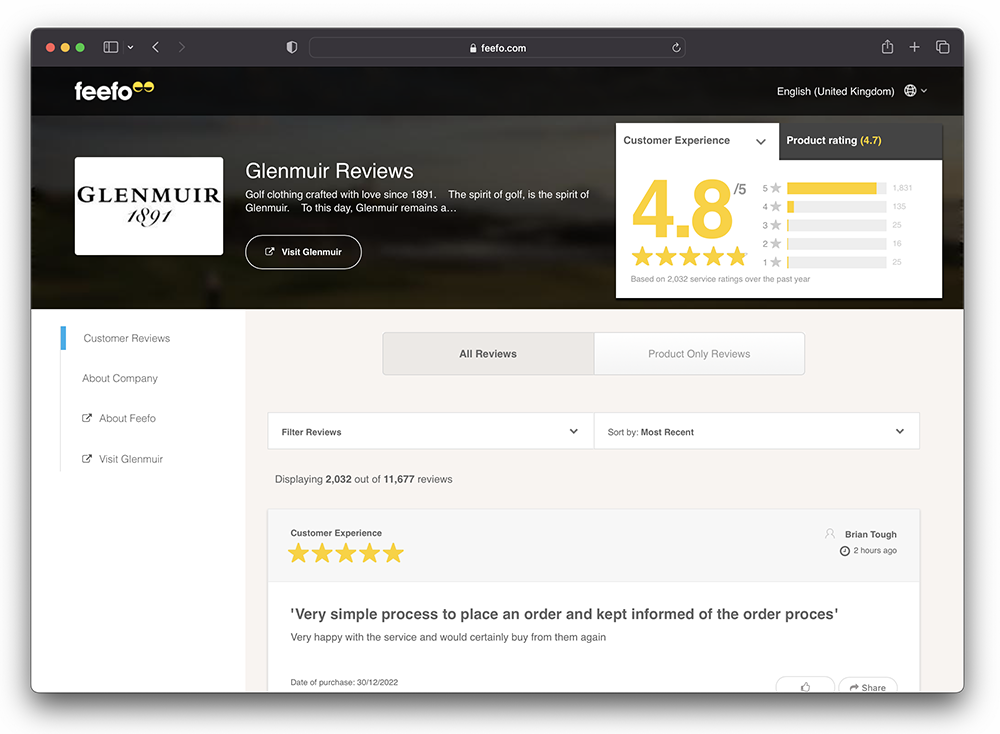 What our golfers say about us
You our customer, our golfing partner, are at the heart of everything we do. The feedback you provide, whether good or under par, will help us on our journey of crafting the world's most loved golf clothing which has been our purpose ever since our beginnings in 1891.
What is Feefo?
Feefo isn't your average reviews platform. It is an independent customer feedback platform that collects the real opinions of golfers, just like you. They contact our beloved customers after their Glenmuir purchase on our behalf to ensure that 100% of the reviews you see on our website are genuine and can be trusted.
FIVE STAR RATED SERVICE
Independent Feedback based on 1898 verified reviews.
Saturday, 14 January 2023
The method of shipping was not clear to me when I placed the order. They ship UPS and let the order go through with a post office box. UPS tossed it over my gate and it ended soaked by the time I found it.
Saturday, 14 January 2023
Online Shop is 4*, but shipment from UK to Europe is a nightmare. 12 days later: still waiting for delivery. Most probably the last purchase in UK
Informazioni fornite sul prodotto non completamente corrispondenti alla realtà (vestibilità).
Wednesday, 28 December 2022
Delivery service was inevitably much longer than normal. I did query things after a week but didn't receive a response to my email surprisingly
sent to wrong address lady on phone very helpful
Couldn't change an order Monday Morning that was ordered on a Saturday night!
Wednesday, 31 August 2022
Waited too long for a refund!! 4 weeks and counting.
I received a white sweater with a maroon cross - although the order was for a black sweater …hopefully y'all cover the return and replacement shipping
Laura Bell
, Glenmuir
18 July 2022 13:26
Thank you for your feedback. We have been in touch.
The top ordered was great, thank you. For the second order running though the free gift wasn't enclosed. Annoying!
Laura Bell
, Glenmuir
28 June 2022 13:54
Thank you for your feedback. We can advise that we have been in touch to discuss further.
I still haven't received my order, very disappointed. The glenmuir team were very prompt with their response however, without parcel tracking I have no idea when/if I will receive my items
Arrived quick but very disappointed with jumper itself
Laura Bell
, Glenmuir
01 June 2022 13:11
Thank you for your comments. We are sorry to hear this. You may return this item to us for a refund, so long as it is unworn, tags attached and in the original condition and packaging.
The service was fine but I did not realize that I had to pay shipment charges if I wished to return an item. I decided to try your product but did not find it satisfactory. However, for what it will cost to ship it back, I might as well keep the shirts. Now I know when I consider future purchases from your company.
Laura Bell
, Glenmuir
06 May 2022 07:49
Thank you for your feedback.
Purchased via Facebook ad. Site easy to navigate, checkout was quick and easy. Delivery prompt. Packaging was secured and undamaged upon arrival.
Laura Bell
, Glenmuir
25 April 2022 11:09
Thank you for your feedback on our service. We appreciate it.
Did not receive an email confirming the purchase. That would have helped.
Laura Bell
, Glenmuir
20 April 2022 13:47
Thank you for your feedback. Sometimes our confirmation emails are sent to your junk mail instead of your inbox. We advise to check both places for this email.