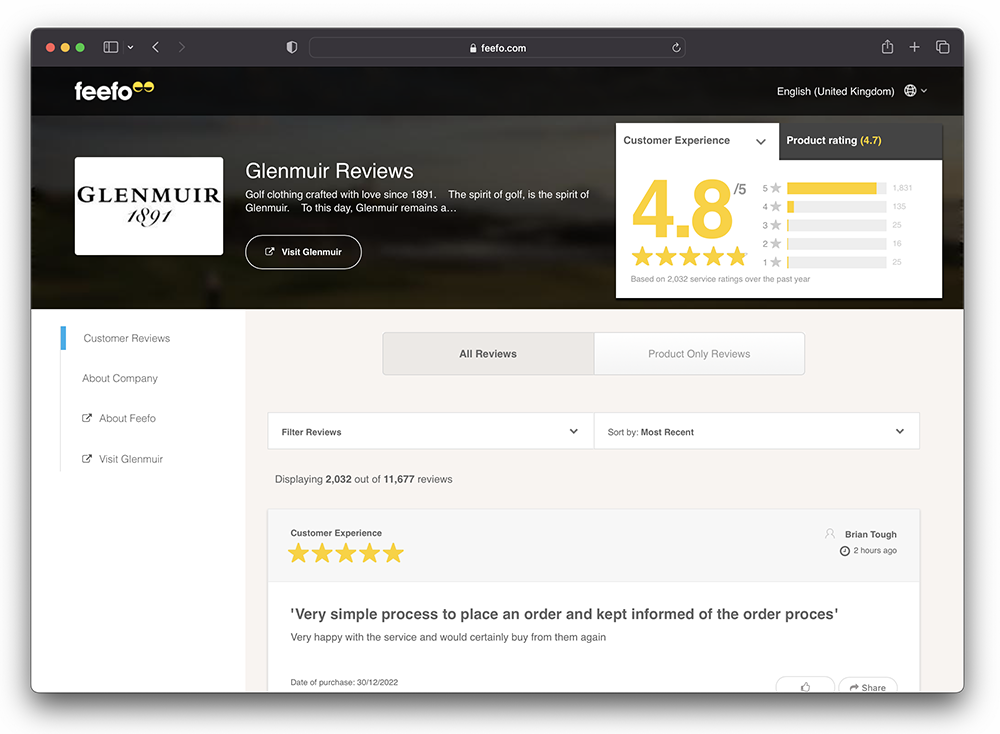 What our golfers say about us
You our customer, our golfing partner, are at the heart of everything we do. The feedback you provide, whether good or under par, will help us on our journey of crafting the world's most loved golf clothing which has been our purpose ever since our beginnings in 1891.
What is Feefo?
Feefo isn't your average reviews platform. It is an independent customer feedback platform that collects the real opinions of golfers, just like you. They contact our beloved customers after their Glenmuir purchase on our behalf to ensure that 100% of the reviews you see on our website are genuine and can be trusted.
FIVE STAR RATED SERVICE
Independent Feedback based on 1897 verified reviews.
The top is lovely but a bit on the small size , I can't change it because it was in the sale and there wasn't a larger size.
Wednesday, 25 January 2023
For years I have bought & worn Glenmuir golf tee shirts. Always good quality & comfortable. This year the tee shirts were a bit loose & had no logo on the sleeve.
I have had numerous Glenmuire clothing items over many years and have been very satisfied, my present item was received in very quick time and without any fuss. Thank you.
Laura Bell
, Glenmuir
01 February 2023 08:55
Thanks for your feedback, we are delighted you are happy with your Glenmuir purchase and our service.☺
Very good efficient delivery speed.
Was not expecting it to come early. I was fully informed during the location of my purchase. Thank you very much!
Delighted to buy the sweater I had been looking at in the sale. Very pleased! Last season's colour but lovely...wish it had still been available longer. One season is not long enough when wanting have attractive colours for team wear. Really disappointed to not be able to get it again this season for my teams. One for Glenmuir to think about for the future?
Thursday, 19 January 2023
Yes fast delivery, good fit
Wednesday, 11 January 2023
Very efficient ordering and despatch process and high quality clothing at a very good price.
Took a while to arrive but it was after Christmas and postal strikes may have been a factor. Jumper is quite heavy but nice and Glenmuir is always reliable on size and quality.
I would certainly buy from this company again. Because of a sizing matter, I had to return two gents shirts and reorder in another size. Returning the shirts was very easy and a refund received as expected. The replacements were a good fit and ideal quality.
Quick to order and delivered on time. Product is good quality and the personalisation is a nice feature.
Saturday, 07 January 2023
Personalisation did not happen
Garment received was faulty and under the returns policy, I was advised to return this and to order another one with the first order to be reimbursed. However, I was sent a replacement for the faulty item necessitating the need to send this one back. Therefore due to a faulty garment I have had to spend time to return two items at my local delivery office. The response to the faulty garment from Glenmuir was quick but a shame that they did not understand the returns policy.
Tuesday, 27 December 2022
Quick and efficient service, packaged well.
Thursday, 22 December 2022
item ordered was just what i wanted for my hubby, iftherei one critisism the embroidery was everso slightly puckered, only i would notice as my hubby says i have ocd haha