Who will take home the Ryder Cup trophy this year? (PA Images)

After being postponed in 2020 because of you know what – the Ryder Cup is finally back, beginning on Friday 24th September and finishing on Sunday 26th September.

As if you didn't know, every two years 24 of the best male players from Europe and the United States battle it out in this legendary match play format. The Team Europe Captain this year is Padraig Harrington with Martin Kaymer and Graeme McDowell as his Vice Captains, while Steve Stricker heads up Team USA, joined by Phil Mickelson and Fred Couples.

If you haven't managed to secure yourself a trip to Whistling Straits in Wisconsin, you can expect to enjoy all the action on Sky Sports Main Event and Sky Sports Golf here in the UK – naturally showing your support by watching in official Ryder Cup Clothing.

In the meantime as we ready ourselves for the end of the month, we look back at some moments in Ryder Cup history that helped make it the iconic sporting event it is today.

How it all started – 1920s
The Ryder Cup concept was thought up during the '20s when seed merchant Samuel Ryder would take his family to Weymouth, Dorset for holidays, Peter Fry reports in Golf Today. While his family enjoyed the beach, Ryder would set off each day for the golf course on Came Down, now known as Came Down Golf Club. He soon became a country member and couldn't help but notice the skill of the Whitcombe brothers of the club, Ernest, Charles and Reg.

As Ryder's eldest daughter Marjorie tells Fry, after he discovered the poor support given to British pros and the financial hardship they suffered – in stark contrast to counterparts in the US – he birthed the idea of a contest between the nations, so golf clubs here would pay attention and take more responsibility.

If you find yourself going to check out Came Down for yourself, don't forget to wrap up warm in our ladies' golf outerwear or men's golf outwear as the weather gets colder.

The first official match - 1927
The first formal match teed off in 1927 in Worcester Country Club, Worcester, Massachusetts. Only Walter Hagen, Bill Mehlorn and Al Watrous remained from the informal US squad that had previously competed at Wentworth, while the British team was still basically intact from 1926, except for Charles Whitcombe, who replaced his brother Ernie, and Ted Ray, who took over as Captain from Abe Mitchell.

The Brits embarked on a six-day journey only for the Americans to win nine matches, with only two defeats and one half. British Captain Ray later said: "One of the chief reasons for our failure was the superior putting of the American team. They holed out much better than we did."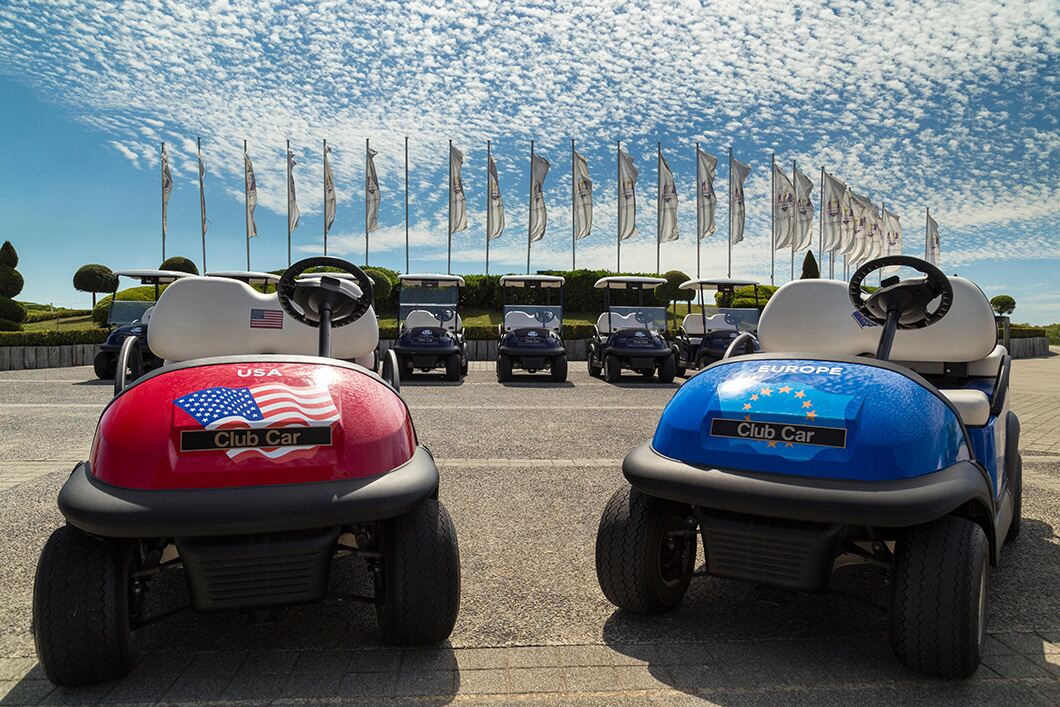 USA and Europe to go head-to-head in return of Ryder Cup (PA Images)

Birth of Team Europe – 1979
While this was the 23rd time the tournament was played, it was the first time the Great Britain and Ireland teams expanded to a whole Team Europe, including golfers from the continent (namely Seve Ballesteros and Antonio Garrido from Spain).

This brought the total number of points to be decided to 28, with eight foursomes, eight four-balls, and 12 singles. While it was thought the expansion of the team might help them to greater success, the US Team still won overall by a score of 17 to 11 points, leading after every session.

Europe's first win in US and Glenmuir's role - 1987
While Europe had bagged the prestigious trophy before, this was the first win on American soil – at Murfield Village Golf Club, Dublin, Ohio. It's believed a meeting between Europe Captain Tony Jacklin, PGA European Tour Executive Director Ken Schofield, the Tour's chief administrators and the European Team – in which they spent hours discussing problems experienced on Tour – cleared the air, rid them of stress and helped pave the way for the famous win.

This was also a special year for Glenmuir, as the first time the European Ryder Cup Team first began wearing Glenmuir Golf Shirts – right up to the 2014 Ryder Cup Matches in Scotland on the PGA Centenary Course at Gleneagles. Glenmuir has had the honour of designing and supplying shirts and knitwear for successive European Ryder Cup Teams. In 1987, the European Team wore Glenmuir Moffat Polo Shirts and our Culzeen Cashmere Sweaters, made in Scotland.

'War on the shore' – 1991
This was the year Ryder Cup gamesmanship truly came to the fore. A mass of high-quality golfers played on the shores of Kiawah Island, South Carolina, including Dave Stockton who captained Team USA, Bernard Gallacher who captained Europe, and 11 of 24 players who have since been inducted into the World Golf Hall of Fame. This certainly made for an interesting game.

Controversies derived from US' Steve Pate getting caught up in a car crash, Americans allegedly switching balls when playing Seve Ballesteros and Jose Maria Olazabal, Seve's very loud and apparently annoying cough, and much more. After a very tense tournament, America was victorious, winning back the Ryder Cup on the 18th hole of the final match. You couldn't script it.