US golf trips are back again

Monday (8th Nov) marks the return of travel to the USA for fully vaccinated Brits. What better way to celebrate returning to American fairways than with a rundown of the finest courses in the States?

Cypress Point, California
You might struggle to book a tee time at this exclusive course, but no list of the greatest golf venues in the USA would be complete without featuring Cypress Point. Perched on the foothills of the Santa Lucia mountains, the greatest water hazard here is the Pacific Ocean, so you might need a light windproof layer to stop the sea air from affecting your game.

If you're the well-connected type and happen to have one of the 250 club members in your phone book, you might be lucky enough to play on 'the greatest 17 holes in the world'. The Californian course receives some harsh criticism for its unusually short 18th, but we think a lot of golfers just don't want their round here to end.

Pebble Beach Golf Links, California
If you don't have friends in high enough places to visit Cypress Point, you might want to try nearby Pebble Beach. Once described as "possibly the best in the world" by Jack Nicklaus, The Golden Bear added: "If I had only one more round to play, I would choose to play at Pebble Beach. I loved this course from the first time I saw it."

Although the Golden State venue isn't as exclusive as its neighbours, it certainly isn't cheap. Green fees start at $575 (roughly £420) and expect to pay another $45 (£32) per person cart fee if you're not staying at one of the impressive on-site resorts. But where else will you get the chance to recreate Nicklaus's iconic shot and hit the flagpole on the 17th?

Pine Valley, New Jersey
A prime example of a golden-age golf course, Pine Valley presents one of the most demanding 18 holes in the world. No matter what your handicap, course architecture from the greats will have you second-guessing your approach at every turn. You should come prepared for the microclimate here, too. The Pine Barrens are notoriously colder than the rest of New Jersey, so you might need to invest in some thermal wear, particularly at this time of year.

Times are changing at this prestigious club as it recently decided to allow female members and unrestricted women's play for the first time in its 108-year history. Club president Jim Davis admitted: "I have been thinking about this for a long time and, frankly, it's overdue." Well said too.

Shinnecock Hills, New York
Shinnecok Hills is a must-visit if you're a fan of courses with history. One of the five founding members of the USGA (United States Golf Association), the carefully thought-out 18 holes have hosted the US Open across three centuries. Shinnecock is also home to one of the first purpose-built clubhouses in the world. The white-columned building sits proudly at the club's highest point, overlooking the 300-acre course.

Despite the beautiful facilities and incredible views of Peconic Bay, the course itself is the highlight of the show. The beautifully manicured fairways and greens are reminiscent of links courses in the UK and offer an exciting challenge throughout for the average golfer. A course not to be missed if you're visiting the East Coast.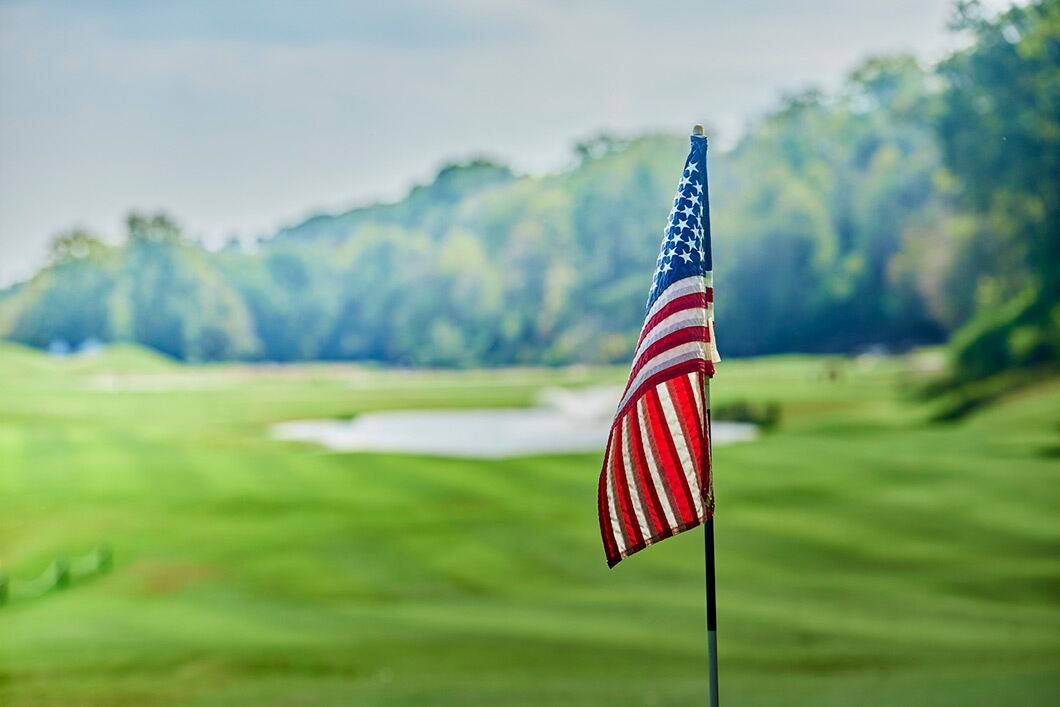 The flower-lined green at Augusta's 12th hole (image: golf.com)

Augusta National, Georgia
The home of the Masters may feel like a venue that we all know and love, but no other course on our list has gone through quite so many changes in recent times. The extension of the par-4 fifth in 2018 and more recent changes on the par-5 13th, have all been designed with a challenging round in mind. Meanwhile, ponds have been added to holes 11 and 16 to create a Championship course that continues to surprise those lucky enough to book a tee time.

Green blazers might be desirable in this neck of the woods but you're better off packing something a little bit cooler for your round of golf. Georgia enjoys long summers and conditions can turn muggy, so you'll need to bring a breathable layer to ensure you stay comfortable. Wick, our moisture-wicking midlayer keeps your arms protected from the sun and your top-half cool so you can concentrate on your next shot.