Tom Lehman surveys a shot - PA Images



THE GOOD
Team Europe - 1985
Sometimes, less is more. The red V-neck jumper worn by Team Europe in 1985 looked effortlessly stylish and helped our boys win the competition for the first time since 1957. We think it bears a striking resemblance to our Ryder Cup V Neck Sweater, which is always a good thing.

Some will say Sam Torrance's deft putting was the key, others might suggest the scarlet uniforms played an important role. There have been plenty of studies showing that the colour red gives sport stars a psychological edge. We'll leave you to test that theory while we reminisce over Torrance lofting Tony Jacklin onto his shoulders on the roof of The Belfry.

Team USA - 2006
Golf without argyle feels like Tiger Woods without his Sunday red, and Team USA incorporated the classic diamond motif in their uniforms worn at the K Club in 2006. Tiger took to the Irish course in his quintessential style, sporting a sweater vest alongside playing partner Jim Furyk.

Despite the classic aesthetic it wasn't a vintage year for the pair as Team Europe won the competition 18½ to 9½ points, equalling their record winning margin of two years earlier. Maybe they needed a pair of lucky golf socks to match.

THE BAD
Team USA - 2010
Back in 2010, Team USA's waterproof gear somehow managed to fail in both the fashion and function department. Resembling a basketball team's warm-up tracksuit, the dark blue uniforms featured stripes around the arms and left leg. The look was completed with the patriotic 'USA' print slapped across the back.

Worst of all, the waterproofs didn't prove to be, well, waterproof. Team USA ended up spending £4,000 at Celtic Manor's club shop on new gear. Team captain Corey Pavin said: "We were disappointed with the performance and, you know, we just fixed it." Should have come to us Corey, our waterproof layers definitely wouldn't have dampened your opening day spirits.

Team Great Britain & Ireland - 1973
Before the formation of Team Europe in 1979, and perhaps the influence of our stylish continental friends, Team Great Britain & Ireland took to Muirfield, Scotland in typical 1970s style. Think garish patterned shirts with huge collars, bright orange flares and a bizarre jacket with contrast lapels - imagine a Butlins red coat but beige. Jack Burke Junior's team from across the pond ended up the victors, winning by 19 points to 13. We wonder what Bernard Hunt would have made of our more modern shirt designs.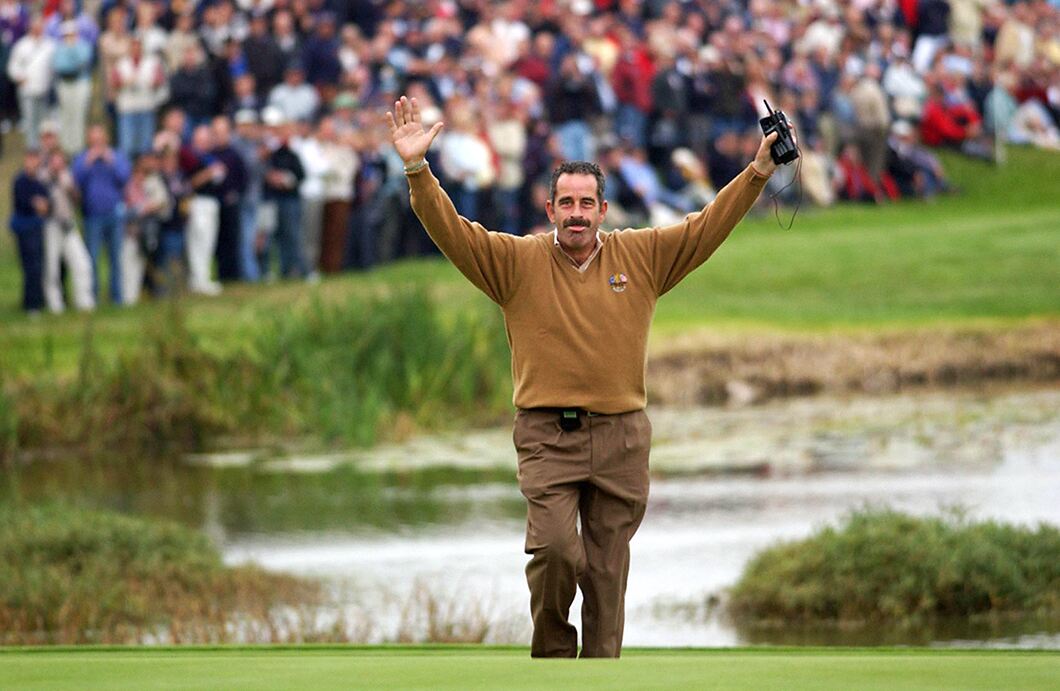 Ryder Cup captain Sam Torrance raises his arms on the 18th green at the Belfry

THE UGLY
Team USA - 1999
It's not often that a polo shirt resembles a photo-filled hallway, well until 1999, when Team USA sported an outfit that would make the perfect camouflage in a stately home. Imagine an assortment of picture frames filled with images of past Ryder Cup winners and you're halfway there, did we mention that the finished item appeared in a fetching shade of maroon? Extra ugly points have to go to Payne Stewart who decided to tuck his brown trousers into mid-calf socks and completed the look with spectator shoes and a maroon flat cap.

Team Europe - 2002
There's something about a brown on brown ensemble that fails to catch the eye, for the right reasons at least. Team Europe's mud-coloured outfit didn't hinder their performance as they lifted the cup following a 15½ to 12½ point win.

Action at the Brabazon Course at The Belfry, was postponed for a year in the wake of the 9/11 atrocity. Curtis Strange captured the spirit of the time when he reflected on the result: "There's certainly more to a Ryder Cup than winning or losing, and in the aftermath of 9/11 this was especially the case because it became bigger than just a 'win' or 'loss'." The US captain added: "People got it. They knew the matches were played with such etiquette, respect and sportsmanship."