Perfect your swing with views of the Port of Singapore. Image credit: allsquaregolf.com/

Join us for a trip to the world's most unforgettable courses without the need to quarantine on your return.

For more information on international travel including the latest colour-coded lists please see gov.uk's advice. From here, you can also find details for different countries' own entry requirements too.

The Serapong - Sentosa Golf Club, Singapore
If we had to pick just one course at Sentosa we'd skip New Tanjong and head for The Serapong. The home of the revitalised Singapore Open underwent a $12 million makeover in 2006, expanding its greens and adding enhanced bunkers to boost its championship credentials. Clever course design means that each hole presents a new challenge. Meanwhile, the layout and contours of the fairways reward the most daring golfers. There's no such thing as an average game at this extraordinary course overlooking the Port of Singapore.

Adamstal - The Championship Course, Austria
If playing a round of golf is as much about enjoying the great outdoors as lowering your handicap, a trip to the Adamstal may be in order. There are two courses at this luxury resort on the eastern edge of the Alps: the nine-hole 'Course Wallerbach' and the showstopping 'Championship Course'. At the latter, each of the 18 holes have been given their own name, such as the 'Bärenschlucht' or 'Bear Ravine' where a wild bear left its paw prints on a newly laid green back in 1998. The weather can change pretty quickly in Austria, so be sure to pack some golf outerwear just in case of light showers.

Royal Melbourne - The West, Australia
There's little debate over the best golf course in Australia and that's largely down to its world-renowned architect, Dr Alister Mackenzie. Unfortunately, the Scottish visionary didn't live to see his drawings come to life in 1931 but golf fans today needn't worry about seeing this masterpiece in the flesh. The club prides itself on its friendly, welcoming and inclusive experience for members and guests alike. So booking a tee time should be a straightforward process.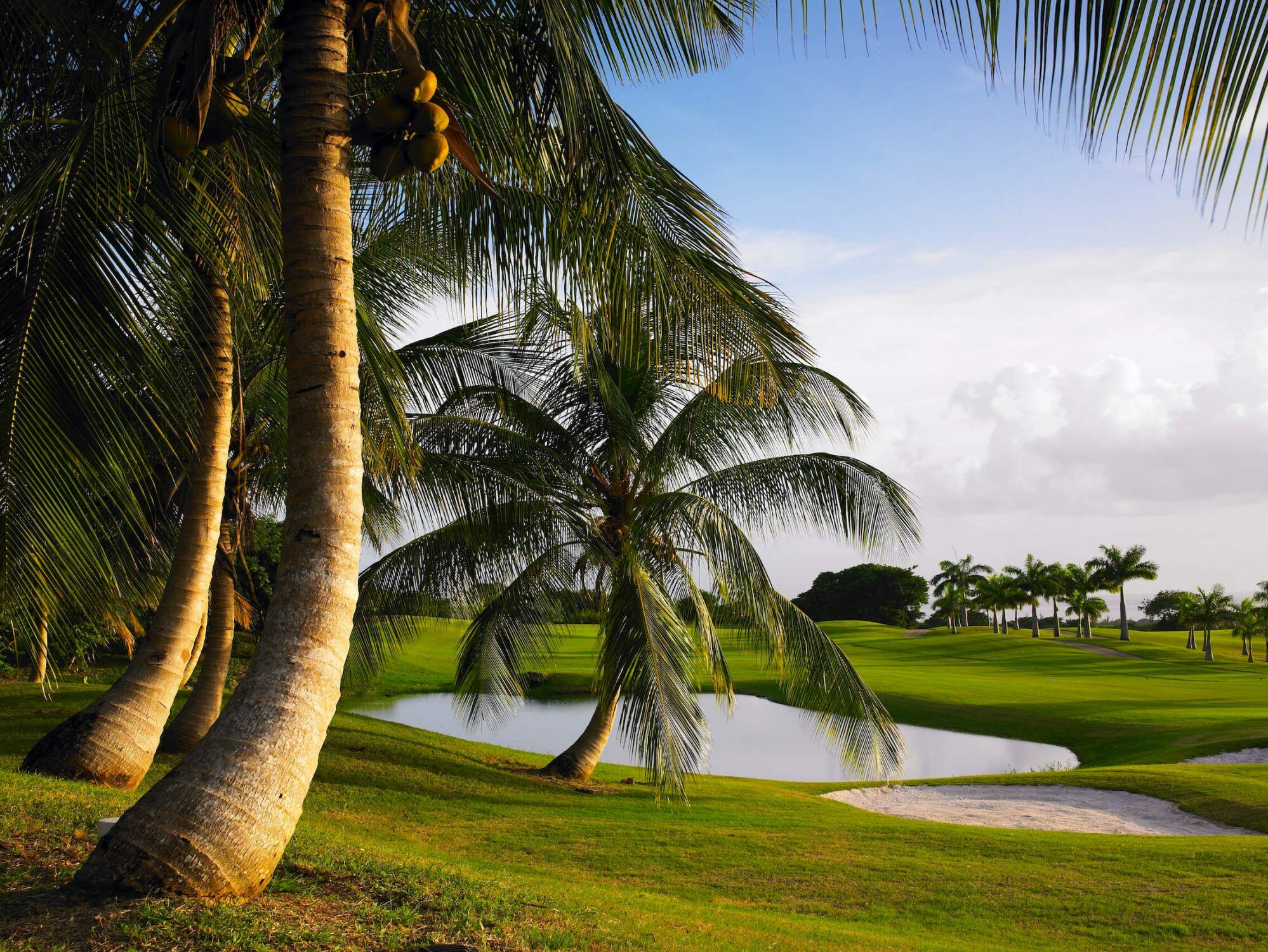 Work on your handicap in the shade of palm trees. Image credit: royalwestmoreland.com

Royal Westmoreland, Barbados
It may be at risk of moving from green to amber but if you can arrange a trip to Barbados, we'd recommend booking a tee time at Royal Westmoreland. From the moment you enter the grand estate and see its beautiful colonial homes it's clear that luxury is the order of the day. As far as golf's concerned, the 18-hole course is home to one of the best collections of par threes anywhere, each said to be more difficult than the last. A round at Royal Westmoreland promises plenty of elevation changes and variety in playing direction for an enjoyable game full of surprises. If you do manage to make it out there, with temperatures currently at 30 degress, be sure to pack your golf shorts and golf cap!

Falkenstein Golf Club, Germany
The Hamburg Golf Club can be found just six short miles from Hamburg city centre. The golfing oasis feels completely removed from the second-largest city in Germany thanks to its tree-lined fairways and clever course design. Littered with dog-leg holes, the course favours daring, well-placed shots and makes the most of its natural surroundings to provide a firm and fast playing surface. Unusually, because of the expense of adding natural-looking water features in the 1930s, the course features no water hazards at all but that doesn't take away from the exciting challenge on offer.

The Jockey Club - North Course, Hong Kong
Hong Kong might not be everyone's first choice for a golfing holiday but the Jockey Club should be on every golfer's bucket list, especially the par 72 North Course. At just 6,719 yards long, a round here is easily covered by foot and with its panoramic views of the Kowloon Hills, you'll probably look for any excuse to take more time at the tees. The most picturesque hole of them all is the 14th. Just as challenging as it is spectacular, you'll need to approach the green carefully as it's surrounded by the ocean in three directions. Just try not to let the scenery distract you. Hong Kong is one of the most humid places in the world, so be sure to pack enough performance golf shirts to keep you cool.

Lofoten Links, Norway
At only 23 years old, the course at Lofoten doesn't win any prizes for its rich heritage but a visit to this remote corner of Norway is a must. The island of Gimsøya is situated 68 degrees north of the equator and its rugged fairways are illuminated by 24 hours of sunshine during the summer months. With tee times available all night long, you could be chipping and putting in the middle of the Scandinavian wilderness in the wee hours. Beware, in the evenings it can get down to 10 degrees at this time of the year so be sure to take some golf midlayers to keep the chill off.

Tara Iti Golf Club, New Zealand
If you're looking for a luxury golf break in the southern hemisphere look no further. Tara Iti is situated on the north island of New Zealand, and offers high-end lodges with unforgettable views of the surrounding Mokohinau and Tauranga islands. Booking your tee time will take some forward planning as non-members are only given a one-time opportunity to play the course. You can enjoy as many rounds as you like while staying at the resort but you only get one shot at booking a room. This place is designed with its members in mind who are pleased to pay a premium to return to one of the best 18-hole courses in the world.

Please note: green listed countries are correct as of 26th Aug 2021.