Danny Willett goes black on green after his Master win. Martin Rickett/PA Wire
Many sports have strange trophies - from the tiny urn holding the Ashes to the silver Calcutta Cup, made from melted rupees.

And golf is no exception. In fact, it probably has some of the strangest awards going. The Chevron World Challenge has some unique options, while the LPGA Safeway International offers a Mexican-style bowl.

But only two competitions come to mind that offer clothing as a reward - the Tour de France's yellow jersey and the Masters' Green Jacket.

The history of the Green Jacket

While the Masters competition has been around in one form or another since 1934, it wasn't until 1949 that they officially started using the Green Jacket as a sign of victory.

Until then, it was worn by club members to distinguish themselves from other guests. Winning the Masters came with the added benefit of becoming one of these members and, by default, you'd receive a jacket. But it was the 1949 win by Sam Snead when it was decided to present the jacket as part of the prize.

Not only did Snead receive the jacket, but it was also retroactively 'awarded' to each former winner.

These days, as it has been for many years, the winner is presented with their new jacket in the Butler Cabin. This ceremony is for members and guests only, but a second ceremony is held outside by the 18th green in front of the fans.

As with all members, the jackets are kept on site except for the first year after their victory in which the winner can take it home. But the jacket must not be worn outside of club grounds. Also, if you were lucky enough to win more than once, you don't actually get more jackets.

While it was Snead who was officially awarded the first jacket, Horton Smith, who won the first Augusta National Invitational in 1934, also received his jacket retroactively. This jacket sold in auction for $682,229 in 2013 – thought to be the highest price ever paid for golf memorabilia.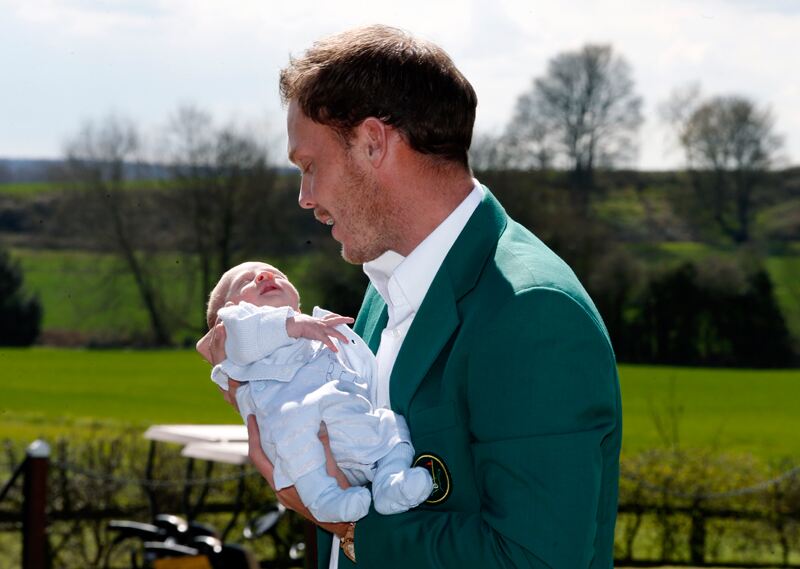 Willett opts for a classic white shirt as he poses with his new son. Peter Byrne/PA Wire

How to wear it

You'll have probably noticed in various photos that the jacket doesn't quite fit right. It's claimed Jack Nicklaus described his jacket as looking "like an overcoat" after his victory in 1963. This is because the green jacket worn during the awards ceremony is only a temporary one with measurements guessed from looks alone.

Afterwards, a tailored version is provided. Unless of course you're Jack Nicklaus who wore New York governor Tom Dewey's jacket from his first victory in 1963 through to 1998, when he was finally fit for his own.

As for how to match your style with the jacket, it's tough on the first day as you'll be wearing whatever you played in. It might be a little presumptuous to match your outfit to the winners' jacket before you've actually won – even if Danny Willett was wearing a green polo shirt on the final day of his Masters win.

In fact, Willett managed the difficult job of finding an outfit to go with the dark green blazer. His pale green polo shirt and white trousers looked great as he picked up his trophy.

When you're in the clubhouse afterwards, we suggest going for all whites or dark charcoal or black. Ditch the polo shirt in favour of a smarter shirt. A tie is compulsory but veer from going green on green – go darker than the jacket.

As the jacket has brass buttons, unless you're going all black, we suggest a brown leather belt and brown shoes.