Table of Contents
Royal Dornoch - one of Scotland's finest natural links golf courses
Often referred to as golf in its purest form, links golf is as unique as it gets. That's why the oldest major championship in golf, The Open, is played on a true links course every year.
If you don't know what links golf is, the following article will dive deep into the history of links golf courses and explain why you need to get yourself to the coast and experience golf in its truest form.
A links golf course is typically found either on a coast, or very near one. They can only be described as artistically painted and crafted into the landscape that Mother Nature provided.
In contrast, modern golf course architects will design the course they want to build - rather than the course that suits the terrain. This is why modern course design is very artificial with man-made bunkers and water hazards.
Links courses are found in areas where the land is incredibly undulating, sandy underfoot, and surrounded by dunes. Not to forget other characteristics such as extreme winds, the sound of seagulls, and the taste of salt in the air!
Notably, these conditions make it extremely difficult for tree growth and therefore links tracks are home to more native grasses and sand dunes. However, despite the lack of trees, this doesn't make them any easier, as links courses have Mother Nature and her strong winds to defend them!

If you've ever watched The Open Championship, you might have heard the term "wrong side of the draw" thrown about. This refers to the golfers who found themselves, unfortunately, starting their round of golf when the wind and rain were strongest. Naturally, this makes their round of golf considerably more difficult compared to the golfers who teed off at other times.
Links golf adds an additional layer of complexity because of the surrounding weather conditions when playing, meaning that players might need to invest in either men's waterproofs or women's waterproofs.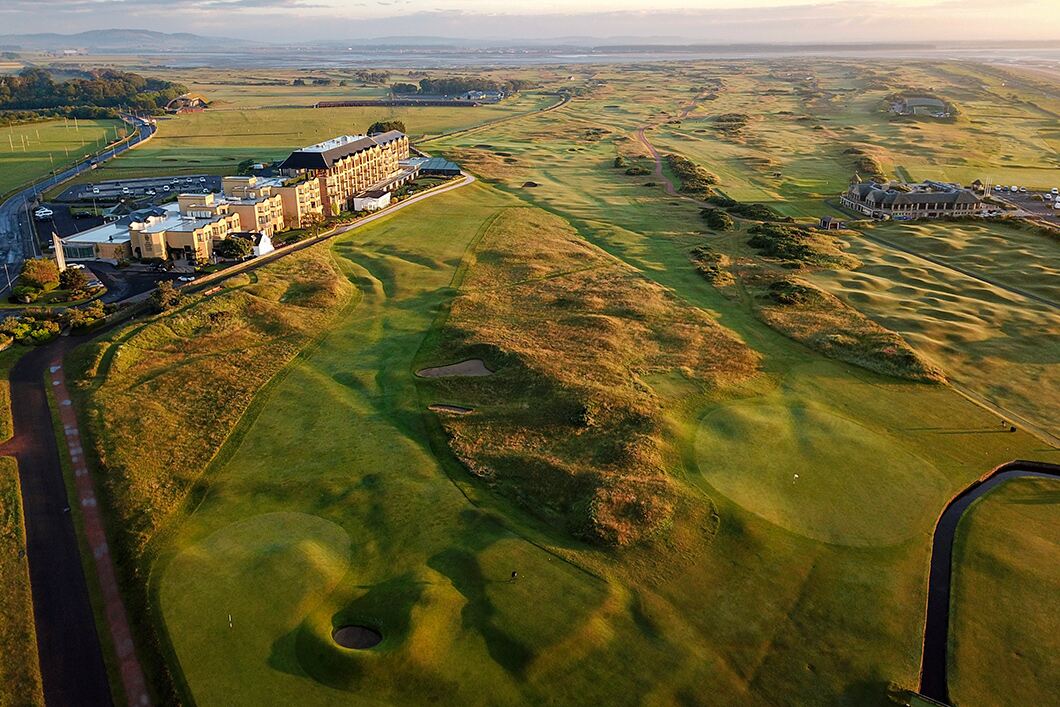 The Old Course at St Andrews - The Home of Golf
What is considered a Links Course?
There are three types of golf courses in the world: parkland courses, desert courses and links. Each has unique characteristics which set them apart from one another. A course can only be considered a "true links course" when it is open, protected by strong winds, and near a coast.
Traditional Links Course
Traditional true links golf courses are built on the coast. These include notable tracks such as Pebble Beach Golf Links, St Andrews, North Berwick, Royal Troon, Western Gailes, Royal St George's, Bandon Dunes Golf Resort, and many others.

Modern Links Style
Modern links are built to have characteristics of true links, like pot bunkers and few trees. However, they are not located near a coast, nor do they have the strong winds, the smell of salt, or the sound of seagulls! An example of a modern links course would be St Ives, in Cambridge.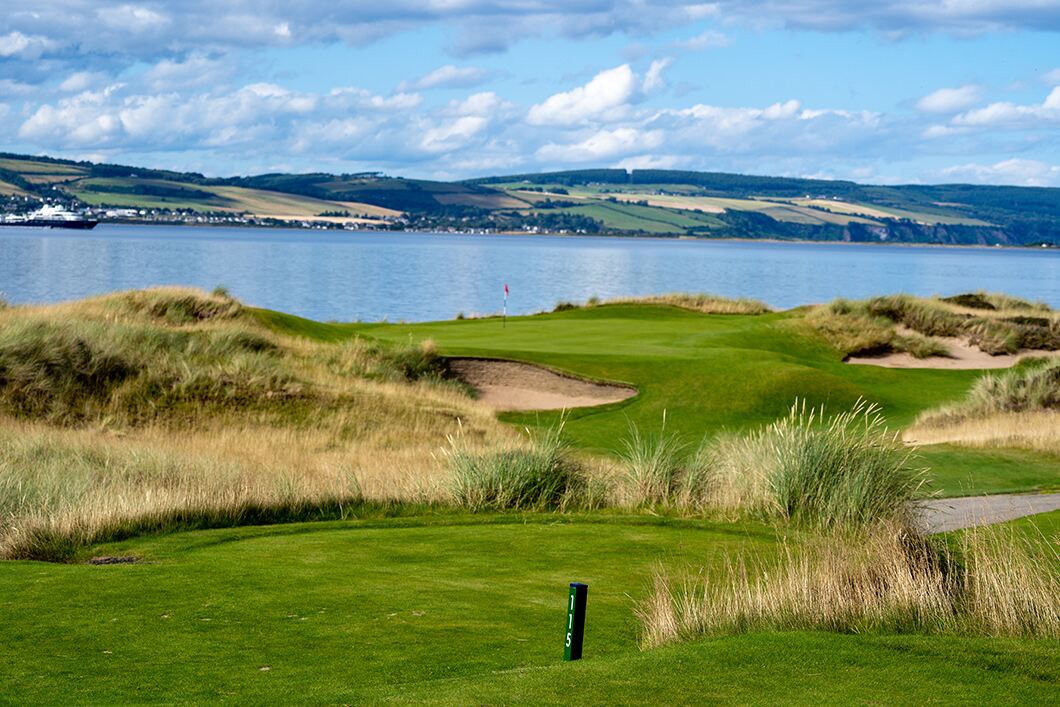 Castle Stuart - one of Scotland's modern links golf courses

Golf is such a fun and beautiful game, however not an easy one, and this couldn't be more true than when you are playing on links golf courses!
Playing links golf requires a completely different style of play compared to when playing either parkland or desert courses. The strong winds require golfers to flight their ball lower and use all the apron areas - it is extremely difficult to stop a ball on a green when there's a 30mph tailwind!
Playing on true links courses requires you to carefully consider which club to use before taking a swing. For example, if you're 150 yards away from the green on either a parkland or desert course, you may only have to hit a 7 iron. On the other hand, on a links-style golf course, one day 150 yards downwind could be a 9 iron then later on the same day be a 4 iron into the wind!

Golf originated on the northeastern coast of Scotland. St Andrews is regarded as the home of golf and, without a doubt, our top recommendation when referring golfers to a true links golf course.
However, although St Andrews will always have a place in our hearts due to its history, the course itself isn't regarded as the best links-style course out there.
There are many true links golf clubs across the country. A links golf club will be found near the coast, so you will never be far from one living in the UK!
The main reason links are so special is undoubtedly their history. It goes without saying that the experience of stepping foot on the sandy ground, with the sound of the birds chirping and the taste of the salt from the sea in the air, is unique.
However, knowing you're playing a golf course that is flooded with history and walking along the same fairways that some of the game's greats have walked is a pretty special feeling.


Some of the best golf courses in the world are links and can be found right here in the UK. Here are a few noteworthy courses on sandy soil:
The Old Course at St Andrews
Pebble Beach Golf Club
Royal Troon Golf Club
Royal Birkdale
Royal St George's
Playing on links will, without a doubt, be one of the most fun rounds of golf you will ever have. Links-style courses require a unique approach and the coastal location along with the natural terrain make for some of the most memorable experiences for all golf fans, no matter their ability.
The way course designers shape golf holes into the terrain just makes playing links a completely different experience to inland courses.
Naturally, different courses will require different types of golf clothing, so make sure to checkout our ranges of both
men's golf clothing
and
women's golf clothing
.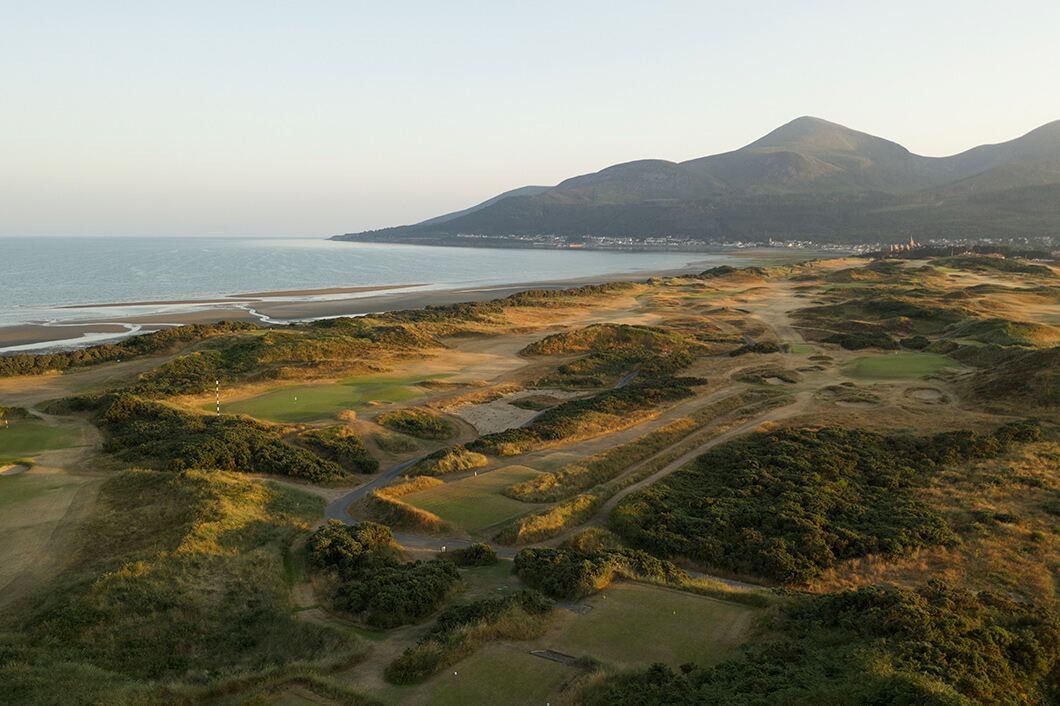 Royal County Down Ireland's top links golf course
What is the difference between a standard golf course and a Links?
Links are played by the coast, where the land is bare, fairways are wide, and the wind is extreme. Standard courses are more protected, narrower, and sheltered from the wind and have artificial hazards.
Are there many Links golf courses in the UK?
Yes! 211 out of the 247
true links courses
in the world can be found in the British Isles.
Is 'Links' slang for golf course?
No, it's a particular style of golf course not often seen in PGA tour events.