5 of the best island holes to play
Published on 21 May 2020
Join us as we take a look at holes surrounded by scenic water hazards.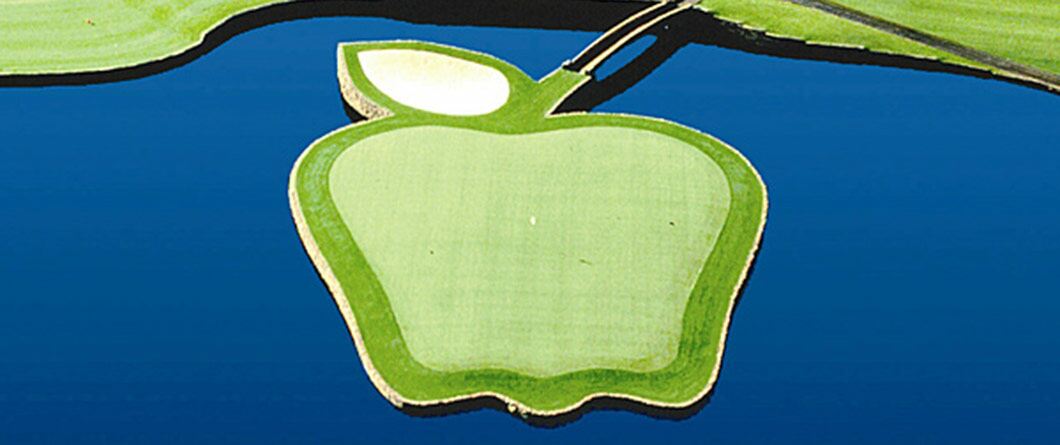 Image source: swingbyswing.com


If you're looking for escapism, surely the best golfing getaways are found on an island green - read on for five of the best...
Apple Tree Resort, Yakima, Washington, USA – Hole 17

The Apple Tree Resort takes its name from the 100-year-old orchards that were once found on the site near Seattle. The course marks its fruity roots like no other with an apple-shaped island at hole 17 complete with a leaf shaped bunker. Reaching the par three green is a breeze thanks to the 50 foot stem-shaped walkway. There's no excuse to miss out on one of your 18 a day here...
Coeur d'Alene Resort, Idaho, USA – Hole 14

Possibly the only green in the world that must be accessed by boat. The six-passenger "putter" carries golfers to the man-made conifer-covered island as they attempt to find the hole 150 yards from the lakeshore. If you navigate the floating bunkers and red geraniums to hit a par three, you'll find a certificate waiting on deck as you soak up the scenic Lake Coeur d'Alene.
TPC Sawgrass, Florida – Hole 17
Hole 17 at TPC Sawgrass is probably the most controversial on our list, just ask Tiger Woods. The world's most famous golfer believes the green shouldn't feature as one of the finishing holes for the Players Championship as too much is left to chance. Florida's famous par three hole is part of the first true "Stadium Course", designed to improve the fan experience at golf's "fifth major".
Image credit: fourseasons.com

Four Seasons Punta Mita, Mexico, USA – Hole 3B

The "Tail of the Whale", is the world's only natural island green, an alternate hole that features alongside 18 others designed by Jack Nicklaus. Golfers have the option of walking the sandy path exposed by the Pacific at low tide, or taking an amphibious cart to sink their par three shot off the west coast of Mexico. The unique experience is made even more special with views of the impressive Sierra Madre Mountains throughout.
PGA West Stadium Course, Palm Springs, Calif. – Hole 17

Pete Dye, the brains behind hole 17 at TPC Sawgrass, took the risk of replicating his island hole after encouragement from his colleagues. The par three hole is 30 yards larger than the original and dubbed "Alcatraz", as it's framed by rocks like the well-known prison. If you're keen to avoid the surrounding water hazard you could always try your luck on any of the other five courses found at the resort.