5 things to consider when choosing the perfect golf bag
Keep up with advances in golf bag technology without neglecting your needs. Read our 5 things to consider before purchasing the perfect bag.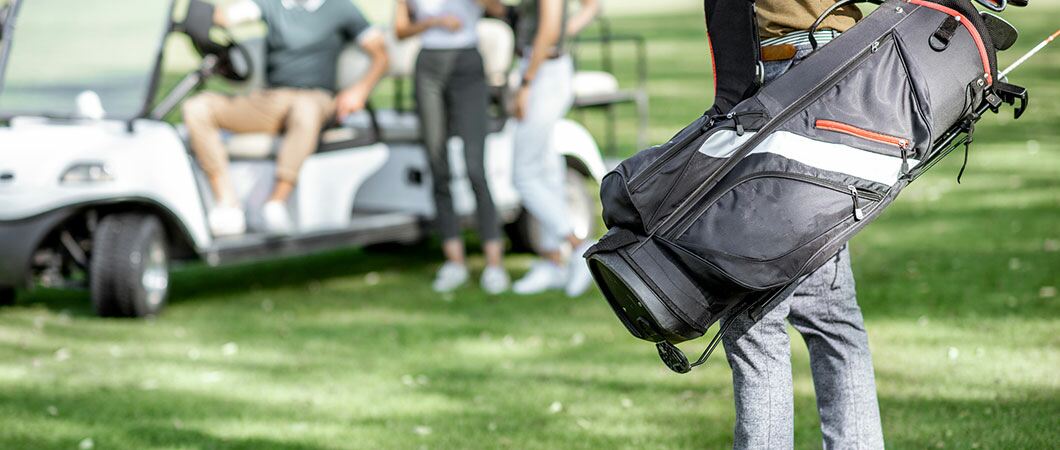 Can my bag carry a few drinks? Do dividers matter? How well can I protect my belongings from poor weather? We ponder the questions you should be asking before your next bag purchase and highlight the answers on the market.

1. How often will you carry your bag?
Many of us don't have the luxury of a caddy to hold our bags, but you could use a cart or buggy to take the strain of your clubs. If you prefer the pro-active approach and carrying everything yourself, it's important to consider the weight and straps you'll be using. Many stand bags come with backpack style double straps to distribute weight evenly and come in lighter than staff or tour bags. For an even lighter alternative, Sunday bags are a safe bet.

2. How important are dividers and keeping my clubs safe?
Your precious clubs deserve protecting. Top-end golf bags come with dividers for 14 clubs that run the length of the interior and are lined with plush fabrics to ensure your woods and irons stay in top nick. You might not see the need for individual dividers: with clubs designed to repeatedly hit solid balls, there's a school of thought they're designed to take a few knocks. It's always better to decide on the number of dividers you want before buying a bag, to save paying for ill-fitted extras.

3. Does the bag carry the extras I like to take on the golf course?
Whether it's improving your game with rangefinders, keeping track of your ball with permanent markers or simply enjoying your round with a refreshing drink, the modern golfer carries far more than a few tees and irons. Manufacturers have answered these needs by providing easy-access phone pockets, cooler compartments for drinks and rangefinder pouches. Don't forget your tech (and comfort), and look for the bags that help you get the most out of your game.





4. Is the bag suitable for poor weather conditions?
We've all made room in the diary to play a few rounds, looked at the weather only to find that conditions won't be ideal. If you don't have the luxury of rescheduling, you'll need gear that's up to the task of playing in wet weather. Bags across the range, from staff to Sunday, feature waterproof seams and space for light rain jackets. Keep an eye out for these if you tend to play while it's pouring.

5. How much do I value ease of access?
Your putter is probably your most used club. Putter holders, or external putter wells, offer the convenience of keeping your trusty club away from the rest of the bunch and can be found on many modern bags. If you want to access everything with your bag on the back of a buggy, cart bags are the perfect solution. For those that always prefer their bag by their side, stand bags and their retractable legs keep your clubs upright and at the perfect height to pull from dividers.