5 ways to beat the showers on the golf course
Published on 13 October 2017
A sudden shower can ruin your day when you're out on the course. Luckily, our round-up of the best ways to shower-proof your game is here to help the next time you're caught out…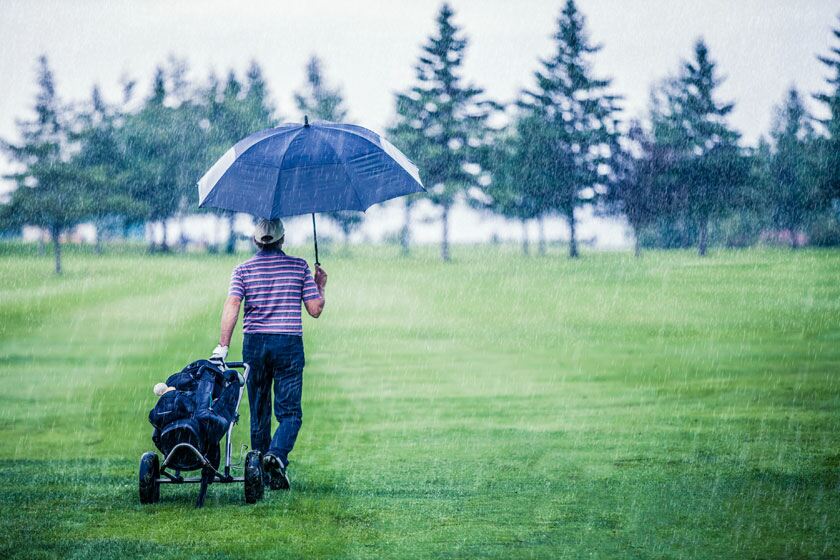 We all know British weather can be unpredictable, so it pays to be prepared in case of a shower. Even the hardiest of golfers need a little help in the rain. Thanks to modern technology, there's now a myriad of products to help you waterproof your game, from lightweight jackets to hard-wearing shoes.

Read on to find out 5 ways to beat the showers when you're out on the golf course…

1. Invest in a good-quality waterproof jacket
It's an obvious one, but a waterproof jacket like Sunderland Waterproofs, which uses Teflon water repellent fabric, can provide valuable protection from the rain. Look for a lightweight jacket with windproof material for extra comfort.

2. Try a golfing umbrella
Umbrellas aren't much use when you're mid-swing, but they are handy when you're walking between holes. Some specialist umbrellas feature hidden spikes in the base of the handle – they'll prop up on the ground and provide shelter for your clubs while you're playing a hole. Look for strong shaft materials like fibreglass, which will give the umbrella extra stability when it's standing up, too.

3. Add a poncho for easy cover
Ever been caught out in the rain with nothing but a light jacket and a cap to keep you dry? We've all been there, but on sunny days when you don't want to carry round a coat and umbrella, it pays to have a backup in case of a sudden weather change.

It might not be the most glamorous, but a fold-up poncho is a great item to carry around with you, even if you're not expecting showers. Keep them in your pocket in case of emergency.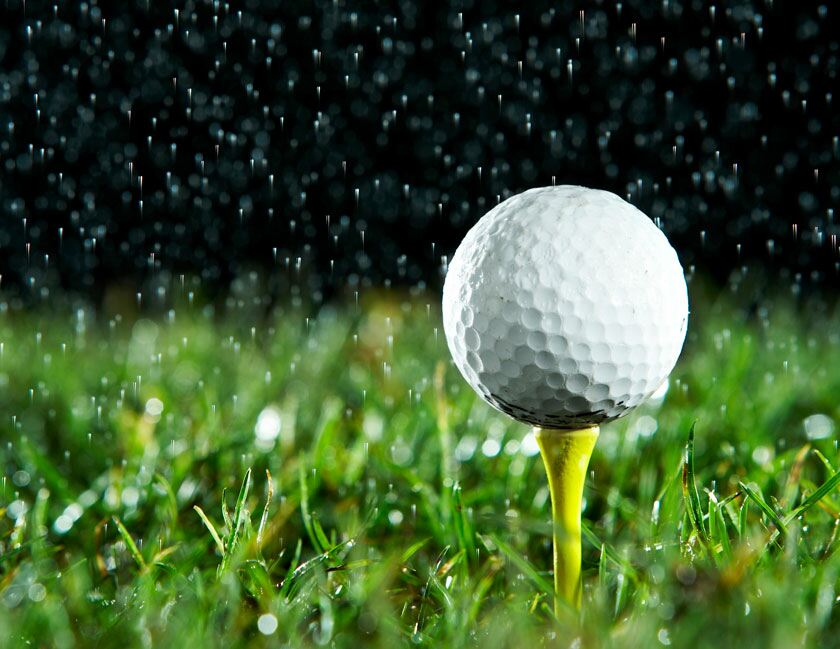 4. Buy a good pair of golfing shoes
Most golf shoes come with a waterproof guarantee, but it's wise to seek out shoes with Gore-Tex or a tough leather shell for maximum protection. If you're happy with your current shoes, consider buying a waterproofing wax or spray for an extra shielding layer.

5. Protect your grip with waterproof gloves
Golfing gloves are popular when the weather gets cold, but they're useless when the skies open and you've got no grip on your club.

Waterproof gloves provide an added guarantee of accuracy when you're playing. By keeping your palms dry, you'll be able to keep your grip on the club – and avoid mishitting your shot. MacWet gloves actually use rain water on the pal of the glove to privde an even better grip of the club!