Ryder Cup fashion through the ages
Published on 15 May 2020
We take a look at the trends that define golf's most fashionable tournament.
The Ryder Cup began in 1927 and has showcased some of golf's most memorable clothing over the eras.

Here we take a look at golfing gear throughout the history of fashion's favourite major.

1927 – 1940s
By 1927 golf had become a popular sport with affluent members of society, keen to distinguish themselves on the fairways. 'Plus fours', breeches that extended four inches below the knee, were paired with patterned socks and spectator shoes – the quintessential golfer look was born. A heatwave during the 1933 US Open led to the adoption of more lightweight styles in future tournaments.

1950s – 1960s
The British team started the 1951 Ryder Cup with a uniform consisting of smart blazers and pegs, a fashionable trouser famed for its baggy fit and high waistband. The decade gave way to colourful designs, and synthetic fibres became the norm. Later, Arnold Palmer championed a more tailored look highlighting his athletic build and others soon followed.

1970s – 1980s
The oversized collars and bold patterns of disco made their way onto the fairways in the 1970s, an era where it was perfectly acceptable to pair argyle with plaid. The 1980s introduced a more refined approach to golf gear and in 1987 Glenmuir supplied polo shirts and cashmere sweaters to the European team for their first win on American soil.

1990s – 2000s
Ryder Cup wear in the nineties and noughties includes some of the best-remembered styles in modern golfing history. Looks including USA's maroon polo shirts from 1999 covered with picture frames and the brown hues of Team Europe 2002 and Team USA 2006. However, the greatest clothing success of the age has to be the turtleneck, Tiger Woods debuted his famous mock neck red shirt in 2003 and the Europeans partnered a white roll neck with a salmon suit jacket in 2006.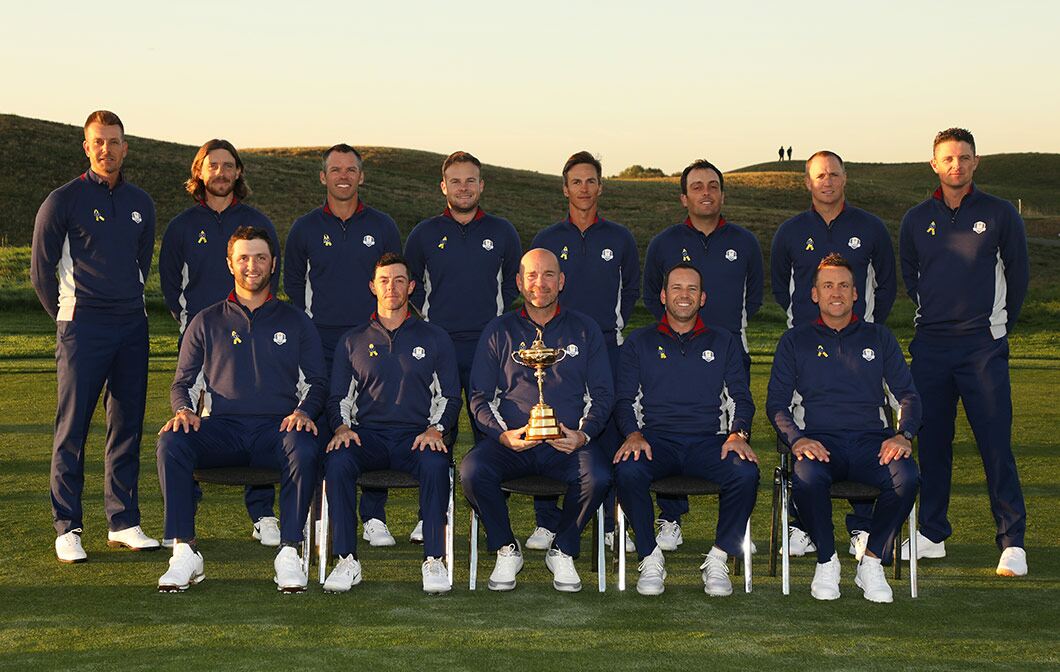 2010s – present day
Team USA competed in 2014 wearing jumpers adorned with the large image of the Samuel Ryder Cup in a year where they failed to clinch the trophy – the oversized bad omen has since been removed from their uniforms. Glenmuir's partnership with Ryder Cup Europe is set to continue into the new decade while innovations in the modern era include high-top and spikeless shoes, alongside more breathable materials.