The UK's top 5 coastal courses
Published on 16 August 2018
If you're thinking of a golfing adventure this summer, why not try one of Britain's stunning coastal courses? Here we list five of our favourites.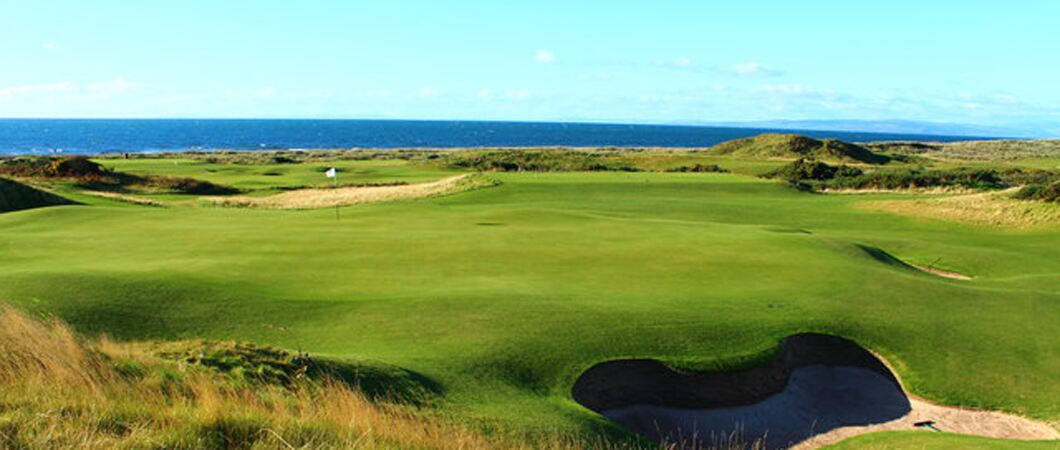 As the summer heat continues, why not mix up your golf game by hitting one of the country's excellent coastal courses? What better way to spend a summer's afternoon than taking in a round of golf against the bracing sea air?

Royal Liverpool, Merseyside
One of the courses that makes up England's so-called Golf Coast, the Royal Liverpool is located on the Wirral Peninsula and has played host to no less than 12 Open Championships. Established in 1869, the Royal Liverpool is the country's second oldest links course and affords players excellent views out across the River Dee estuary towards Wales.

Royal West Norfolk, Norfolk
Nestled beside Brancaster Bay on the northern coast of Norfolk, the Royal West Norfolk is one of East Anglia's premier courses. It's a beautifully isolated course that can get exceptionally blowy if the wind whips up. Make sure you check the tide times before you play, too, as the narrow strip of links-land gets cut off at high tide. If you do play at high tide, you're in for an aquatic treat.

Turnberry, Ayrshire
One of Scotland's most famous venues, the coastal resort has a clutch of impressive courses. The Ailsa is the main event, with the sweeping par 3 hole 9 the standout. Established in 1902, the course has hosted four Open championships, with the last one held at the Ayrshire course back in 2009. The Turnberry has another — it's owned by US President Donald Trump.

Nefyn and District, Gwynedd
Perhaps Britain's most dramatically beautiful place to play golf, the course at Nefyn in North Wales winds along craggy clifftops and out onto the Porthdinllaen headland. The sea swirls below all around you and on clear days the views out across the Irish Sea are utterly breathtaking. If you're lucky, you'll even be able to see the far-off Wicklow Mountains in Ireland.

West Cornwall, Cornwall
Dating back to 1889, this is one of the oldest and best courses Cornwall has to offer the avid golfer. Located just outside St. Ives, this par 69 course offers stunning views across St. Ives Bay and the River Hayle estuary from every hole. Wild winds coming in from the Atlantic can add a touch of difficulty to your game, but that simply adds to the sense of adventure to this jewel of a seaside course.