6 tips to get your partner into golf
Published on 04 October 2018
Is your partner interested in getting into golf? Follow our top tips to make it as easy as possible for both of you.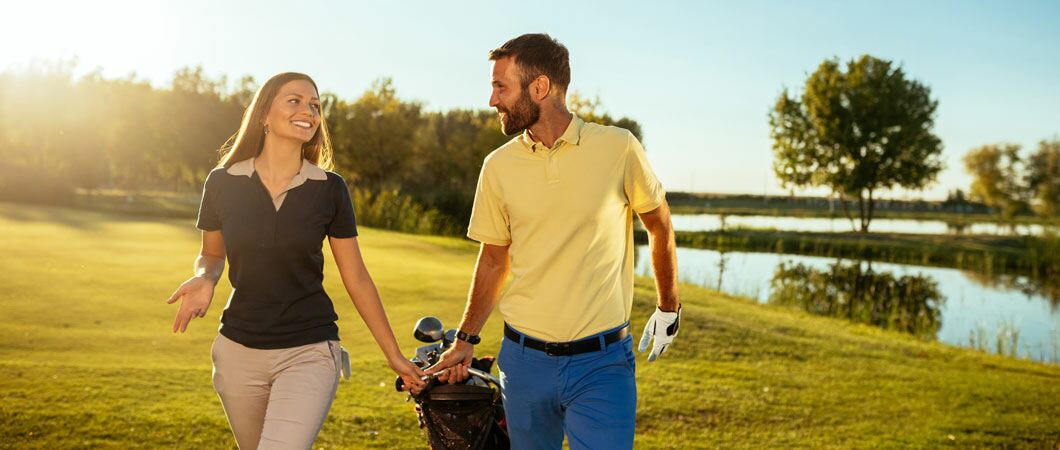 If you're looking for ways to spend more time with your significant other, then why not consider introducing them to golf?

As the old saying goes, a couple that plays (golf) together, stays together. Or something like that. But if your partner is keen to join you on the fairway, here are 6 tips to get them into golf…

Take them around the course with you
As well as being a great game, a round of golf is also an enjoyable way to spend an afternoon. So, if your other half fancies a bracing stroll while getting to understand what a round actually entails, why not suggest they come along with you on the cart?

Take them to the driving range
One of the easiest ways to pick up golf is to spend an afternoon or evening at the driving range. Driving ranges are not only great for practising your swing, they are also a really accessible way to get into golf – simply turn up with some clubs and a bucket of balls and start swinging.

Invest in lessons
If your partner is thinking about taking the game more seriously, then why not suggest golf lessons? Not only will they get professional advice on their technique, but it will also mean that you don't feel like you need to impart your wisdom, meaning fewer arguments on the fairways!

Treat them to something nice
What better way to treat your partner at Christmas or their birthday than indulging their latest interest? Some new golf clothing or, if you're feeling generous, their own golf bag and clubs could be the perfect way to keep their enthusiasm ticking along nicely.

Start easy and build up
If your partner is a beginner, there's no point in taking them round a Championship course – other golfers will get impatient and you could both end up frustrated. Instead, why not head to the local public course, or try a simpler par 3 course to keep things tight.

Keep it fun
The most important thing in introducing your partner to golf is to keep things fun! If playing golf together becomes a chore or a bore then they won't want to come and play a round with you. Why not head for brunch after a Saturday morning game or go on a day out afterwards?