Scotland, June 2023: Glenmuir, the renowned Scottish golf clothing brand, has knitted in sustainable attributes throughout their Spring Summer 2024 (SS24) collection. These environmental credentials are combined with the bold new colour stories for SS24 featuring Aqua, inspired by the waters of Luskentyre, Apricot reminiscent of sunsets on the West coast of Scotland and Hot Pink capturing the vibrancy of Scotland's cities of Glasgow and Edinburgh.


SUSTAINABILITY KNITTED IN
Glenmuir are proud to be able to print their collection brochures with a carbon neutral process and have introduced PFC Free Water Repellency, Enhanced Fabric Printing as well as the Better Cotton Initiative (BCI). All of the water repellent and waterproof products in the collection use a PFC Free water repellent technology meaning they no longer contain man-made chemicals that are harmful to our human, animal, and environmental health. Glenmuir's printing methods have been upgraded to provide a higher quality of intricacy in the print detail, but the methods and processes are also completely sustainable with no chemical discharge and use plant-based dyes where possible. All of Glenmuir's cotton is carefully sourced through the BCI circular ecosystem which helps communities survive and thrive whilst protecting and restoring the environment.
LUXURY FROM COURSE TO CLUBHOUSE WITH MERCERISED COTTON SHIRTS
Glenmuir's Luxury mercerised cotton golf shirts are made from the finest combed cotton yarn and fabric resulting in a lustrous silk like handle, luxurious drape and enhanced colour retention. New for SS24 is the g.Perth and g.Keith both elegant options with tonal jacquard patterns running through them, with g.Keith's contemporary diamond pattern giving a nod to the classic Scottish argyle. g.Letham has been brought to life with the new Hot Pink and Aqua colour ways for the double mercerised all over stripe option.
SUPERIOR CRAFTED PERFORMANCE SHIRTS
Superior performance golf shirts are made from active fabric which is highly functional with moisture wicking technology delivering breathability, +40 UV protection, thermoregulation, and enhanced freedom of movement. A key piece to the men's shirt collection is the g.Angus which features an all over Scottie dog print inspired by Glenmuir's own dog Jessica, whilst g.Lenzie provides a modern sporty look and g.Muirhead offers a neat all over pencil stripe. A favourite of 2023 g.Irvine has new seasonal colours whilst the patriotic g.Crawford has a subtle saltire flag print added and a Navy option featuring a sharp white lion all printed using the new sharper more sustainable method of printing. For ladies' golf shirts g.Billie is sure to turn heads with its bold but elegant print panelling, whilst g.Nancy with its subtle diamanté panels and the sporty looks of g.Sandi will look perfect on summer fairways. Favourites g.Stella and g.Amelia see the new Tropical print added in seasonal colours again printed using the enhanced methods to ensure enhanced clarity and sustainability.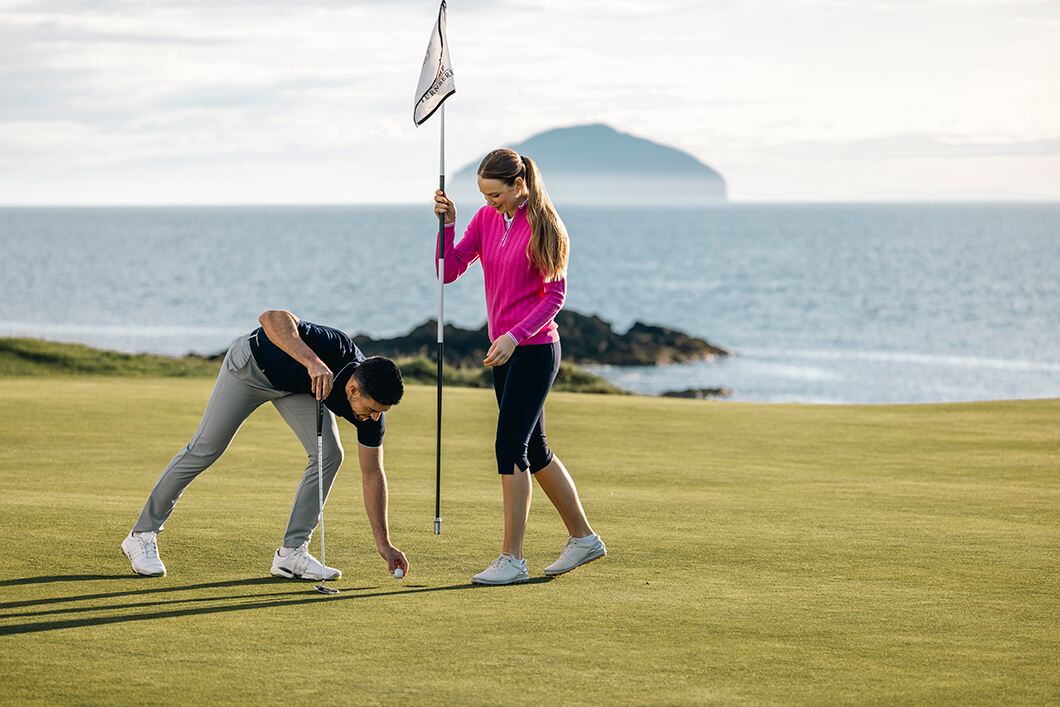 HAND KNITTED COMBED COTTON AND ITALIAN MERINO WOOL SWEATERS
Brand new for SS23 are men's cotton golf sweater modern sporty styles g.Selkirk and g.Kippen made from 100% pure combed premium cotton, sourced responsibly through the BCI, will be popular. g.Lauder is a contemporary take on the classic argyle diamond pattern whilst the new Aqua and Apricot Marl in g.Eton and the classics brings this timeless collection to life. g.Bonnie is a playful take on the classic argyle using hearts whilst g.Florence provides a chic cable knit look and g.Etta goes for gold (or silver) with its foil print and bold tropical print. A pop of colour with Apricot, Hot Pink and Aqua added to all 100% Italian Merino Wool and 100% British Lambswool sweaters binds the knitwear collection together.
ELEGANTLY DEFY THE ELEMENTS
The new men's golf midlayer collection starts with the firm favourite g.Wick which has the new Apricot Marl and Aqua Marl but also an elegant saltire mini flag enhanced print to merchandise with the g.Crawford shirt. The g.Crail and g.Charles brushed thermal midlayers see the addition of Aqua to brighten up any golf wardrobe. For Ladies' the g.Carina mildayer has the striking Tropical print added and a Prince of Wales Check in addition to the new seasonal Apricot Marl. Meanwhile in ladies' golf jackets the soft touch, weather resilient g.Poppy sees the Tropical print added beautifully into the side panels of the jacket all with a PFC free durable water repellent coating.
UPGRADE YOUR SHORT (AND LONG) GAME
New for men's golf trousers the g.Jackson performance short and g.Ross performance trouser have been reshaped using a neater tailored silhouette whilst the fabric is incredibly lightweight with stretch and is finished with a PFC free durable water repellent coat. In our ladies' golf trousers the new g.Emili performance stretch skort is the perfect golf skort with jersey shorts attached inside. Available in 7 colours including the new SS24 Tropical prints and seasonal colours they are sure to turn heads in the clubhouse. The new colourways are mirrored in the popular g.Lexi visor completing the perfect golf wardrobe. The g.Phoebe pedal pushers are now also available in the elegant classic Light Grey and White Prince of Wales check with all of Glenmuir's trousers having a supremely flattering fit whilst providing incredible comfort and freedom of movement.
Anniina Sorvisto – Designer, Glenmuir and Sunderland of Scotland adds: "The new developments in sustainable manufacturing are really exciting for us as a brand. It allows us to craft our products in an environmentally friendly way whilst enhancing the product design, durability, and performance. The ability to design golf clothing in a sustainable manner with a focus on natural fibres is exciting as a designer. We hope our customers like the SS24 collection as much as we do, as we are on our journey of being the most loved golf clothing brand in the world."

The new collection will be available online and in your local pro shop from February 2024.