Table of Contents
Choosing gifts isn't always the easiest task. However, it needn't always be difficult; it just takes a bit of help from us at Glenmuir!
In this article, we'll run through some of the best ideas for ladies' golf gifts, so you can treat the lady golfer in your life.
Let's get into it.
A visor is a great golf gift to protect from the harmful UV rays as well as to stop the sun from ruining your shot when teeing off. It's also great for limiting the risk of sunburn as well as making a style impact on the golf course.
Let's be honest. How many times have you been on the golf, only to feel your ears burning? Not from the group behind you slating your play, but from the brutally cold British wind whistling up and down the course? We'll take a bet and say it's more often than you would like.
A woolly hat can be the ideal gift for just about anyone. It keeps the cold at bay and offers decent shelter from the rain until you can make it to the 19th.
Golf socks make the perfect stocking filler or an ideal Secret Santa gift. They are also a great idea if you are on a budget yet still want to show someone you are thinking of them.
When choosing shoes as a present, ensure that you have an understanding of what the requirements are for footwear at the person's golf course. For example, there are some courses where golfers are only permitted to wear soft spikes with no metal.
Look for golf shoes that offer ample support as well as stability and grip so that they won't affect the swing. Lightweight shoes are a great option as they offer traction as well as flexibility. Many manufacturers swear by the notion that they can even help improve a person's level of golf.
If shoes aren't a good choice for the person you are buying for, why not consider a golf shoe bag instead?
Golf Clubs
It can be a bit of a gamble when deciding whether to buy golf clubs for a friend or family member. On the one hand, they are expensive, and the person may not really need new clubs. On the other, they do make a very generous gift that's sure to put a smile on their face.
If, understandably, you don't want to stretch that far, you might want to think about golf headcovers or groove cleaners to allow the person to keep their clubs in tip-top condition.
Golf Balls
Although a brand new set of golf balls can make a great choice of present for a golfer, you will be required to know exactly what type of golf balls they use. There's no point in purchasing a set that they are likely to never use, after all. There's nothing wrong with casually asking them, however.
You can also pair the golf balls with a golf ball marker so they never lose their spot on the greens.
Golf Bag
A new golf bag can be a stylish and welcomed addition to any golfer's kit. Look for a strong, sturdy golf bag that will be able to easily withstand a potentially muddy and wet 18-holes, which also provides ample storage. A high-quality golf bag won't come cheap, but if cared for correctly can last upward of 10 years, so it's a great investment piece.
Golf Towel
A golf towel is perfect for getting rid of sweat or any other excess moisture which could threaten your shot. They also make great gifts. While a golf towel isn't the biggest and flashiest present you could gift someone, it is a practical gift that you can pick up for an affordable price.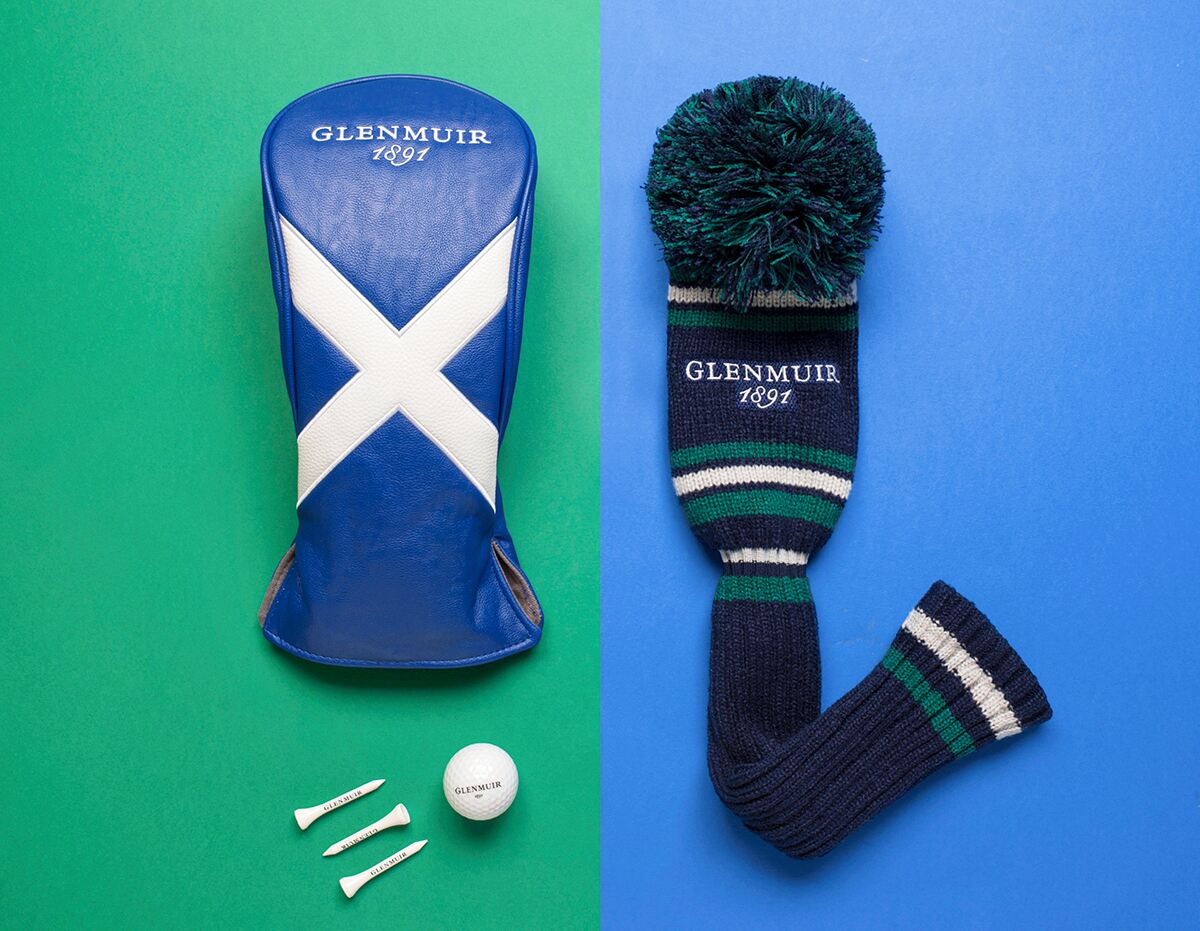 Depending on how well you know the person you are buying for, you might want to think about getting them a fun, informal gift, such as a novelty item. From golfers' joke books to rude mugs, there's a host of humorous ideas out there.
While we hope our guide to choosing the best golfing gifts for women has helped you decide what you would like to buy the woman in your life, we realise that it isn't a one-size-fits-all subject matter.
If you don't know what gift to buy, you might want to consider a gift card. Glenmuir gift vouchers are a great way to show you care while also not running the risk of getting her golf gifts that she may not like. They also take all the stress and anxiety of choosing a gift away, as well as being great if you are short of time.
Below, we have compiled a handy buyer's guide so you can make a considered choice when it comes to purchasing the very best golf gifts. While each of the points outlined won't always correlate to each of our above suggestions, we hope it gives you a bit of insight into what to look out for.
Durability
Like almost all sports, golf is known to get a little rough. Therefore, you want clothing and accessories that can withstand the course and what you put it through. When it comes to a great golf gift, think about the durability of the item in question. Is it going to last a long time, for example?
Generally speaking, more expensive items will stand the test of time, while cheaper golf equipment, clothing and accessories won't. However, this is not always the case. Therefore, you should do your homework and compare items to find the very best deal.
Resistance
Being on the golf course means you inevitably open yourself - and your equipment - up to the elements. Look for golf gift ideas that won't suffer UV damage when the sun is out or items that will get damaged in the rain. The higher quality of the item, the less chance there is of it becoming weather-damaged.
Storage
Most females will tell you that women's clothes don't always come with ample opportunity for storage.
Although somewhat improving over recent years, lots of women's clothing, golf wear included, don't come with pockets. And those pieces of attire that do, often have pockets that are less than functional. Often, they are extremely narrow or come up too short to store anything.
Choosing items of clothing that do provide room for keys and phones is always a good idea.
Style
What golfer doesn't want to look their very best on the course? With that in mind, you'll want to purchase stylish and perfectly functional items. Otherwise, you run the risk of making a purchase that may not see the light of day.
Consider what sort of style and design the person may want by thinking about the types of accessories they usually use on the course or what they would normally wear.
Size
When making a purchase of clothing or footwear, it's important not to guesstimate the size you need. Depending on how well you know the lady golfer whom you are making a purchase for, you could ask them for their size.
However, it's best to reserve this tactic for partners and close family only. If you don't know the person well, purchasing clothes shouldn't really be a consideration. If this is the case, consider our other golfing gift ideas.
At Glenmuir, we have hundreds of items for women that will make the perfect gift. Whether it's a Christmas stocking filler like a golf ball marker, a big birthday present or simply a little something to show you care, we'll have the perfect gift just waiting for the lady in your life.
Why not check out our dedicated women's gift section on our website for some extra inspiration and see if you can't find a great gift?
Are there any gifts I should avoid purchasing for women golfers?
Golf has quite the problem with sexism which, sadly, shows no sign of abating. And unfortunately, the internet has some pretty unflattering opinions when it comes to female golfers that have made their way onto t-shirts and accessories.
It's best to stick to gifts for women that won't cause offence, no matter how light-hearted the intended joke may be.
Finding the perfect gift isn't always easy, but we hope our guide to the best gifts for a female golfer has helped you make an informed choice or at least inspired some ideas.
While there's a lot of truth in the old saying, 'it's the thought that counts,' a considered and well-thought-out gift really can show how much you care. And the golf-loving lady in your life will really thank you for it. Remember, however, if in doubt, there's absolutely no shame in gifting a gift voucher.