Table of Contents
Golfing in the good old British weather has its challenges - not least the blustery conditions we often face.
The wind is undoubtedly one of the biggest challenges for golfers, and it can test even the most steely-nerved player.
As difficult weather can have challenges, we wanted to compile a guide to help you up your game when the wind becomes too much to bear.
Read on to find out our hints and tips that will have you wind-proofing your game in no time.
Generally, any wind conditions over 20 mph will be considered "windy" in Golf. While 20 mph may seem like a lot, with a bit of skill and know-how (and lots of practice), it's perfectly possible to make a success of your game on the golf course.
Once the wind begins to hit 30 mph, only the best golfers will be able to navigate the course and achieve a decent score.
Anything over 40 mph, you may want to consider retiring your clubs for the day and hit the 19th instead!
That said, however, there are no rules when it comes to the wind. If you fancy your chances, get out there and conquer the windy day.
A small word of warning, however: from a safety perspective, it's important to be alert and mindful of potential falling debris, such as tree branches.
Without further ado, here are our top tips to help you play golf in the wind.


Keep calm
Most golfers know that the secret to getting a good golf ball flight in the wind has as much to do with patience as with skill. You may make bogies, but remember - that's ok. The weather gods are not on your side right now, but there will be other opportunities throughout the game where you can make gains.
There aren't many golfers who will play the perfect round in windy weather, so be sure to manage your expectations.
Swing easy
When playing golf in the wind, it can be tempting to hit the ball harder in the temptation to get it to travel further when the wind is facing. However, all this does is throw off your balance and timing.

When you swing harder, there is also more spin which can mean the ball can elevate too much or curve spectacularly in the wrong direction.

Swinging harder into the wind will rarely bring any benefits. Swinging with a steady tempo will allow you to hit the ball solidly while giving you more control over your balance and less spin on the ball. Keeping the ball lower is good when you want more control.


Think about your club selection
Because you will be swinging easier, you'll need to club up. With an easy swing speed and more club, you should be able to gain more control. Although many of us believe we can hit the ball farther than we can, it's important to consider that this isn't always the case! To be safe, consider that if you are anything like many other amateurs, you will overestimate the distance you can make the ball travel by some 5 yards, sometimes as much as 10.
It's tempting to try and show off by hitting the ball at a much higher than normal speed, but try to resist this temptation at all costs! In reality, it's better to achieve lower scores by hitting greens than by hitting the ball further. Lower ball flight doesn't mean less power.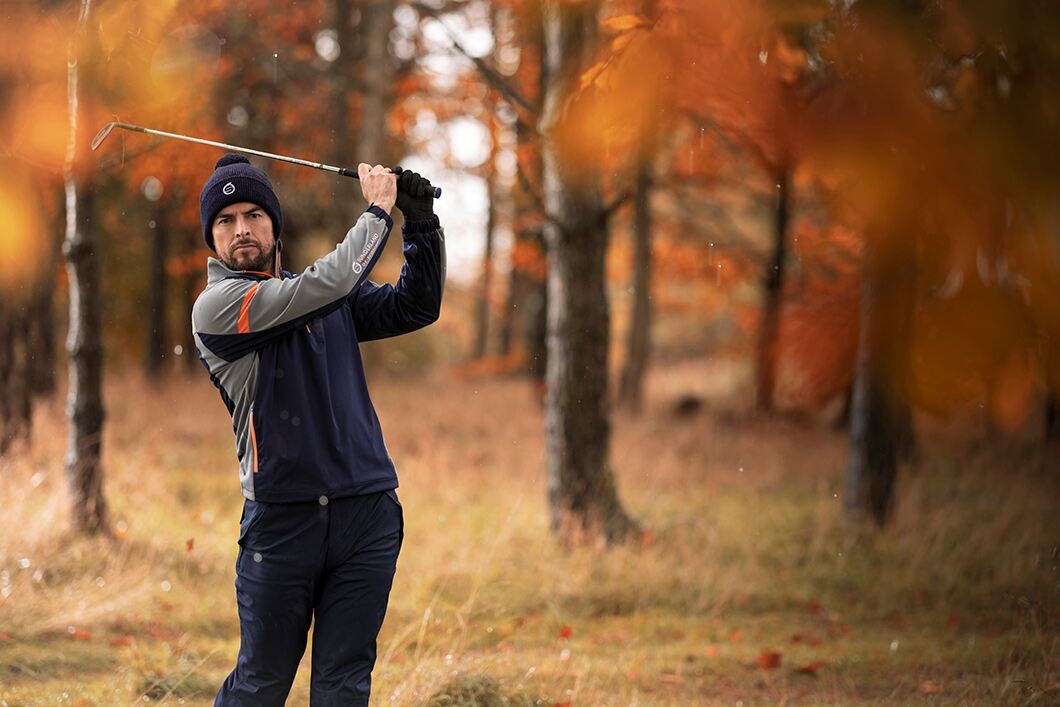 Keep your balance
While not always easy with the elements batting against you (in many cases, literally), try to maintain a good balance throughout your swing. If there are any glaring balance issues, you can be sure that a strong wind will magnify these issues tenfold.
Say you hang too far back on your swing; if a gust of wind appears out of nowhere against you, you'll begin to notice that you fall back a bit more than you usually do. To achieve better balance overall, widen your stance. Your centre of gravity will be lowered and give you better balance, hopefully leading to a more controlled swing.
Consider the wind direction
Ok, this is obvious, but it still deserves its place on our list of hints and tips to play in windy conditions. Think about where the wind comes from, and use this to influence your shot. For example, if you are up against a left-to-right wind, ensure you aim more left than usual.
As you can't beat the wind, you have to learn how to work with it. If you are playing into the wind, any big breeze will exaggerate any misses, so make sure you understand how to attempt to rectify this as part of your swing.



If you are playing downwind, basic physics will dictate that the golf ball will fall short.



You might be surprised to learn that the wind can often affect putting. Links courses have slower greens because if they were any faster, a big wind could cause disastrous effects on your putting result. With a fast green, a wind of 10mph can begin to manipulate the golf ball position and result negatively.
While there's nothing much a small breeze will do, it's important to consider both your line and pace when the wind really starts to increase. On those blustery days, you may want to change your set-up so that your putting performance can not be displaced.
Remember, the best thing, however, is to stay calm. Getting impatient with the elements, as so many of us are guilty of, will not help you putt any better.
Don't let the wind interfere with your comfort on the course.
Based in Scotland, the home of golf, we know a thing or two about harsh weather! That's why Glenmuir has supplied some of the best golf clothing to keep the elements at bay - for over 100 years.
Why not check out our huge selection of expertly engineered waterproofs and warm wear, so you can focus on what matters on the course - playing to your best, regardless of the wind.
Should you play golf in the wind?
For many of us who enjoy a golf game in the United Kingdom, playing in the wind is sometimes inevitable. In fact, it might be a more sobering prospect to find yourself playing a calm day on the course, considering we are so used to irksome weather conditions.

Will playing in the wind make me a better golfer?
It's always a good idea to play in various weather conditions. Playing golf when it is windy is one of the game's biggest challenges, so if you find yourself mastering your game when it's blustery, you should give yourself a well-deserved pat on the back.

What wind speed is too much for golf?
Anything over 30mph winds, and almost every amateur golfer will struggle. That's not to say you can't give it a go but be prepared for a potentially higher-scoring game than you otherwise might have in calmer conditions.

Can you play golf in a storm?
If there is any sign of thunder - and, with that, therefore, possible lightning - you should not consider attempting to play a round of golf. Many golf clubs will rightly refuse to let you on the course if the weather looks particularly nasty. But, if you are halfway through a round of golf when a thunderstorm begins, do not consider playing on.
While it shouldn't need to be said, too many golfers take the risk and ultimately end up injured or worse.
Playing golf in the wind is certainly not without its challenges. But, when you think about what you are up against and prepare for the unexpected, playing golf in blustery conditions can make for a thrilling afternoon with friends.
Don't allow the wind to hold you back. Use the tips above to ensure you are ready and prepared to battle against the elements. Depending on your level of golfing skill, you may not see many low numbers, but this is nothing a little bit of practice (and even perhaps the smallest pinch of luck) can't rectify.
Just keep an eye out for those storm clouds.