Table of Contents
Golf is one of the most popular sports in the world, enjoyed by people of all ages and skill levels. But before you can hit the green, you need to dress the part - that's why golf courses have a dress code that requires all players to wear collared shirts.
Let's take a look at some of the reasons behind this policy.
One of the main reasons golf courses require collared shirts is to create a sense of professionalism and respectability. When you walk onto the course, you want to look like a professional golfer who takes the game seriously.
Wearing collared shirts helps you project the right image and make a good first impression on players and spectators alike. Dress codes also help prevent distractions on the course by keeping players dressed appropriately and looking smart.
In most cases, the clubhouse has more relaxed rules than the golf course. A collared shirt is still required, but you're allowed to wear other types of clothing as well. This gives players a chance to change into something more comfortable after they finish their round.
So don't worry if your golf slacks aren't the most comfortable - you can always change into something more comfortable once you're done playing, depending on your club's dress code.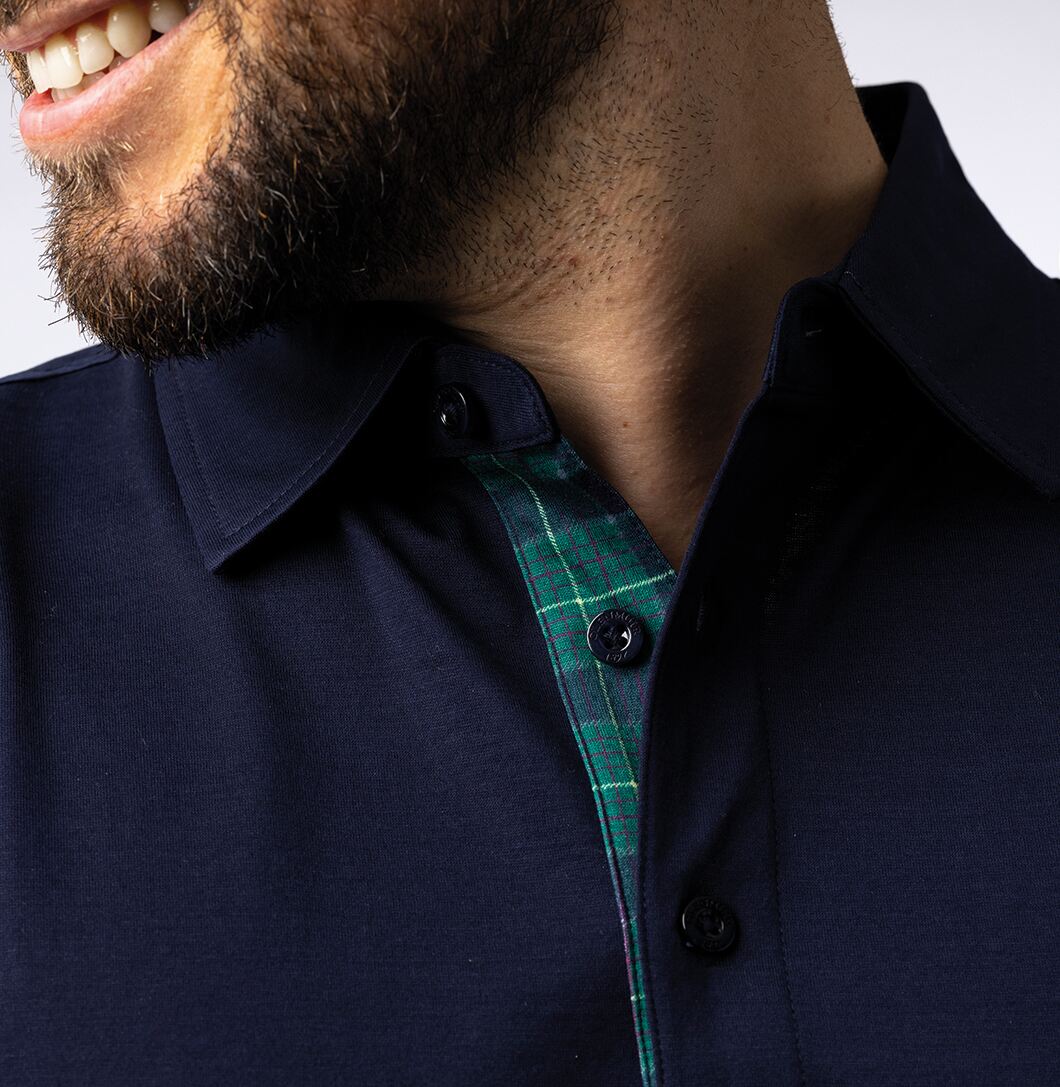 As a collared shirt is generally part of most clubs' dress codes, you might be wondering if polos make suitable golf shirts. Essentially, both are very similar in style but polo shirts tend to be made from a thicker material, whereas golf shirts are generally thinner and are designed to be moisture-wicking.
If you're not sure what type of shirt to wear on the course, ask the local golf pro for advice. They'll be able to point you in the right direction and help you choose an appropriate shirt for playing golf.
At more up-market golf courses, players are expected to dress in accordance with the club's dress policy. This usually means wearing a collared shirt, dress trousers or skirts, and formal shoes. Again, this is done to create a sense of professionalism and respectability.
It's important to remember that different golf courses have varying dress codes - so be sure to check before you head to a golf course.
If you're not sure what to wear, it's always best to play it safe and dress in accordance with the course's guidelines. That way, you'll avoid any embarrassing mishaps and be able to focus on your game.
Polo Shirts
When it comes to collared shirts, the most common choice in both men's golf clothing and ladies' golf clothing is a polo. A polo shirt has a collar that stands up around your neck and an open front with buttons down the middle for easy access.
Polos are perfect for both casual and formal occasions because they're comfortable yet stylish at the same time!
If you plan on playing golf at an upmarket club, both
ladies' golf shirts
and
mens' golf shirts
should be clean and wrinkle-free. It's also important not to wear anything too flashy or revealing; a simple white polo with khaki trousers should do just fine!



Trousers
The next important item on our list is a good pair of trousers. Dress trousers are perfect for golf because they're comfortable and provide plenty of movement. They also have a dressy look that will help you fit in at a fancy golf course.
When shopping for dress trousers, make sure to get a slim or tailored fit. This will ensure that they aren't too baggy or loose, which can be a distraction on the course. You also want to look for trousers with a moisture-wicking fabric - this will help keep you cool and dry under the hot sun.
Shorts & Golf Skorts
Most golf courses don't mind if
women's golf clothing
is comprised of shorts or skorts, but it's always best to check beforehand. When choosing a pair of golf shorts or a golf skort, make sure they're made from moisture-resistant fabric and have a relaxed fit, keeping you cool and comfortable on the course.

Socks
Nowadays, shorts have become the norm on golf courses, but there are still some places where you have to wear long golf socks if you plan to wear shorts! Make sure to bring a pair of knee-length socks with you, just in case.
Golf Shoes
Last but not least, we have the most important item on our list: shoes! Golf shoes are specially designed to provide stability and traction on the green. They also have a waterproof membrane that helps keep your feet dry in wet weather.
Why do golf clubs have a dress code?
Many golf courses require golfers wear particular clothing because this instils a sense of professionalism and respectability. It's important for players to look their best, so they maintain the reputation of the club.
Is a polo required at every golf course?
At most golf courses, a polo is usually required, but this isn't always the case at every course. It's always best to check the dress policy before you go to avoid any embarrassing surprises like getting told off if you wear jeans!
Is denim allowed on golf courses?
Denim jeans and shorts historically have not been allowed on golf courses due to the fact that they're too informal and can be a distraction to other players.
Can you play golf in shorts?
Yes, you can play golf in shorts as long as they meet the dress code requirements of the course. Most courses allow knee-length shorts, but it's always best to check beforehand.