Table of Contents
Money worries are a concern for a lot of us right now. With the ever-increasing price of food and astronomic fuel and energy bills hitting our wallets, it's understandable that many people are looking for less expensive ways to get out on course.
In this article, we're going to give you the rundown of 3 brilliant ways in which you can save potentially quite an impressive amount of money on your golf membership.
From the initial club purchase to the green fees at the course, golf can quickly become a very expensive hobby. Fear not, however, as below are 3 brilliant ways in which you can save some serious money.
Research
In order to save money, it's important to research the golf course in question and the membership types it has on offer. There are typically three types of golf memberships: private, semi-private, and public.
Private memberships: the most expensive for many golf clubs. This is because they often offer the best amenities

Semi-private memberships: these offer access to both private and public courses, and usually provide access to more playing partners and a variety of courses

Public memberships: these memberships are usually the least expensive, but they typically offer access to a limited number of courses
Additionally, your local course may offer discounts for children, those over 65, those who live a certain distance from the club and individuals who work in the NHS or armed forces. Just one more reason why it's always a good idea to shop around before committing to a particular golf course membership.
Pay yearly
Paying for a golf membership is one of the best ways to ensure that you can access all of the necessary resources to practice and improve your golf game.
A yearly golf membership can provide a number of benefits over the traditional monthly option. The most obvious benefit of a yearly golf membership is the financial payoff.
Paying for a membership upfront may seem expensive, but it is often significantly cheaper than paying monthly over the course of a year.
In addition to the cost savings, a yearly golf membership provides more stability and convenience than a monthly option. As you have already paid for a year's usage of your golf club, it's one less direct debit to have to worry about.
Yearly golf membership also provides access to exclusive benefits that may not be available with a monthly membership. Most golf courses offer discounts on merchandise in the pro shop, free rounds of golf or hour lessons, or access to special tournaments or events.
These benefits can be incredibly valuable for those who want to get the most out of their golf experience.
All that being said, there are obvious perks to paying monthly, too. When you pay monthly for your golf membership, you are able to spread out your payments over a period of time, making it easier to budget for the cost of golf.
For example, say you purchase a year-long golf membership for £1,000. You can break the cost up into 12 monthly payments of £83.33. This makes it easier to budget for the membership and allows you to save up the money over time. However, the monthly cost may be higher than simply dividing the annual cost by 12.
Ultimately, whether you choose to pay monthly or yearly is up to you. Paying to play golf annually, however, will likely earn you the biggest money saver.
Keep an eye out for deals
There's no doubt about it; golf is an increasingly popular sport. With that, many local courses are busy vying for potential customers. To keep up with the demand, courses may offer special deals throughout the year to entice and retain their club members.
For any golfer on a budget, these great deals can be the ideal way to make the game that little bit more affordable.
But, just when are these discounts usually on offer?
The best time of year to buy a golf membership depends on the specific course or club you're looking to join. However, lots of courses offer discounted memberships during the off-season. This falls from late autumn to early spring.
Many courses also offer discounted memberships during the holidays, such as Christmas or New Year. Additionally, some courses may offer one-time deals during the summer months during peak season. This can be a discounted initiation fee or a free round of golf.
However, as we've said, it's always best to research the specific course or club you're interested in first to find the best deal. Remember, your preferred first choice won't always be the cheapest option!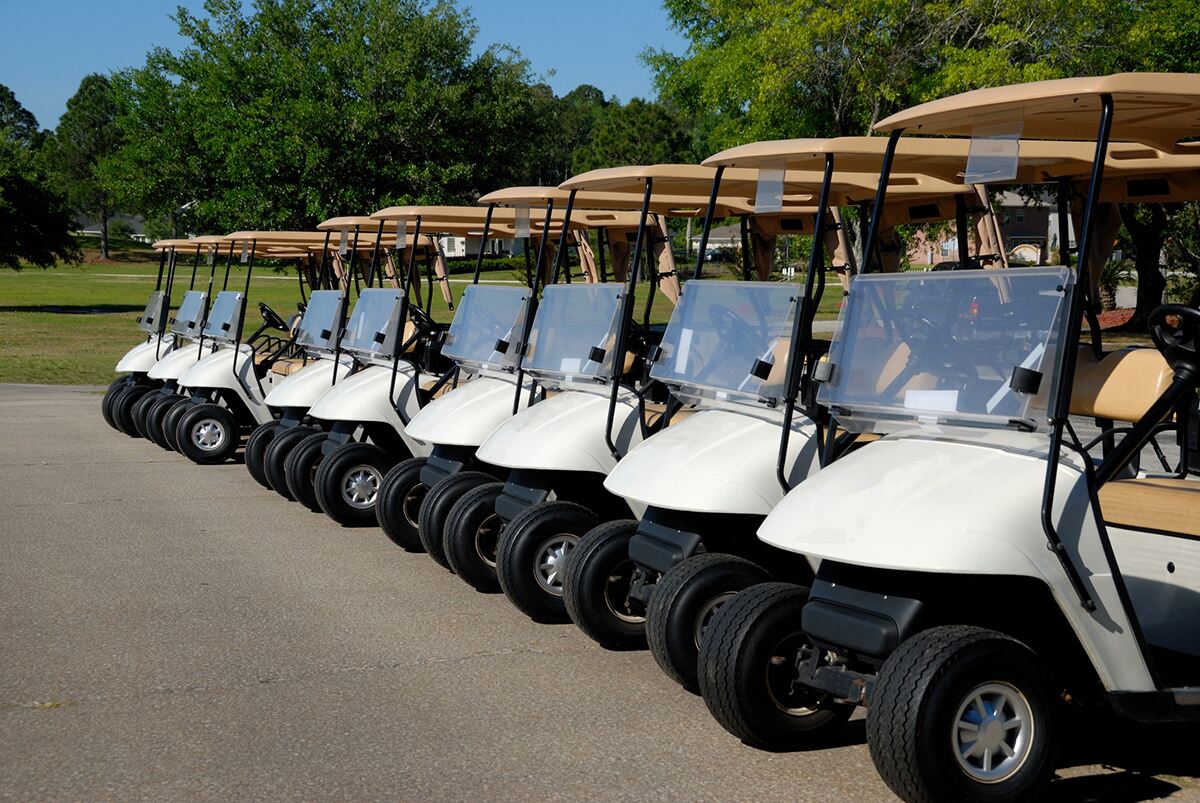 Now we have how to spend less on a membership covered, we thought we'd throw in a few other ways on how you to save when it comes to golf.
Buy second-hand
If you are a high handicapper, you likely lose a lot of golf balls. You'll find no judgment from us, but if you find your golf balls going askew in the golf course rough with no hope of retrieval, you might want to consider purchasing second-hand ones known as "lake balls". And, if you are in need of new clubs, consider also purchasing these second-hand available from many club market places.
Keep your clubs in tip-top condition
Make sure you get the most out of your clubs by taking good care of them. Regularly washing, drying, and brushing off any dirt with a groove brush cleaner and keeping your head covers on during and after golf can make all the difference in the longevity of your clubs. Take the time to give your clubs some TLC and you'll get to enjoy a great game for years to come - without having to pay more than you need to.
Walk the course
How many of us are guilty of jumping in a buggy when what we could really do with is a relaxing (well, depending on how well you are playing) walk on the green? Buggy fees can quickly add up, so why not do your mind and body a favour and stroll through your round of golf?
Bring your own food and snacks
A great way to save a good portion of money over the long run is to bring your own. OK, so, it might take a little more planning and add a few items to your weekly grocery list, but it's worth it if you want to be more conscientious about saving money.
Whether you are looking for the very latest in golf fashion or simply want to treat the golf lover in your life to something a little extra special, there's no better place to look than Glenmuir.
From our on-trend, practical, performance-led golf attire for men and women, we're also home to some of the best accessories and golfing extras, too.
Why not check out the Glenmuir website for all your needs to have you looking and feeling like a golf pro on the green?
Does joining a golf club save you money?
Joining a golf club can most definitely save you money in the long run if you are a frequent golfer. Golf clubs often offer discounts on green fees, access to the pro shop, and other amenities and benefits that can help reduce the cost of playing golf. So, if you're serious about golfing, joining a club should be a serious consideration.
What do you get with a golf membership?
This often varies between golf courses. However, a golf membership typically includes access to the golf courses and clubhouse, discounts on visitor green fees, access to practice facilities including the driving range, access to golf tournaments, administration of your handicap, discounts on golf lessons and merchandise, and exclusive access to special golf course events.
What's the most expensive golfing membership in the UK?
Popular with celebrities and golf professionals, club members of Wentworth Golf Club in Surrey fork out some truly eye watering fees annually and a new membership joining fee debenture of approximately £125,000.
When the tightening of purse strings is required, our favourite hobbies and pastimes are usually the first cost to face the axe.
Thankfully, as we have seen, there are ways that you can lower the costs without sacrificing a jaunt on the golf course. This means you can put the money aside for other things, or even treat yourself to some exciting
golf clothing
, some new wedges, or even a new pair of golf shoes.