Table of Contents
Scotland is home to some of the best golf courses in the world. If you plan to travel to play golf, this should be your number one destination.
A trip to Scotland also offers vibrant cities, wild highlands, rolling hills, and wonderful people... what more could you want? Well, guaranteed good weather would be one thing.
In order to enjoy the luscious countryside and beautiful scenery in Scotland, we do have to endure some wet and wild weather. We would advise visitors to hope for the best but prepare for the worst, take it from us, we live here!
This guide will take you through the essential golf clothes anyone packing for a Scottish golfing trip should bring.
For any golf vacation, there are certain essentials. This will invariably include your golf bag and golf clubs. A high-quality golf travel bag can be a worthy investment to protect these and ensure they get where you are going in one piece.
But what should you pack to where on your golf trip to Scotland? Always try to check the weather before you leave to get a better idea of what to expect. That being said, you should always prepare for any eventuality.
The categories below will keep you covered on the course and let you play in comfort and style. They will also help you adhere to course dress codes.
Tops
Taking a selection of golf tops is a must. High-quality golf polo shirts will not only look great, but they can also help your performance.
Our extensive collection of performance wear is the perfect choice as it is designed to wick moisture from the body and offers UV protection. The breathable material is the perfect choice for playing golf in warm weather.
It can also be great when you layer up or have to wear waterproofs as it will minimise how sweaty you get as you make your way around the course.
Our men's performance saltire shirt is the ideal option. It is available in a range of colours and will ingratiate you with the locals as well.
Our saltire cashmere golf sweaters are another great option for the course and clubhouse. They will keep you warm and comfortable if the temperature drops during your visit.
Our women's pink saltire golf sweater is another eye-catching option that looks and feels great. Our men's and women's collections are designed for comfort and performance. This means they won't impede your golf swing when worn on the course.
Trousers
Our men's collection of trousers and shorts is perfect for your trip to Scotland. We have lightweight, breathable performance trousers that are ideal for the summer and spring. If it is going to be sunny, why not wear a pair of our smart shorts? Just don't forget your sun cream.
We also have a great selection of winter golf trousers that are water-repellent. This means you can enjoy a great round of golf in any weather.
Our women's collection boasts a choice of pedal pushers, skorts, and lightweight performance trousers that are great for golfing in good weather.
We also have you covered for cold, wet days with our thermal winter golf trousers.
Outerwear
It is always recommended to bring a jacket if you are golfing in Scotland. Even when the weather is good, the temperature can dip in the evenings and rain showers can spring up out of nowhere.
Carrying a lightweight waterproof jacket in your golf bag can be a great idea. It won't be a burden as you make your way around the course, but it'll be there if you need it.
Waterproof trousers in the winter are a great way to stay dry and comfortable. A rain jacket and waterproof trousers will mean you can enjoy Scottish golfing experiences in all weather.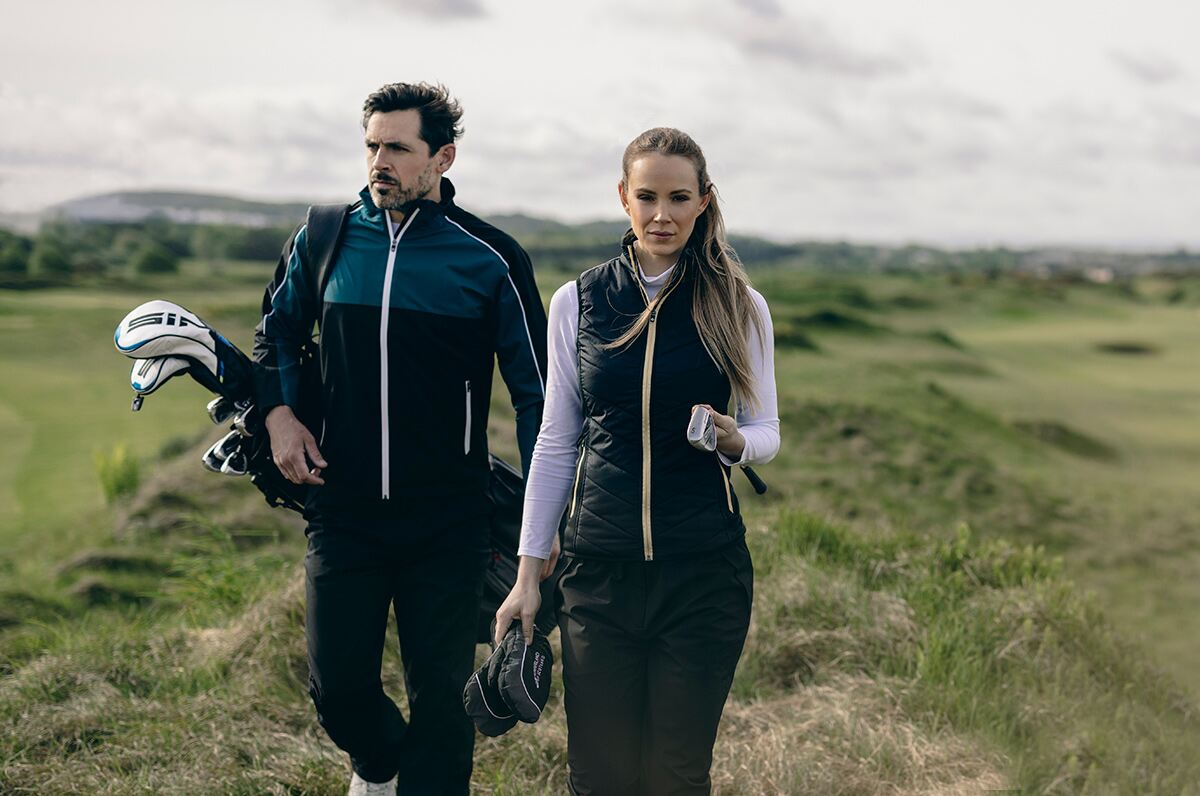 Accessories
Apparently, there is no such thing as wrong weather, just the wrong clothing. Being well-prepared for your golf trip to Scotland must include accessories as well as essentials like trousers and tops.
Luckily for you, we have a range of tartan and saltire accessories that are perfect for Scottish golf courses.
Some key accessories for any golf trip include:
Sunglasses
Glare can seriously affect your game. Investing in a good pair of sunglasses will minimise the risk of this. Lenses with UV protection are also advised. This is because prolonged exposure to UV rays can increase the risk of eye conditions. Wearing extra protection when on the course will minimise these risks and help you to see better.
Hat
A wide-brimmed bucket hat or baseball cap can also help to shield your eyes from the sun. Another benefit of wearing a hat with full coverage is that it can protect your head from sunburn and damaging UV rays.
Alternatively, sun visors can offer the wearer additional shade without messing up your hair. Visors can also be a great way to let your head cool in the breeze.
If it's cold, our saltire bobble hat is the perfect solution. These unisex, one-size-fits-all hats boast a thermal Thinsulate™ lining and are available in three great colours.
Gloves
Rain gloves are the perfect solution for maintaining a good grip in wet conditions. Investing in a pair of rain gloves means your game won't suffer because of poor weather. They can sit in your golf bag until you need them and are a great investment.
Socks
Whether you like classic long socks or are more interested in performance socks to minimise the risk of sweaty or wet feet, we have a great selection.
Explore our collection of women's golf socks for patterned, thermal, and performance options. We also have a great choice of men's socks to complement any outfit and keep you comfortable on your golf trip.
Towel
Another handy thing to have in your golf bag is a towel. A good golf towel can be used to dry and clean off your golf balls, golf clubs, and hands when needed.
Footwear
Wearing the right footwear is essential to performance. Good golf shoes will help with grip and stability. Investing in waterproof golf shoes is also recommended for the Scottish fairways.
Having at least two pairs of waterproof golf shoes on your trip to Scotland will significantly minimise the risk of you having to play with wet shoes. Not only is this uncomfortable, but it is also bad for your feet.
Golf shoes with soft spikes are most commonly worn on courses. However, it can be worthwhile to check individual club rules if you know the courses you will be playing at.
What is the standard dress code for a golf course?
Every golf course will have their own rules and regulations, this includes dress codes. For example, St Andrews states that anyone on the course should be dressed in a "neat and appropriate manner".
They prohibit denim, sweatpants, athletic shorts, and cargo shorts or pants.
Do waterproof golf trousers affect performance?
Glenmuir waterproof trousers are designed to protect the wearer from the elements without having a negative impact on performance.
A brushed fleece inner keeps the wearer's legs warm, blocks the wind, and wicks moisture away. They also use 4% elastane giving the trousers a slight stretch that facilitates the kind of movement needed to play golf.
Why should I invest in a golf travel bag for a golf trip?
If you are taking a trip to play golf and plan to take your clubs, a travel bag is an essential piece of kit. This is because it makes transporting your clubs and bag easy and offers a great level of protection.
Our Voyager travel bag provides golfers with a padded and sturdy frame that is designed to fit most commercial bags.
The wheeled base makes it easy to transport, this is a must if you are travelling around airports looking for check-in desks.
What essentials should I pack for a golf trip to Scotland?
Other essential items you might want to consider for a golf trip to Scotland include:
Sun cream

Lip balm

Bug spray

Water bottle

Umbrella

Ball markers
You should also consider a waterproof mobile phone case. This means you will be able to take photos of the incredible courses without the risk of damaging your phone.
If you are planning a golf trip to Scotland, our collection of performance and waterproof clothing is perfect for all weather. We have an extensive range of men's and women's golf clothes that are perfect for summer and winter golf, and our saltire range is ideal for Scottish courses.
It is essential that you are prepared for the elements and the clothes you wear adhere to dress code policies. Our high-quality golf attire is worn by golfers all around the world and will be perfect for your trip.
Layering in the winter is essential and our selection of sweaters and golf shirts means you can do this in style.
Now you know what to wear, just don't forget your golf clubs and golf bag so you can enjoy an unforgettable trip to the home of golf.