Table of Contents
The Masters Golf Tournament is one of the highlights on the PGA Tour calendar for participants and spectators alike. Masters week delivers five days (including Wednesday's Par 3 Contest) of top-class fare.
You'll experience everything from the immaculate Augusta National golf course and the world-class golfers to the spectacular natural surroundings and water features. Of course, the event culminates with the presentation of the famous Green Jacket to the winner!
The official dress code of the Masters tournament means everybody in attendance needs to dress appropriately - and that means everybody. What is the appropriate manner of dress for these hallowed grounds, though?
Our guide will answer that question and give you some pointers to ensure your visit to the tournament is memorable. Bear in mind, though: it may be spring in Georgia but that doesn't guarantee bright sunshine. Our tips will show you know how to dress in the appropriate clothing and feel comfortable throughout the tournament.
We've already mentioned that spring in Georgia doesn't necessarily mean sunshine and balmy weather, but at Augusta National this is usually the case - fortunately. The Masters Golf Tournament will likely have perfect weather, with the April temperature averaging about April 25º.
Despite this, it can be a little chilly in the mornings and evenings, averaging 13º C during Masters Week. So if you'll be on the course for the start of the day's play, layer up!
Layering your clothing is sensible, as you can adjust what you're wearing to suit temperature fluctuations throughout the day and into the evening. You'll be better off if you can remove a layer when too warm than to end up half-freezing if it turns cold.
To maintain a good level of comfort, both male and female patrons (you'll get used to that word at Augusta National) should consider a light golf jacket or pullover as an outerwear clothing layer. When it starts to warm up, you can either hitch it around your midriff or shove it into your bag until you need it again.
We'll cover the different types of clothing you're allowed to wear according to what the official Masters dress code indicates next.
The correct men's attire for the Masters Golf Tournament typically means sporting a golf casual look. While you can choose an even more relaxed casual look, always remember that denim in any form is a big no-no.
Shirts
When you step out onto Augusta National's hallowed ground, you should always be neatly dressed. Opt for a collared shirt as opposed to a t-shirt, although a neat t-shirt would be acceptable, and make sure that whichever you choose is presentable. Ironed shirts that are tucked in are less likely to raise the eyebrows of VIPs.
Your choice of colour is also important. At the Masters, it's better not to stand out from the crowd, so consider wearing more subtle, earth tones like black, grey or khaki. White is always a safe and classic option as well.
If the weather is warm and sunny, try a button-down shirt and roll up your sleeves, or wear one of your short sleeve men's golf shirts. On cooler days, take a golf jacket with you.
Trousers
When choosing your bottoms for the Masters Golf Tournament, nicely ironed khaki pants or khaki shorts are excellent choices of golf attire. It's important to choose a colour that complements your shirt, though, and to make sure that they are also properly ironed. Again, remember to steer clear of denim or your visit to Augusta National could be a short one!
Your goal is to be sharply presentable while also being relaxed enough to enjoy watching exceptional golf. To achieve this balance, choose appropriate (and comfortable) golf trousers or golf shorts that suit your distinguished environment.
Footwear
A great choice of footwear while walking the course includes a casual but presentable pair of tennis shoes, trainers or plimsolls. Don't go for footwear like bright basketball shoes, though - they simply aren't suitable in this historical setting. Decent tennis shoes are a good option, as they're comfortable and built for hard work.
You may want to go for a classier look to match a collared shirt (or even a button-down shirt). If you want something dressier, consider some slip-on dress shoes with soft soles. If you plan to wear golf shoes, make sure they're of the soft spike variety. Think about wearing a comfortable pair of
golf socks
too, as it's a long day out on the course at a golf tournament.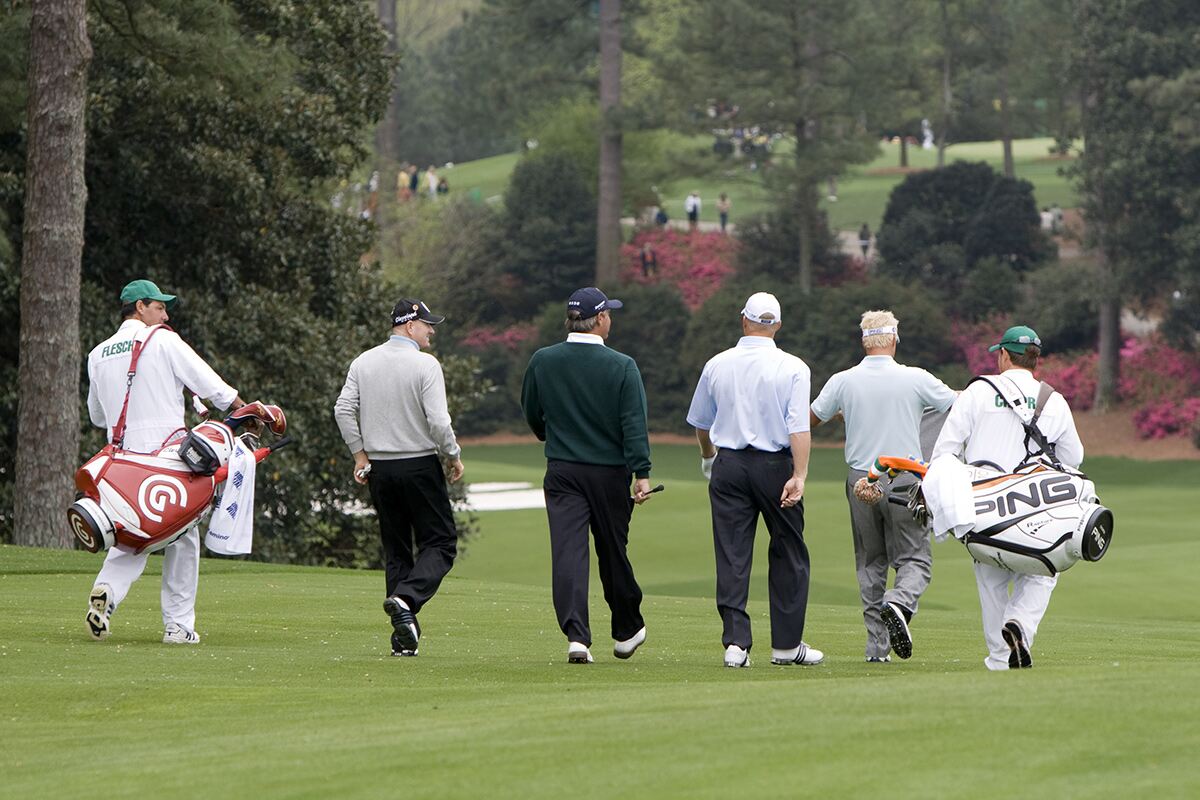 Women at the Masters Golf Tournament tend to have more freedom than male spectators, as there are fewer restrictions to their code of dress. Even so, there are some limitations, and female fans must also maintain a certain decorum in line with the prestigious event.
Tops or dresses
Women attending the Masters Golf Tournament are expected to wear appropriately tasteful clothing that keeps them feeling cool and radiant. It's important to dress comfortably, so consider an outfit like a v-neck top, a polo shirt or a modest sundress. These options are simple and allow you to move with the necessary amount of freedom needed when walking the course.
Be sure to give the appropriate impression by not wearing tight-fitting dresses or tops. Instead, go for something light, like cotton tops, that will maintain your comfort level, look stylish and feel relaxed.
It might be a bit chilly in the morning, so grab a suitable
women's golf jacket
that can be thrown over the shoulders when the temperature heats up.
Shorts, slacks or skirts
Shorts, slacks or golf skirts are perfect choices for women to wear to the Masters. If you decide on shorts, make sure they're knee-length or longer. Shorts underneath golf skirts are a popular choice among female patrons at Augusta. They allow you to move quickly and freely without running any risk of showing off too much to all and sundry. Another tip for female patrons: don't wear leggings.
Footwear
It's important and necessary for a female patron to opt for something comfortable on her feet during the Masters tournament. You'll be walking long distances, so something like tennis shoes or supported sandals would be advisable. Tennis shoes have cushioned soles, so they're likely one of your most comfortable options.
It's also a good idea to wear shoes that fit quite snugly, as you'll struggle on the course with footwear that keeps slipping off your feet. Rather don't wear heels - but if you're adamant about wearing them, go for rubber-soled ballet flats or low wedges. You'll be high on style without losing your footing on the turf!
Leave your flip-flops at the hotel - they're not part of the Masters dress code.
Accessories are always fun to add to your look, but it's best to take the bare minimum with you for a day of spectating. Remember that there are some steep sections on the Augusta course, so you don't want to carry too much weight.
Headwear is vital for men and women. Like golf attire worn during a normal round, a structured golf cap or a floppy hat makes a big difference during a day in the sun. It goes without saying that you should also wear sunscreen to keep harmful rays at bay. For the best viewing experience of the golfers on the pristine greens and fairways, don't forget your sunglasses.
The rules of the Augusta National course make it clear that you can carry your purse or bag, but it's not to be any larger than 25 x 25 x 30 cm. As such, carry your daily essential items but leave anything else behind.
You are NOT allowed to take cell phones onto the golf course. With this in mind, make arrangements with your friends or family before you leave your hotel. Take your wristwatch (if you have one) to keep track of the time. Augusta National has designated areas with phones, which are available free of charge.
Besides mobiles, are there any other items that are prohibited at the Masters Golf Tournament?
Yes; electronic devices, cameras, large bags, coolers and folding chairs are not allowed on the course. Flags and banners also aren't permitted.
Are there any clothing items that are not allowed at the Masters Golf Tournament?
Yes; certain clothing items including denim, athletic (boxer) shorts and tank tops are not allowed. It is imperative to dress in an appropriate and respectful fashion for the tournament.
Can I wear flip-flops or sandals to the Masters Golf event?
Sandals with comfortable soles are allowed at the Masters, but they should have a back that wraps around the ankle. Flip-flops, however, are not permitted and shouldn't be worn, as they aren't appropriate. You should wear presentable, comfortable footwear that will help you to easily navigate the course.
Additionally, take time to check the official dress code guidelines before you attend the tournament.