What to wear to play golf
Find out the do's and don'ts of what to wear to play golf with this simple guide.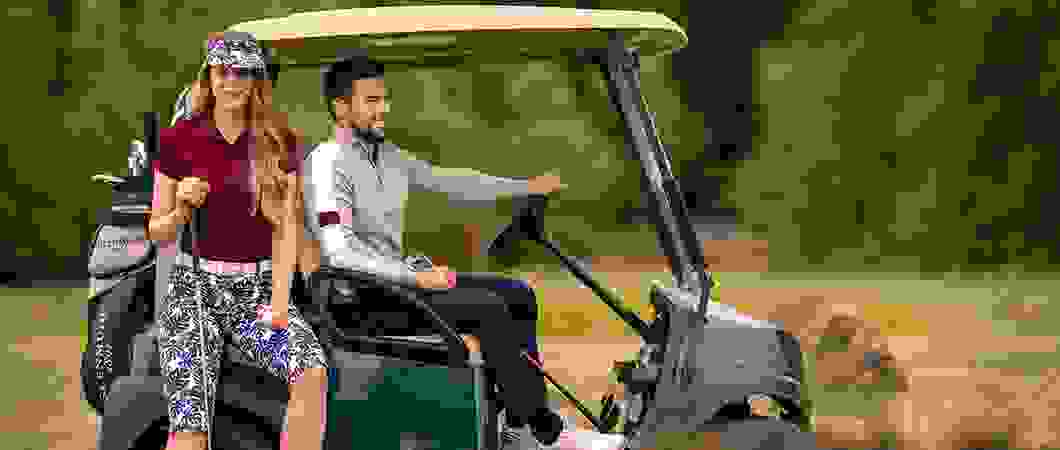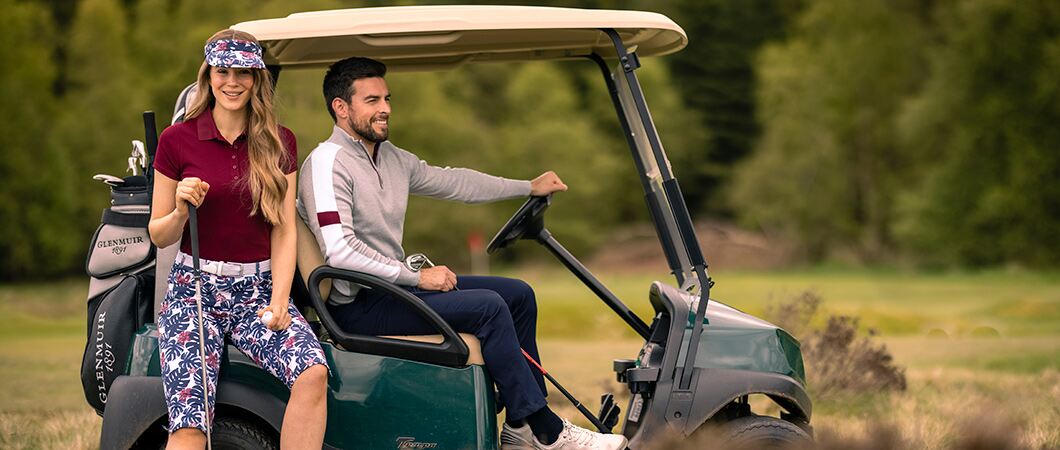 Knowing what to wear when golfing - and just as importantly, what not to wear - can get a bit confusing, to say the least.
Don't worry, though! In this handy guide to exactly what you should be wearing to play golf, we have a wide range of advice, from the do's and don'ts of golf fashion for both men and women, to evne how to make a bit of a fashion statement on the green.

If you follow our advice, not only will you avoid any embarrassing faux pas, you will look and feel your best on every round.


What to wear playing golf: a guide
On the golf course, it's important to consider exactly what you are going to wear; after all, you are going to need to look well-presented and smart, while also being comfortable in the clothes you are wearing and making sure they don't interfere with your golf game.

In fact, the number 1 rule when it comes to golfing fashion is to ensure you are well-turned out, and golf has - fairly or unfairly - been viewed as a bit of an old-fashioned sport. So for those new to the game, knowing what to wear can have a big impact on stress and pressure to fit in with more experienced players.
Don't be intimidated, however! While there are certain rules, both written and unwritten, regarding what you may or may not wear on the green, we will take you through everything you need to know to allow you to shine on the golf course.
Men
A we will see, men should dress smartly yet casually when golfing. The below list is not definitive, and there is room for some additional extras, but by using the lists below as guidance and employing common sense, there will be no problem when it comes to your choice of golf attire.


Upper body
Do wear
A collared polo shirt. These are very popular choices on the course, and they can either be short or long-sleeved or even a turtleneck. Golfing etiquette states that these shirts should be kept tucked in at all times.
If you require additional layers of clothing, you can choose a jumper, a light jacket or a vest.
Don't wear
Denim jackets are a no when golfing.
You should also refrain from wearing any football shirts.
It is also severely frowned upon to wear anything that might have any form of profanity on it.
Tracksuit tops also don't go down well on a golf course.
Lower body
Do wear
Smart trousers are ideal for playing golf. While you don't have to opt for a belt, it can make your trousers look smarter, so consider trousers with belt loops. Chinos are popular when it comes to golf, with many men opting to own a few pairs in various colours.
You can also opt for wearing shorts, but make sure these are long enough that they just cover your kneecaps.
Don't wear
No tracksuit bottoms should be worn on course if you want to fit in!
You should also refrain from wearing any football shirts.
Also, short shorts and three-quarter length shorts. The length really does matter. Both too short and too long a pair of shorts can look a bit chaotic on the green.
Refrain from anything with a drawstring, such as gym shorts or football shorts.
Footwear
Do wear
Socks are a must, and almost any type is perfectly acceptable; just try to make sure they aren't showing too much or your trousers are not tucked into them. If you are wearing socks with shorts, however, aim for white socks that sit below your ankle. Don't wear overly long ones that require being pulled up. There are some exceptions to this; certain courses (although it's rare) ask that their members wear knee-length socks when you wear shorts.
Always wear golf shoes on the course; nothing else will do. These can be spikeless or soft-spiked. Trainers, flip flops or anything else is a huge no-no.
Don't wear
Don't wear steel spiked golf shoes - they can massively damage the course, so you won't make many friends by rocking a pair. Not only this, they can cause a lot of pain if you walk a lot, which you will be.
Any shoe with a heel should definitely be avoided as these leave can also leave imprints.
Headwear
Do wear
You can wear pretty much any type of hat you wish, within reason, that is. Baseball caps and even cowboy hats are permitted on many courses.
Don't wear
Just ensure whatever headwear you decide on is not worn backwards e.g., caps.
You'll also want to avoid overly large hats as they can affect your swing.
Golf accessories and extras
You might want to consider whether a golf glove will help. These are not compulsory, however.
If you wear jewellery, ensure that it fits well, won't have a tendency to fall off and isn't over flashy. Beware that, if wearing more expensive pieces, there is a chance they could get damaged during play, so bear this in mind. Make sure it is small, too; a large bracelet or chain will not do your swing any favours.
Of course, last but not least, you'll need a golf bag.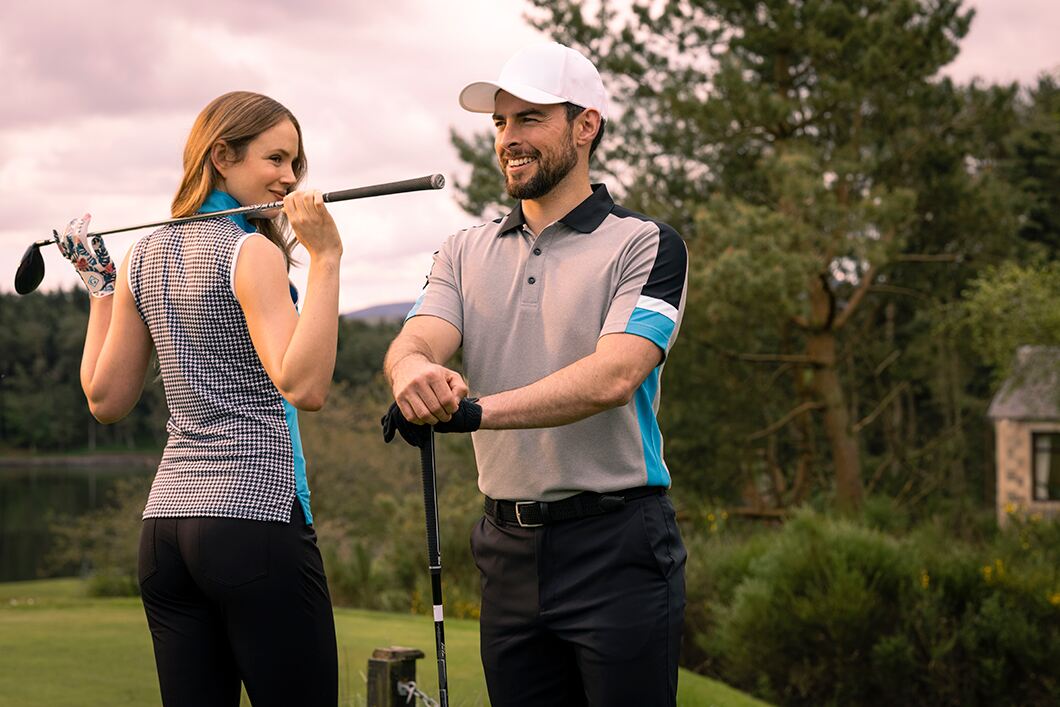 Women
The unofficial rules of what women should be wearing when playing golf are very similar to that of men. As long as you stick to what we've detailed below, you cannot go wrong.
It's not an exhaustive list, but it will give you a really good idea of what is acceptable and what won't go down as well on the course.
Upper body
Do wear
Collared polo shirts are great for the golf course. A polo shirt will also help you keep cool in warm weather. Or, you can opt for a sleeveless blouse or polo that has a collar to make it look that bit smarter.
If you want to add extra layers, you can do so; a light jacket or jumper, or even a vest, are great options for keeping the elements at bay.
Don't wear
T-shirts should not be worn on any course, nor should any spaghetti tops, halter necks, tank tops or football shirts or other sports shirts.
Tracksuit tops are also quite collectively frowned upon, and they never make a good look on the green.
Don't wear tops that have any large banners or profanity on them; no matter how comical you may find them, they could offend others.
Finally, say no to denim jackets. Not only will you look completely out of place on the green, but denim can also be restricting, and you need to be on your A-Game on the course!
Lower body
Do wear
Capri pants are great for an afternoon of playing golf. Or, you can also opt for a combination of shorts and skirts, known as skorts, which are great for warmer weather.
Normal skirts are also permitted, but be sure the bottom of the skirt doesn't lie too high above the knee.
Long, smart trousers are also a very popular option for women; many wear chinos and khakis which not only look great but are super comfortable too. You might want to wear a belt, so consider golf trousers with belt loops.
Shorts can be worn, but just make sure these aren't too short - knee-length is fine.
Don't wear
Steer clear of sundresses and certainly don't entertain the thought of a mini skirt!
Jeans can be worn on some courses but not all, so always be sure to check the dress code of the club you intend on playing at.
Leggings are also not permitted at many venues, nor are gym shorts.
Footwear
Do wear
You should wear low socks, or no-show socks as they are sometimes referred to, whether you are wearing golf slacks, long trousers or skirts.
Ideally, you should be wearing soft spike shoes or spikeless golf shoes; most courses will not allow you to wear anything else. It's best to invest in a good pair of golf shoes, as you will be spending potentially many hours in them.
Don't wear
Trainers are definitely not for the green, so refrain from wearing them, and the same goes for flip flops or sandals.
Headwear
Do wear
Leave the large sun hats at home, as they can affect your swing. Any other types of hats can be worn, such as baseball caps and sun visors to keep the sun out of your eyes when playing.
Don't wear
No backwards baseball caps; always wear them correctly on the green.
Golf accessories and extras
While golf gloves are not a requirement, many players find them very beneficial in improving their grip.
If you want to wear jewellery on the course, you can, but try to ensure these are inexpensive pieces that you can live without if they get damaged or lost on the green.
You'll also need a golf bag to carry your clubs.
Feel comfortable and confident in your golf attire
Above all, the most important thing when playing golf is you feel comfortable and confident. After all, if you are self-conscious, you aren't going to play your best. And that's a fine balance to manoeuvre.
Remember, you will need to wear clothes that you can comfortably swing in, as well as golf shoes that you could be spending 5+ hours in - maybe more if you decide on a visit to the 19th.
Wear breathable clothes because, with all the walking, you are likely to get warm. Equally, however, be braced for a potential change in the weather; it is the UK, after all!
In the event you get a beautifully warm day for golf play, refrain from wools that can make you overheat and instead opt for moisture-wicking synthetics that will keep you cool and dry.
If you find yourself playing on a day where the weather is cold, add layers instead of one big chunky piece of clothing, which will do a much better job of keeping you warm and snug against the harshness of the elements. And, don't forget a woolly hat when it is especially chilly.
In the event of rain - or the risk of - carry water-resistant clothes that will not interfere with your swing while also keeping you dry.
Make sure your clothes allow enough room for a great swing while not being too big. Oversized clothing will also affect your play.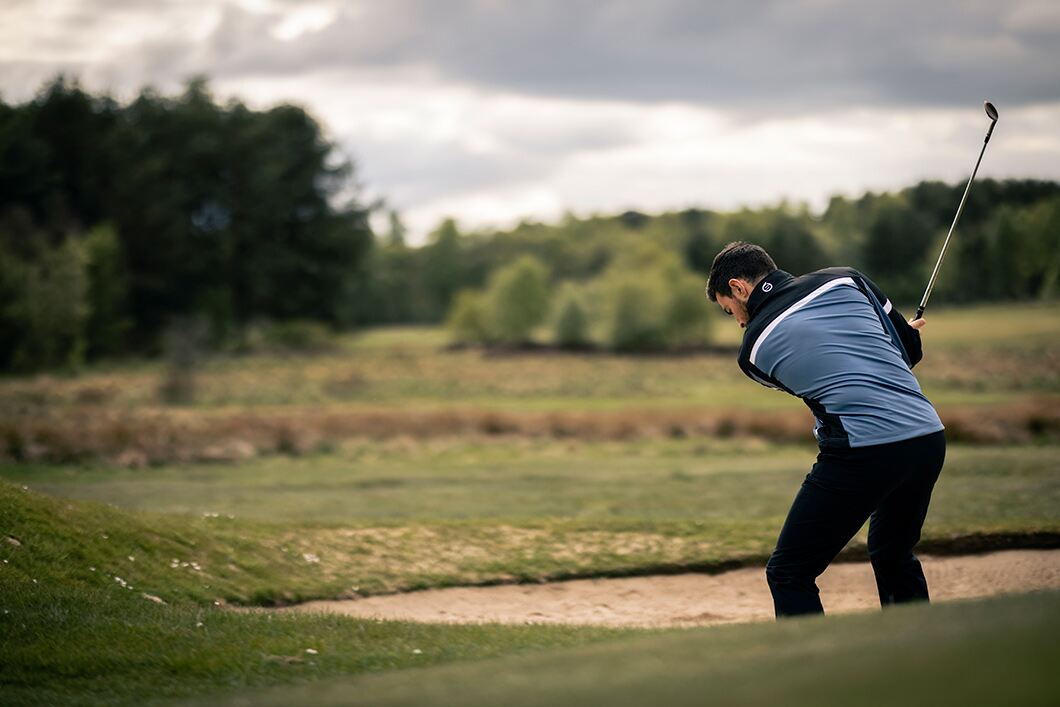 What to wear away from the golf course
So now you know what you should - and shouldn't - be wearing on the green, what about off the green?
It is as important to know what to wear throughout the golf course as it is in the clubhouse, so always be sure to check the rules before you turn up. Nothing could be worse than turning up in the wrong type of gear because you forgot to pre-plan.
Some clubhouses, for example, particularly in the dining areas, have a strict policy of no trainers, jeans or sports jerseys such as football tops. Some of the most exclusive golf clubs will only permit entry with a jacket and tie.
However, many clubhouses will have an area where you can dress casually - but again, it's really important to not just assume; always check out the clubhouse rules before you set off.
Allow Glenmuir to take the stress out of knowing what to wear on the course
At Glenmuir, we have everything to complete your golfing look while allowing you to perform your absolute best both on and off the course. Why not check out our fashionable and affordable range of both
men's golf outfits
and
women's golf looks
so that you can focus on an above-par performance on the green.


FAQs
Do you need to wear golf clothes to a driving range?
On a driving range, the rules are usually much more relaxed when it comes to what you can and cannot wear. There are exceptions, however, so check before you arrive!
Saying that, most driving ranges do not have a dress code, and you can wear pretty much anything you like, so long as it won't potentially offend others.
We suggest wearing to a driving range exactly what you would be wearing when golfing. This gets you used to the clothes and will make you feel more comfortable as sometimes it is possible to be put off if you feel a bit strange in what you have on.
If you'd prefer not to wear golf clothes, ensure the regular clothes you are wearing to the range allow for a good swing, so don't wear items that are too big or too small.
Spikeless golf shoes are really recommended, however. These are kind to your feet and will get you used to the feel of them when you are spending hours on the green. Shoe height can also make a huge difference to your swing, so it's really recommended to stick to the same golf shoes as you use on the course.
Do you have to wear a collared polo shirt for golf?
A collared shirt is recommended on the course; however, each golf club will have its own unique set of rules which you must abide by.
Erring on the side of caution is always the best bet, and you are not likely to be turned away from a course if you have a collared shirt on - this goes for men and women.
What to wear for golf if you don't have the clothes?
If you just golf occasionally, you may not feel the need to invest in golf clothes.
You can wear cargo shorts, collared shirts, polo shirts, and t-shirts covered with a jumper; pretty much anything that looks smart and ensures you are well covered.
If you don't have golf clothes, however, it really might be time to get some! You won't feel the part if you don't look at the part, and worrying about how you fit in will not do your golfing performance any good.

Can you wear shorts to golf?
Yes, it is perfectly acceptable to wear shorts at a golf club as part of your golf clothing. Ideally, they need to have belt loops through them, and there should be absolutely no drawstrings; the same goes for both men and women.
Also, consider the length before you make a purchase - cargo shorts that stop at your knee are ideal for hot weather.
Final thoughts
It can feel like a minefield having to think about what to wear on a golf course, but hopefully, thanks to this guide, you feel more confident about making informed choices when it comes to what to wear.
As we have said repeatedly (and, yes, we think it's worth one more mention!), it's extremely important to check the rules regarding what you can and cannot wear at your chosen golf course.
You can do this by checking the golf course website or, if you prefer, you can call the club, who will be happy to advise you. Staff would much prefer you would do this, as it saves everyone the embarrassment of having to turn someone away or be turned away.
As we have learned, dress codes aren't just for the green. Be mindful that, after you have played golf, you might fancy a bit to eat or a quick drink with your buddies, so make sure you bring an extra set of suitable clothing to be worn in the club dining room or bar.
But, above all, remember that the rules are there not to make your feel self-conscious. If you remember to look smart and play the part, you will have no trouble.
Enjoy your round!