Table of Contents
Playing golf is a complex affair to get your head around without having to worry about what type of clothes you are going to be seen in when you first hit the green.
In this article, we have put together a definitive guide to what to wear golfing, as well as offering up some big no-nos that won't be a hit on the course.
So, while your game might give away your beginner status (we've all been there), your overall look definitely will not.
Let's get started.
Let's go through the key items of golf clothes that men should wear golfing for the first time. With this information, you can look and feel your best while enjoying a round of golf. Remember, at the beginner stage, there isn't a huge need to have a full wardrobe of unlimited golf shirts and golf pants. A few key pieces are all you need in teeing off on your golf journey.
Top
For your first time out on the green, a classic collared men's golf shirt is the perfect attire. From breathable fabrics to stylish designs, you'll be able to find a collared shirt that fits your own personal style and keeps you cool and collected for those difficult shots.
Plus, if you need to layer up for colder weather, you can always add a jacket or sweater for a sophisticated look. Let's face it, unless you are playing golf in some exotically warm location, layers tend to be very much needed - particularly in the UK.
However, don't just pick any old jacket. It goes without saying that you'll want something that doesn't interrupt your swing - like a pullover or quarter-zipper.
Bottom
When it comes to trousers and shorts for golf, jeans and athletic-style trousers are a massive no-no.
Opt instead for khaki-style trousers without cargo pockets. In terms of shorts, they should reach just above the knee. Don't forget your belt loops, however, as many golf courses require you to tuck your shirt into your bottoms before you can even set foot on the golf green.
Golf shoes
No need to worry if you don't have golf shoes for your first visit to the golf course. Thankfully, most clubs and golf courses won't require golf shoes, so you can easily get away with wearing some black or white canvas shoes.
But if you want to take your game up a notch, we recommend investing in some soft spike or spikeless golf shoes. This way, you can get the grip you need without having to worry about metal spikes.
As a female golfer, the rules are largely the same as that of what men should wear when golfing. But, there are a few key differences. Wearing golf clothes to play golf might look and feel a little different from your regular day-to-day attire, but it won't take long to feel like a second skin if you choose wisely.
Top
Women golfers should choose a sleeveless collared shirt or one with sleeves but no collar for their golfing wardrobe. To ensure a perfect fit for your swing, opt for a golf-specific collared shirt brand. Not only will it be tailored to the golf course, but it will also provide the mobility you need.
Make sure that the shirt you choose allows you to move freely when swinging. Sweaters and jackets are also acceptable on the green - just make sure you stay comfortable, as well as stylish.
If you're hitting the links for the first time and want to absolutely make sure you look the part, a ladies' golf shirt is the way to go. With a golf shirt, you can be absolutely sure that you won't be violating any dress code regulations.
Bottom
Women golfers can wear golf shorts, trousers, or even a golf skirt. Women need to be careful that the golf bottom they are wearing is long enough. Although women's golf shorts can be a few inches above the knee, they still cannot be short shorts as most golf courses will not allow this.
Furthermore, don't wear jeans or something that is built more for tennis or running. Generally speaking, a pair of cotton shorts will be a perfect fit for a woman golfer. Choose something in a khaki or navy colour so that you can use them with varying shirts and start to build up your golf wardrobe.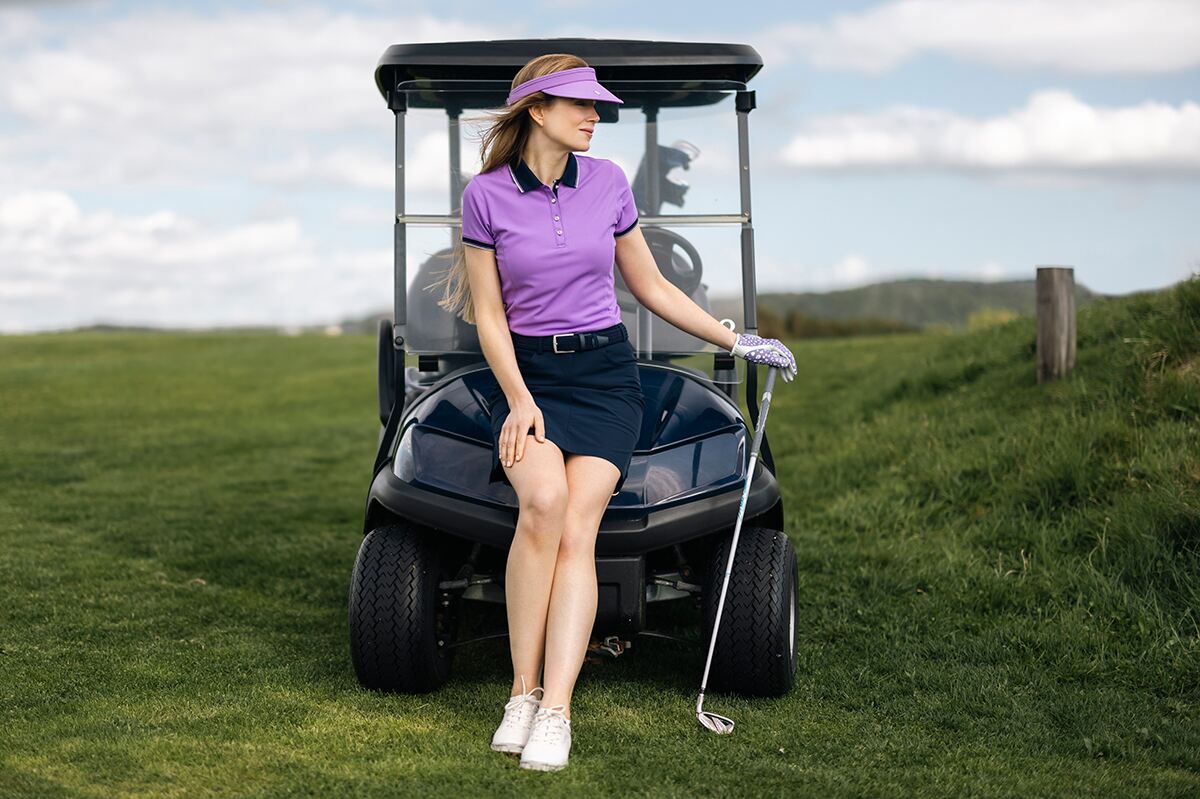 Golf Shoes
As with male amateurs, for female golfers just starting out, canvas shoes are acceptable - most golf courses will allow you to wear these, anyway. Once you find your rhythm, however, investing in a good pair of golf shoes will give you the extra stability and power you need to really make a difference in your game.
It's not all about the golf shoes and golf shirts, however. There are also a few extras and accessories that can help you feel more at home when you play golf on the course. Let's take a look at them.
Hats, caps, visors
While the cynical among us may presume the pros wear hats for advertising opportunities, they do far more.
Hats can be a great way to shield your eyes from the sun and rain, and also help protect your skin from those harsh rays. While wearing a hat is entirely optional, many golfers prefer to wear one, and you should seriously consider it to allow you to stay cool and help mop up some unsightly sweat on those warm days on the golf course.
Many women also like to opt for a hat for similar reasons. Yet it's visors that are especially popular with female golfers.
Whatever form of eye/head protection you decide on, you should always take your hat off when entering the clubhouse and be careful not to wear it backwards on the course, as many golf courses don't allow this. For a comfortable yet practical choice, opt for a breathable cap. If you're looking for maximum sun protection, go for a bucket hat.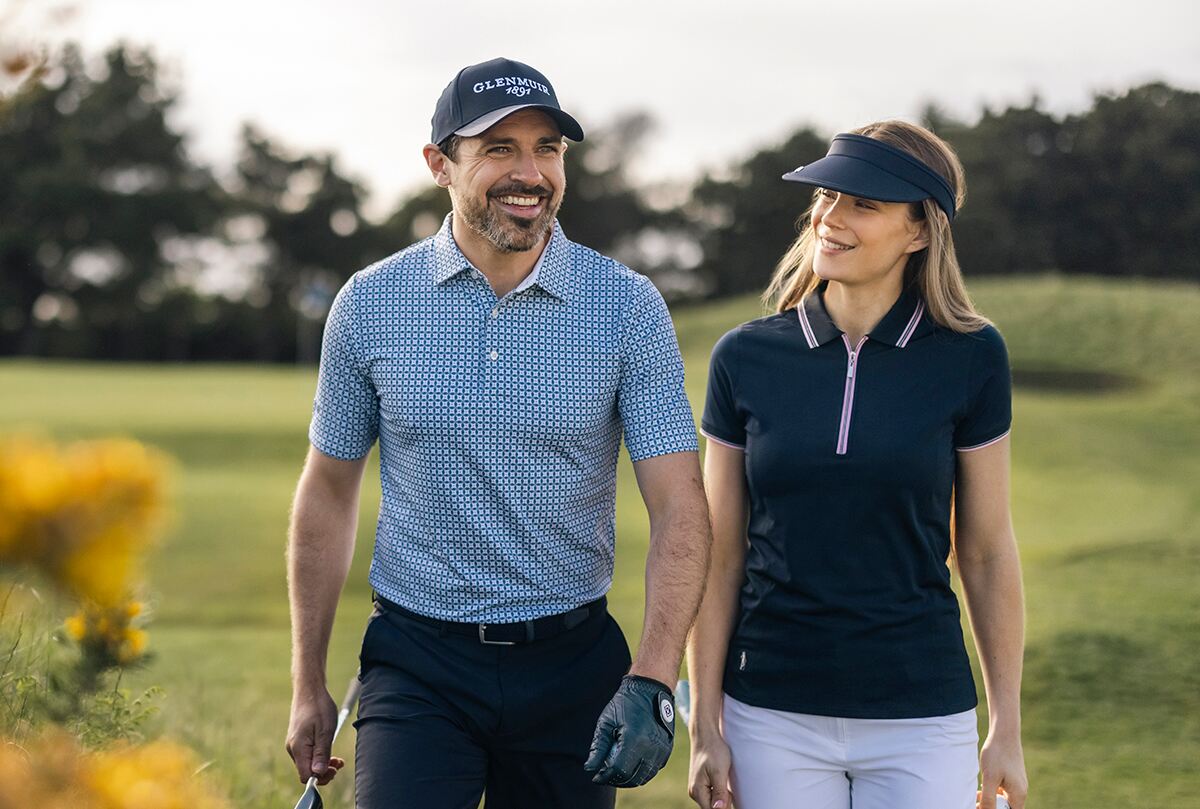 Socks
Don't sweat over which socks you should wear on the golf course. Sure, some folks like to get creative with their choices, but you can't go wrong with classic black or white athletic socks. For the ultimate comfort and sweat absorption, make sure your socks reach a few inches above your ankle. Or, at least slightly above your shoes.
In doing so, you can be sure your heels are protected all the way through your round. Because there's nothing worse than blisters setting in halfway around the course, is there?
Golf gloves
Golf gloves are a great way to up your performance on the golf course. While they're not a must-have, we highly recommend wearing a golf glove on your lead hand (left-handed if you're right-handed). Using a golf glove will help to prevent your grip from slipping or rotating due to sweaty hands, leading to more consistent strikes and better accuracy.
Here at Glenmuir, there's nothing we don't know about high-quality golf attire. After all, it's been our passion since 1891. We are home to a huge choice of men's and women's golf clothing that's made to last, encompassing the latest fashions and lots of classic staples, too.
Why not check out the Glenmuir website for yourself to see our selection for yourself? While we can't promise that we'll have you playing like a pro on your first golf outing, we can at least have you looking like one.
Are there any special rules regarding what to wear on the driving range?
If you're going to a standalone driving range, you can hit balls in whatever clothes you like. But if the driving range is at an actual golf course and near the clubhouse, you might have to dress the part. In this case, it's best to stick with the attire you would wear on the actual golf course.
Can I wear shorts when playing golf?
While the pros on Tour need to stick to long trousers, amateurs can break the mould by sporting shorter legwear.
So, if you're looking to hit the links in shorts, you're in luck. Amateur golfers can opt for shorts, so long as they have belt loops and aren't overly short. Sweatpants, running shorts, and drawstring exercise shorts are all off-limits. If in doubt, check your club's dress code for what type of golf attire is acceptable.