Table of Contents
Golf is, ultimately, a simple game. Yes, it might be challenging, even stress-inducing, at times, but the rules are simple. Get the golf ball into the hole using as few strokes as possible.
Simple enough, right?
Yet, when it comes to scoring, that's when things get a little more confusing and, well, technical.
Fear not, as we at Glenmuir have compiled the ultimate guide to how the tricky conundrum of the golf scoring system works.
Let's get into the nitty-gritty.
Golf is a funny old game; anyone who plays it will tell you. The scoring is quite unique, too. Unlike pretty much any other sport, the best score is the lowest score.
In a round of golf, a player will complete 18 holes. Throughout each of these holes that are tackled, they will aim to hit the ball into the hole in as few strokes as possible. A stroke is counted each time a player's club connects with the ball.
Each of the 18 holes on the course has a specially designated par. A par is the number of strokes it would take a skilful golfer to successfully navigate the hole. Therefore, this is a player's target number. However, hit the golf ball into the hole in fewer strokes than the par number and you are doing really well!
There are a variety of par options on a course. These usually range between 2 and 4 but can be as many as 5.
To put the concept of par into context, say you were on a par 5 hole, and it took you 5 attempts to get the ball successfully into the hole. This would mean that you would appear to be a pretty skilled player.
Golf has some rather odd terms when it comes to scoring (well, didn't we say golf is a pretty unique game, after all!). Let's look at these terms in a little bit more detail below.
Albatross (also known as a Double Eagle)
A double eagle or albatross is when a player hits the ball into the hole 3 under par.
Eagle
An eagle is when a player hits the ball into the hole 2 under par.
Birdie
A birdie is when a player hits the ball into the hole 1 under par.
Par
A par score is when a player "equals".
Bogey
A bogey is when a player hits the ball into the hole 1 over par.
Double Bogey
A double bogey is when a player hits the ball into the hole 2 over par.
Triple Bogey
A triple bogey is when a player hits the ball into the hole 3 over par.
Course Par
And what about the course par, we hear you ask? The combined totals of each of the 18 holes are what is known as the golf course par. At the end of a game of golf, a player will reach a score that is either below, equal to or above the course par.
Let's look at an example in the interests of clarity:
If the course par is 72 and you navigate all 18 holes in 74 strokes, your final score is 74. This means that you are 2 shots over par (+2). If your friend, who is playing with you, manages to finish the game in 70 strokes, their final score is 70. This makes them 2 under par (-2).
It also means you've probably lost the wager you were confident about winning earlier.
It is a system of play known as stroke play. Let's look into it alongside some other popular forms of scoring when it comes to golf.
As mentioned, stroke play (also known as medal play) is the form of scoring discussed above where the number of strokes each player takes counts and is added together. Then this is reflected against the course par. It is by far the most common system used when playing golf.
But it isn't the only one.
Match play is a completely different form of collecting players' golf scores. Instead of considering the total number of strokes carried out to see the end of the course, the golf score in match play is determined by the number of holes that a player has won.
Players actively compete against each other for a better score for each hole. The player that ends the round with the lowest (i.e. the best) score will gain one point. Therefore, they win the hole. If the players tie in match play, the hole is halved, and no points are awarded.
By the end of the game, the player (or the team) that has won the most holes is declared the winner. By that end, the player or team with the most points, loses. The game is stopped if a player has a greater score than the total potential score of the number of holes remaining.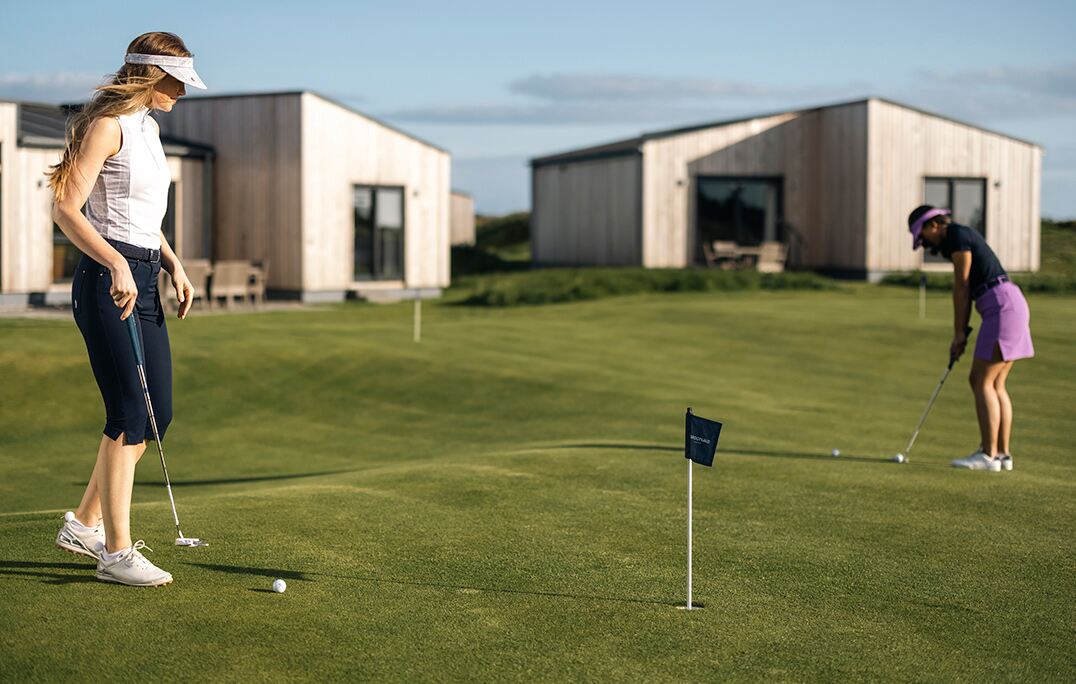 Introduced in the 18th century, the aim of the Stableford Scoring System was not to allow players to become deterred after a few bad holes. In short, the system allows a player to continue when Lady Luck hasn't been on their side. One of the biggest draws of these scoring system is it allows a game to be played faster.
Below is a guide to how points are calculated in the Stableford system:
Four strokes under: 6 points
Three strokes under: 5 points
Two strokes under: 4 points
One stroke under: 3 points
Level par: 2 points
One stroke over: 1 point
Two strokes or more over: 0 points
Double Eagle/Albatross: 8 points
Eagle: 5 points
Birdie: 2 points
Par: 0 points
Bogey: -1 point
Double Bogey or more: -3 points
There are times when a player will be penalized during golf. This then, ultimately, affects the scoring they, or their team, receives.
In fact, there are many instances when a player with the lowest score could quickly find their game unravelling. One of the most common examples of these includes hitting the ball into the Out of Bounds or into a water hazard (which is never fun for anyone).
There tends to be a long wait while a player finds their ball, depending on the course difficulty and the thickness or density of the area. It will also often mean the game goes on for much longer as a player can be forced to hit another shot from their previous position.
Are you finding yourself taking 7 shots on the first hole? While here at Glenmuir we can't promise we can have you playing like Rory McElroy in no time, we can make you look and feel stylish and confident on the course - regardless of your net score.
Based in the home of golf, Scotland, Glenmuir has been a leading player in golf apparel since 1891. In short, we really know our stuff. If high-quality and affordable golf clothing and accessories are your thing, check out our website without delay!
How many shots is considered a good score in golf?
Generally speaking (and we mean very generally), what is considered a good score depends on your overall ability. A score of 90 would be considered good for an average golfer. If you are just starting out, don't pit yourself against a score this low, however!
What is tournament play?
Tournament play is a sanctioned event in which golfers compete against each other in either a stroke play or match play format.
What is a golf handicap?
A golf handicap is a numerical value which shows a golfer's potential on a course. It allows golfers of any ability to be able to compete against each other on a more level playing field and generally make the game more fun. Read our in-depth guide on what a golf handicap is to find out more!
Golf scoring can be confusing. There are a lot of awkward terms to get your head around, for one. Secondly, there's more than one way to score in golf, so that doesn't make it any simpler, either.
However, it's something that you are likely to pick up as you go along, especially if you are playing with more seasoned golfers.
So don't sweat keeping score for now if you are just starting out; just enjoy the game!