Table of Contents
Travelling abroad on a golf trip to sunnier climates is always cause for excitement. What might not be as enthralling, or, dare we say it, even a daunting prospect, is choosing what to wear.
However, fear not, as Glenmuir have you covered with this go-to guide detailing everything you need to consider, so you feel and look your best both on the course and at the golf club, too.
A golfing break abroad should be about having fun and not worrying about what you are going to wear. Our guide is here to take a little bit of the stress away from choosing the correct attire and accessories to bring with you. It's not exhaustive, however, and, there may be some things that you don't want to include. And that's absolutely fine by us.
So, without further ado, let's get discussing.
When headed for a golf getaway in Spain, be sure to pack some UV, moisture-wicking golf shirts. The mercury can go up quickly, so it's important to wear clothing that allows you to stay cool and composed in the middle of the day when the weather is warmest.
You'll still want to plan for the cooler mornings and evenings, however. With that, it's a great idea to pack some mid-layers and collared shirts that will help you stay comfortable as you tee up with your friends when the temperature is a little lower.
The great thing about lots of golf clothes is that they can easily double as sightseeing attire, too. With polo golf shirts, for example, you'll be ready for a round of golf, sightseeing, or even a night out. Amp up your evening look with a sophisticated Merino sweater – and you'll be ready to take on the 19th hole in style.
Ultimately, choose your golfing attire based on what you feel most comfortable in.
Saying that however: while you might be able to get away with wearing a hoodie at your local golf course, it's always best to check the dress code before you visit a new venue - especially when you're travelling abroad. That way, you won't have to splurge on a new outfit if your current one doesn't meet the requirements.
It's perfectly acceptable to visit a golf club wearing shorts - as long as they abide by the dress code, of course. Opt for a looser fit to encourage airflow and choose lighter colours such as white or tan to help reduce overheating.
If you prefer to wear trousers, select a brand with synthetic construction to draw away sweat and look for pants articulated at the knees to prevent bunching.
When it comes to undergarments, underwear made from moisture-wicking fabric or breathable wool will keep you dry and cool while you play is key.
For ladies, the above rules still apply. However, women have the additional choice of opting for a skirt to help them keep cool. If you want to keep your look chic during your swing, why not try a skort?
It's the perfect combo of skirt and shorts, so you don't have to worry about any embarrassing mishaps that could potentially occur with a skirt. Plus, look out for moisture-wicking brands to battle any bunching up on sweaty days.
Although Spain is largely known for its beautiful weather, there's always the risk of a spot of rain. If you don't want to get soaked on the golf course, we recommend packing some lightweight waterproofs on your next golf trip to Spain.
If you're planning on hitting the fairways in Spain, don't forget to bring along the right shoes. Coming prepared with the correct golf shoes can make your experience much more enjoyable and will help you get the most out of your game. Ensure to bring a comfortable and durable pair of golf shoes that can handle the unique terrain and conditions of Spanish golf clubs.
You'll be glad you did.
Time for just a small word of warning. Here in the UK, the trend of wearing trainers on most golf courses is growing increasingly popular. This isn't necessarily the case in Europe, however. So, always be sure to do a bit of research on what golf clubs you want to visit before your next golf trip abroad.
Some golf courses require strict compliance with their rules and regulations around what to wear when playing golf.
Lastly, whether you're playing a quick game or heading out for a full day on the links, don't forget to pack a few pairs of comfortable trainer liner socks That way you can stay looking and feeling your best while enjoying your game to the fullest, without having your feet feeling sweaty and slippery.
Don't forget to pack a few must-have golf accessories. From gloves to tees and balls, you'll be looking and playing your best without breaking the bank on pricey pro shop bits and bobs.
Hats/Visors
Any golfer worth their salt will tell you that wearing a cap or visor is a must on the golf course. Not only will they help protect your skin from the sun, but they can also keep you cool in the heat.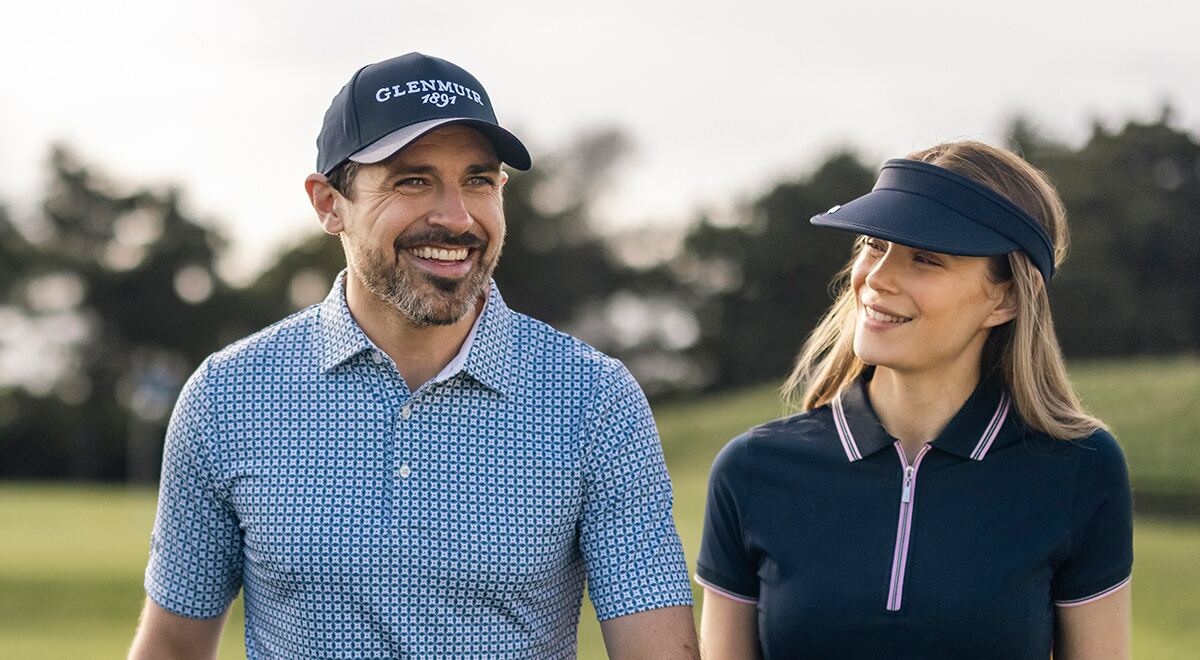 Golf Towel
Golf towels are ideal for mopping up sweat on those really hot days and can easily fit into just about any golf bag.
Extra Golf Balls
Stock up on golf balls before you go and save some money - you wouldn't believe how many people forget. With so many water hazards at many Spanish golf clubs, you don't want to be lacking a spare ball or two. Get your golf balls online and be ready for a great golfing holiday.
Sunscreen
No matter how much you may want to show off your tan on the course, sunburn is never a good look. Make sure to stock up on sunscreen and top it up throughout the day – whether you're playing a few rounds of golf or just chilling by the pool. That way, you can stay safe and still enjoy an unforgettable holiday playing golf.
Water Bottle
Golfing in Spain can be a great way to get a sweat on but don't forget to drink enough water. Pack a water bottle and keep yourself feeling refreshed and ready to take on the course. This is particularly important if you are not used to warmer climates. Remember, hydrate, hydrate, hydrate in order to keep safe and comfortable.
Don't run the risk of flouting the dress code rules when you're abroad. Glenmuir has everything the amateur golfer needs to look on par on a Spanish golfing getaway. From the very latest in men's and women's fashions to the latest accessories and golfing must-haves, we stock everything to make your golf holiday abroad one to truly remember.
Check out the Glenmuir website for lots of inspiration.
How should I start planning my golf holiday abroad in Spain?
Start planning your golfing holiday abroad in Spain by researching the best golf courses, checking out the best places to stay and making sure your travel documents are in order. Then you can begin organising what clothes and accessories you want to bring with you. Remember, the planning stage can be fun, too, so don't stress over the tiny details.
What's the best time of year to visit golf courses in Spain?
In our humble opinion, the best time to visit courses in Spain would have to be during the spring and early summer months when the weather is perfect for a round of golf. Spring in Spain typically runs from March to May and early summer from June to August.
However, if you like your temperatures a little cooler, consider Autumn for a slightly more refreshing, yet pleasant round of golf.
Should I bring my own golf clubs?
Bringing your own clubs can be a great way to make sure you're prepared for the game of golf, no matter the stakes. If you're headed to a competition, it may be worth the time and effort to pack your own clubs - you'll be used to playing with them and won't need to worry about renting once you arrive.
On the other hand, if you're just looking to relax and have some fun, you may find it's less hassle to leave your clubs and any other sports equipment at home. Ultimately, it's up to you to decide which route is best for your game.