Table of Contents
If you are new to the game of golf, there's a lot to learn about this marvellous game. One key - yet often overlooked - factor regarding golf equipment is how many golf clubs you are allowed to carry in your golf bag.
Even those that are old hands at the game can easily slip up. After all, well-known professionals have been heavily penalised in tournaments for the simple mistake of carrying too many clubs (but more on that later!).

So, whether you are brand new to the game and just finding your feet or a seasoned golf player that needs a bit of reminding, we have you covered.
In this article, we have everything you are looking for, including how many clubs in a golf bag are allowed, the penalty for carrying too many clubs, when you are permitted to use your partner's clubs and much, much more.
A player is allowed precisely 14 clubs in a golf bag, as stated by both the R&A (The Royal and Ancient Golf Club of St Andrews) and the USGA (United States Golf Association).
These 14 clubs
usually
include:
1 putter
3 types of wood (for example, a driver, 5 wood and 7 wood)
8 irons
2 additional clubs of your choice
However, players are allowed to carry any variety of clubs they wish, so long as the total does not exceed 14.



The rule is written into the regulations of all the major golfing authorities. The

R&A regulations

state in their rules, for example, that:

A player must not:

Start a round with more than 14 clubs, or

Have more than 14 clubs during the round.
If the player starts a round with fewer than 14 clubs, he or she may add clubs during the round up to the 14-club limit (see Rule 4.1b(4) for restrictions in doing this). When the player becomes aware that he or she is in breach of this Rule by having more than 14 clubs, the player must immediately take the excess club or clubs out of play, using the procedure in Rule 4.1c(1)
:
If the player started with more than 14 clubs, he or she may choose which club or clubs will be taken out of play.

If the player added excess clubs during the round, those added clubs are the ones that must be taken out of play.
After a player's round has started, if the player picks up another player's club that was left behind, or a club is mistakenly put in the player's bag without his or her knowledge, the club is not treated as one of the player's clubs for purposes of the 14-club limit (but it must not be used).
It used to be that professional golfers were allowed to carry anywhere between 20-25 golf clubs at any one time, although sadly, this is no longer the case.
The rules regarding how many clubs in a golf game are allowed changed because steel-shafted clubs could not allow the same number of shot-making possibilities, so then pro golfers would take extra clubs because there was much more opportunity for a variety of shots.
Thus the rules were updated to limit the number of clubs that a golfer could carry in their golf bag, with the USGA imposing this in 1938 and the R&A following suit shortly after in 1939.
We've established how important it is to ensure you carry the exact amount of clubs that you are permitted and no more. But why?
If it's found that you have more than 14 clubs, you can face a penalty. The penalties carried out depend on the type of game you are playing.
There are two penalty options:
Match play
If you use an extra club during match play, the result will be a deduction for that particular hole.


Stroke play
Stroke play comes with more severe penalties. If you use an extra club, two strokes are enforced for however many holes on which you use the club. The maximum number of strokes in four.


If you find that you have an extra club, it's essential to make sure this error is rectified immediately.

Generally speaking, there are two ways to do this:
Inform whoever you are playing with of the mistake.
Turn the additional club(s) upside down in your golf bag.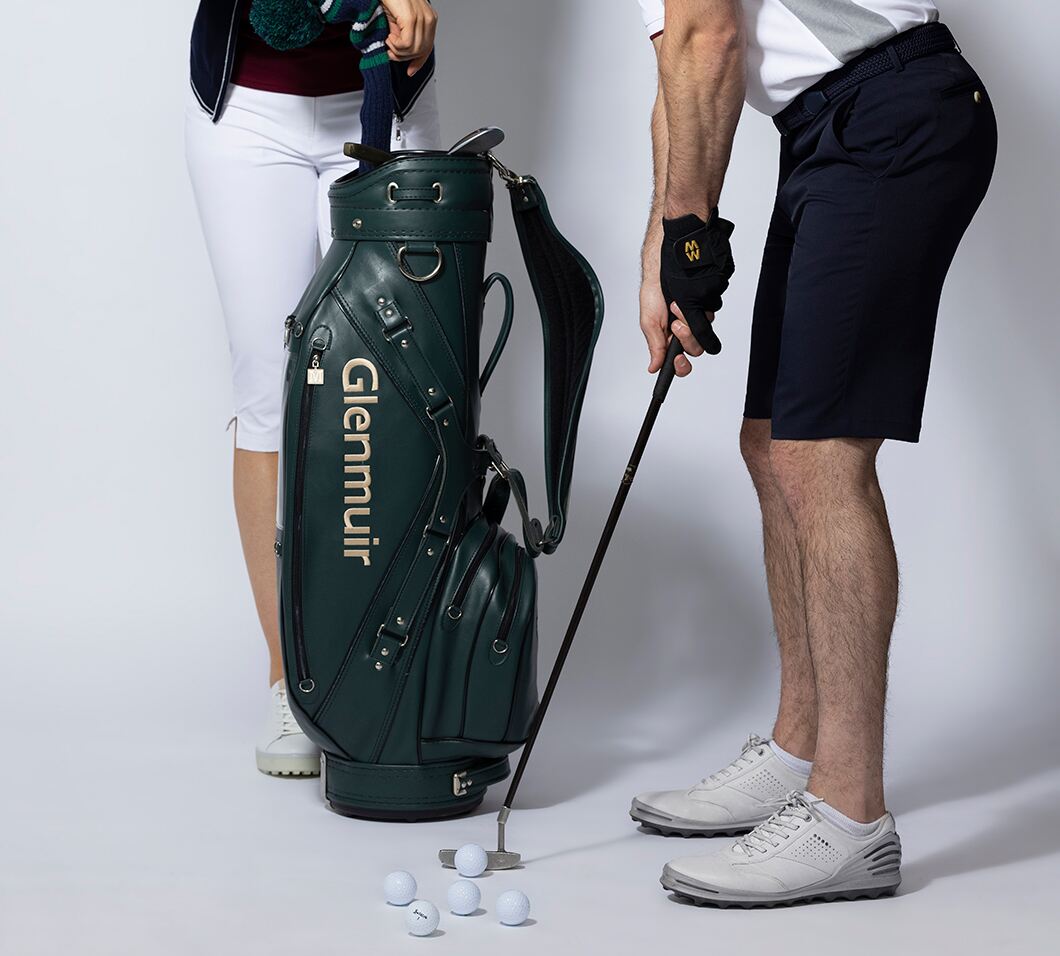 An often-asked question is whether or not you can use the clubs of those with whom you are playing. Unfortunately, the answer is no.

If you want to use your friend's golf club during a round, you can't do so because, due to the rules, a player must only use their own clubs in order to make a stroke that counts towards his score. You can practice with someone else's clubs, but when it comes to actual gameplay, it is considered a big no-no.

You and your opponent are allowed to carry your clubs within the same golf bag instead of using separate golf bags, but each player's club must be identifiable as their own.
You might be surprised to learn that if, for whatever reason, you don't require 14 clubs, you can carry fewer clubs. There is no lower limit on how many clubs a golfer is allowed to use on the golf course. Therefore, while it wouldn't be practical, you could complete the entire course with just one club.


If you are on the course and decide that you require more clubs, so long as you have fewer than 14 clubs currently with you, you are free to add more clubs, regardless of what point you are at on the course.
For example, if you have 9 clubs but decide you need some more, you can add up to 5 without facing a penalty.
The choice of golf clubs you take with you on a course is completely up to you. Carrying 2 drivers, for example, will not count as a penalty - so long as there are no more than 14 clubs in total in your golf bag.


One of the most notable and infamous golfing mistakes involving golf equipment occured during the 2001 Open Championship at Royal Lytham and St Anne's, when Ian Woosnam discovered he had 15 clubs in his bag.

When he realised his caddie had miscalculated how many golf clubs he had, Woosnam threw his club across the tee but was still given a two-stroke penalty. Somewhat amazingly, he still managed to finish in third place.

As for Woosnam's caddie, he was allowed to keep his job.


Don't forget, if you need a change of golf gear, Glenmuir has everything you could possibly need, from
men's
and
women's
clothing to accessories, golf equipment and so much more. Why not browse our website for inspiration and see for yourself how Glenmuir can have you looking and feeling your very best on the golf course?


Should I carry a 3 wood or a 5 wood?
Instead of deciding between them, why not carry both? After all, you have a maximum of 14 clubs and carrying both is ideal. No matter how well you know your course, they can always throw up some unexpected surprises, so it's a good idea to plan for these by having both types of wood available.


Can I carry 2 putters at one time?
While it is possible to carry 2 putters without penalty, it's not a recommended strategy. This is because putting is already challenging, and with an additional putter, it could lead to overcomplicating something that is difficult enough with one club!


Can you ask a golfer what club they used?
When in a golf tournament, you are not allowed to ask a golfer what type of club they have used or might use. However, during a casual game, generally speaking, this rule doesn't apply and is not often taken into consideration, and the clubs that each person is using can be shared openly.


While it might not be something you spend a considerable amount of time thinking about, the number of golf clubs you carry with you during a game is of vital importance if you don't want to suffer an unnecessary penalty on the green.
While 14 clubs is the maximum number allowed on a course, there is no minimum number of clubs allowed, so if 14 clubs is too much for your game, feel free to take fewer.
But, it's definitely recommended that you don't leave yourself too short as courses can always throw up some unexpected shots, choose your clubs wisely to avoid causing yourself overly difficult shots.