Table of Contents
Let's be honest; the game of golf has an unfair reputation regarding fashion. For a while now - too long - we've been caricatured as fuddy-duddies, donning vanilla-hued slacks and uninspiring polos to complain bitterly about the weather.
While the old guard still exists, there is an increasing demand for golf clothing to look and feel cool, providing us with confidence and composure when hitting that all-important shot. And summertime golfing is no different.
What makes the difference in the summer months, however, is the temperature and the sun. In this heat, it's not always easy to decide what to wear when hitting the course. You want to look your best, but you want to feel comfortable, too. Not to mention free from sweat.
In this guide, we'll give you all the details about what you should be looking for in men's and women's clothing and accessories for the summer season.
We'll also tell you how Glenmuir is paving the way in men's and women's golfing attire.
So, without further ado, let's get into the nitty-gritty of what you should wear for a spot of golf in the sun.
We'll make a start with the gents. What you wear golfing can significantly impact your overall experience on the golf course. With that in mind, we're offering some helpful hints, tips and inspiration to make you feel cool, collected and comfortable, whether you are on the course with mates or hitting the driving range for a bit of extra practice.
Golf shirt
When selecting a golf shirt for warm weather, first consider the fabric (and the dress code - more on that later). You want a light, airy material to keep you comfy.
A good choice for warm weather is a golf shirt in cotton, performance, or merino wool. These will allow you to stay cool and won't absorb as much heat as other materials. Bright, vibrant colours are ideal for golfing in warm weather. Choose a collared shirt with a bold pattern or solid colour to stand out on the green.
The fit of your golf shirt is very important. You want a collared shirt that fits snugly but isn't too tight. It should be comfortable and allow you to move freely.
While most shirts come with a traditional collar, you can also find polo and V-neck shirts suitable for hot weather. Collarless shirts are also an option, but they don't look as classy as the other styles. Golf shirts usually have various features that can help you stay cool and dry on the course.
You can choose from a variety of long sleeve shirts, or you might prefer a short sleeve shirt with a collar. Both will pass pretty much any golf dress code. The important thing is deciding which will be most comfortable.
A long sleeve shirt with a collar will protect your arms from the sun to a large degree. That doesn't mean you should skip the sunscreen, but long sleeves will provide an extra barrier to minimize sunburn.
Whether you decide on long sleeves or short sleeves, ensure these layers come with moisture-wicking technology and built-in UV protection.
T-shirts are often considered a big no-no on most courses, so if you do feel more comfortable wearing a t-shirt, check the club's dress code before visiting.
Trousers or golf shorts
Just like with a golf shirt, when it comes to trousers, these items must allow your skin to breathe. Cotton, linen, and lightweight wool trousers are all excellent options. To look the part, wear trousers that have a loose fit, but aren't overly baggy.
Ideally, trouser legs should be tapered through the thighs and calves. Choose trousers or long pants with some stretch fabric for flexibility when swinging your golf club. If you usually wear a belt, make sure the trousers have belt loops.
Flat-front trousers look modern and stylish and are generally more flattering. Neutral colours are the most popular options, and don't be tempted to wear darks - you will bake in the sun!
Depending on the golf dress code, chinos are a good option that will keep you feeling fresh while looking stylish. They are comfortable, provide a sleek slim-fit look, and the major bonus is they are breathable. They allow a good range of movement for a fluid, uninterrupted swing.
Long trousers prevent your legs from sunburn and provide protection from minor scrapes and cuts.
You could wear shorts as part of your golf outfit. They also offer a nice range of motion and are comfy to play in.
Layers
Layers are essential - yes, even in summer. How many times have you approached the green thinking, there's not a cloud in the sky - I don't need to layer up today, only to be bitterly disappointed when the rain clouds start looming?
In keeping with the golf dress code, consider a sweater for warmth. The zip neck type is preferred by many golfers, as you can open it slightly without having to take the entire layer off.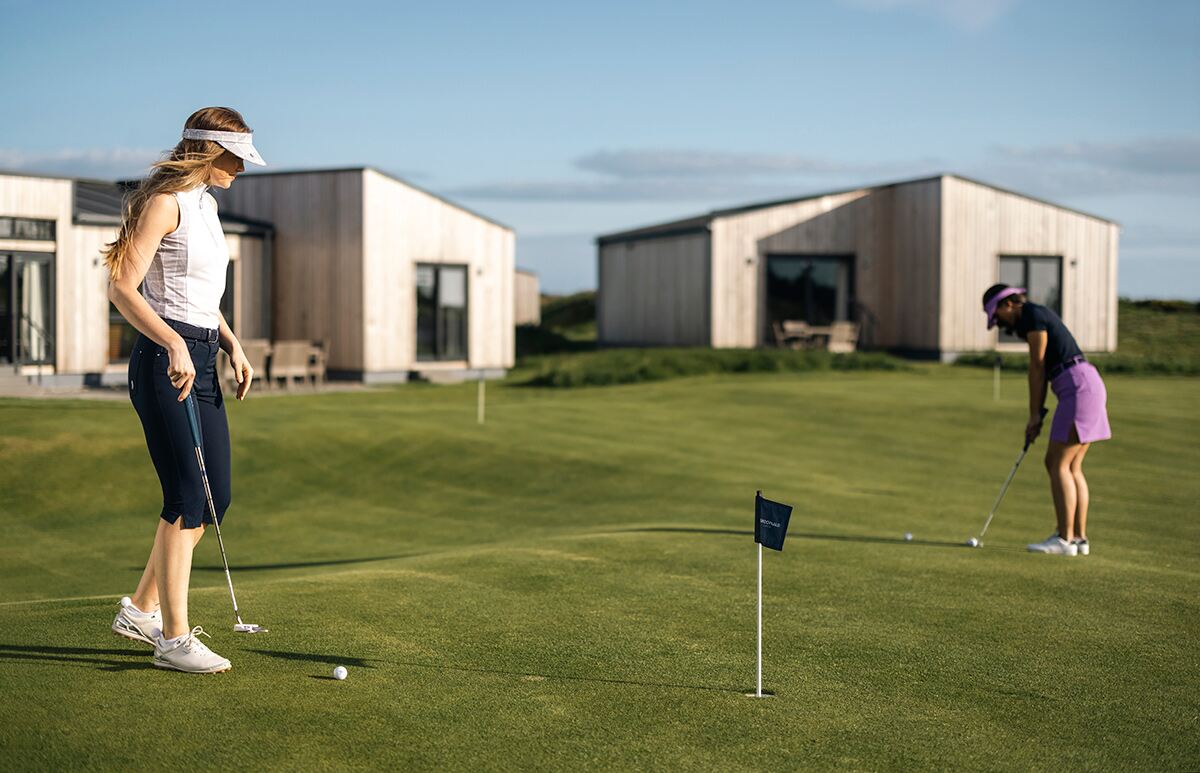 When it comes to
women's summer golf outfits
, the rules are largely the same. Case in point: think moisture-wicking, sweat-limited, breathable clothes, so you can put your all into your game without overheating.
Shirts
Shirts are often the most important article of clothing for golf apparel in high temperatures. Choose the right shirt for summer, and you'll enjoy the game without getting drenched in sweat or sunburnt. Shirts should be made of lightweight, breathable fabric and fit comfortably, allowing the golfer to move freely and stay cool during play.
The most popular summer shirts for women are polo shirts, and the classic short sleeve collared shirt. This is primarily because they are both stylish and functional and pass the golf dress code of almost all clubs.
Polo shirts come in a huge range of styles and colours, allowing golfers to express themselves while also looking well put-together. A collared shirt can have long or short sleeves, giving you a range of fashion choices and different degrees of protection against the sun.
Just like most men, many female golfers prefer a breathable material such as cotton or performance to wear on the course. These fabrics help to keep the golfer cool, even on the hottest days, whether at home in the UK or somewhere warm abroad. Choose UV-resistant shirts to minimise potential sunburn.
Popular colours for women's golf outfits include white, light blue and grey. Of course, there are brighter colours (think pink, green, or yellow), which can add a fun splash of colour. All colours fit in with a formal dress code and are perfectly acceptable.
Trousers/golf skirts/skorts/golf shorts
If you want to wear trousers, choose a comfortable pair made from linen, cotton or breathable synthetic material.
Capris or pedal pushers are similar to trousers but shorter, ending just below the knee. They provide coverage and comfort on the golf course and come in many styles and colours. They are specially designed to move with the wearer and many women find them ideal for the sport.
However, if the temperature is scorching, you may want to wear pedal pushers or a skort. Ensure these come to the knee to fit with the golf dress code of your club. Again, light-coloured, synthetic materials will keep you feeling fresh for a long day in the sun.
A skort looks like a skirt on the outside but has golf shorts underneath. This is usually the best option for avoiding embarrassment on the golf course. A skort should be moisture-wicking, which will help prevent sweating that can cause a skirt or skort to ride up at the waist.
As you may know, this can cause havoc with your swing and be pretty uncomfortable on hot and humid days.
Layers
Any golf outfit requires layers, irrespective of the weather. Layers are handy in that they can be removed when not needed, but very handy if the weather becomes cooler.
Similar to men, women should wear layers that are light and good for mobility while playing golf. We've discussed the importance of a base layer (such as a breathable shirt), but a mid-layer like a thin zip-up fleece or lightweight jumper is a great addition.
These items are usually long-sleeved, so if you want something to let air circulate around your arms but still keep your body warm, a light gilet is the perfect optional extra.
Bras
A supportive and high-quality sports bra is essential to your comfort and swing on the green. Generally speaking, you should avoid an underwired bra because it has a small chance of the metal posing a risk during an electrical storm.
Underwired bras are also slightly less comfortable for certain ladies, so select a bra that offers enough support while allowing you to play your best.
So we've covered the basics of what men and women need to look for when they wear golf clothes. Next, we will delve into footwear and other
accessories
to complete the outfit.
Golf shoes and socks
When it comes to golf in warm weather, the type of golf shoes worn by men and women can make a big difference. The best shoes for golf in warm weather should be flexible, breathable, and supportive.
For men, a quality pair of soft spike golf shoes is essential for stability, control, and keeping cool. Choose a pair of golf shoes with a lightweight upper that will help keep your feet dry regardless of how hot it is on the golf course.
The sole of your golf shoes should have a good grip and traction to keep you centred while playing. They should also have cushioning to absorb the impact of your swings on the golf course. Opt for these trainer liner golf socks which are perfect for hot weather to absorb moisture and allow your feet to breath.
For women, the same rules apply when it comes to golf shoes. Aim for breathable golf shoes with water-resistant synthetic uppers.
Men and women should look for golf shoes with an extra cushioning layer in the heel and arch area for extra comfort. This will help to reduce fatigue and prevent injuries to the feet.
Hats
While there is no obligation to wear hats or visors, these are valuable accessories you shouldn't do without. With the sun blaring into your face, it isn't always easy to line up your shot correctly. Not having protection from the sun can affect your gameplay.
Keeping the sun off your head will go a long way to protecting you from sunburn and help you not to overheat.
Caps are great, as are wide-brimmed hats, many of which have moisture-wicking capabilities. There are also hats created with technology, such as Rayosan, which will reflect UVA and UVB rays.
If you are concerned about sweating, look for hats with an absorbent sweatband, which is a great way to stop perspiration from getting into your eyes or running down your face on those hot days.
If you don't want a hat, think about a visor that will protect your eyes and limit glare. The obvious downside to these, however, is that they will only go so far in giving your head effective protection from the sun.
Sunglasses
While sunglasses are not mandatory, consider investing in a good-quality pair if you plan to spend time on the golf course when it's sunny and sweltering.
Sunglasses provide a variety of benefits:
Protection from UV rays: Wearing sunglasses while playing golf will protect your eyes from the sun's harmful UV rays. These rays can damage your eyes and increase the risk of cataracts and other eye conditions.

Improved vision: Wearing sunglasses will help you see clearly in bright sunlight and reduce bothersome glare. This can help you focus on your golf swing.

Prevent squinting: Squinting in the sun can cause headaches and fatigue and even make you feel pretty grumpy. With sunglasses, you can keep your eyes open and focus on the ball without squinting.

Improved style: Wearing the right pair of sunglasses can add to your overall aesthetic and make you look great on the green.
Golf gloves
Golf gloves are a necessary piece of equipment for many golfers. They provide a secure grip on the club and protect the hands from blisters and calluses. Any golfer who has been in the game for a while will tell you that blisters on your hands (never mind your feet) can pose painful problems.
Gloves can also help improve a golfer's performance, as a firm grip on the club is one of the most important elements of a good golf swing. These accessories come in a variety of styles and sizes. Choosing the right glove for you depends on your specific needs and preferences.
When selecting gloves for the summer, look at their material. Most gloves are made of leather, which is durable and breathable. There are also synthetic leather gloves available, which can provide comfort and a solid grip. The downside of these is that they may not last as long as a leather glove.
While gloves are optional, if you are serious about your game, you should strongly consider this investment.
Waterproofs
Whether you're golfing abroad or here in the UK, there's usually a chance of a little (or a lot) of rain, even when the sun is shining. With that, it's important to consider all your options if the weather decides to take a turn for the worse. Consider bringing a
waterproof, zip-up jacket
for an optional layer if it becomes cold.
Golf towel
A golf towel
is a must for brushing away pesky sweat from your face, neck and brow. Consider bringing several towels with you, especially if you are golfing during the hottest parts of the day.
Sunscreen
Sunscreen is a must when golfing in the summer months. However, you may be surprised to learn that it really should also be worn any time you are on the green - regardless of the weather.
Even on the most miserable-looking days, the sun's rays can still get through clouds and damage your skin. Sunscreen will protect your skin from UV rays and avoid burns. Wearing sunscreen on the golf course will also help to prevent age spots and premature wrinkles.
Bug repellent
Wherever you golf, be it somewhere warm and exotic like Dubai or the awe-inspiring Scottish Highlands, one thing is for certain: there will be something (usually small, winged and unassuming looking) waiting to take a bite - or several - out of your bare skin.
For this reason, ensure you wear some repellent to deter midges and mosquitos. This is often especially necessary in the summer months when your legs are vulnerable to attack as you make your way through the rough searching for your lost ball.
After the winter break, why not consider investing in some new golf balls? Now is the best time to consider your upcoming performance, so if your balls are looking a little worse for wear, it's time for an upgrade.
Golf balls
After the winter break, why not consider investing in some
new golf balls
? Now is the best time to consider your upcoming performance, so if your balls are looking a little worse for wear, it's time for an upgrade.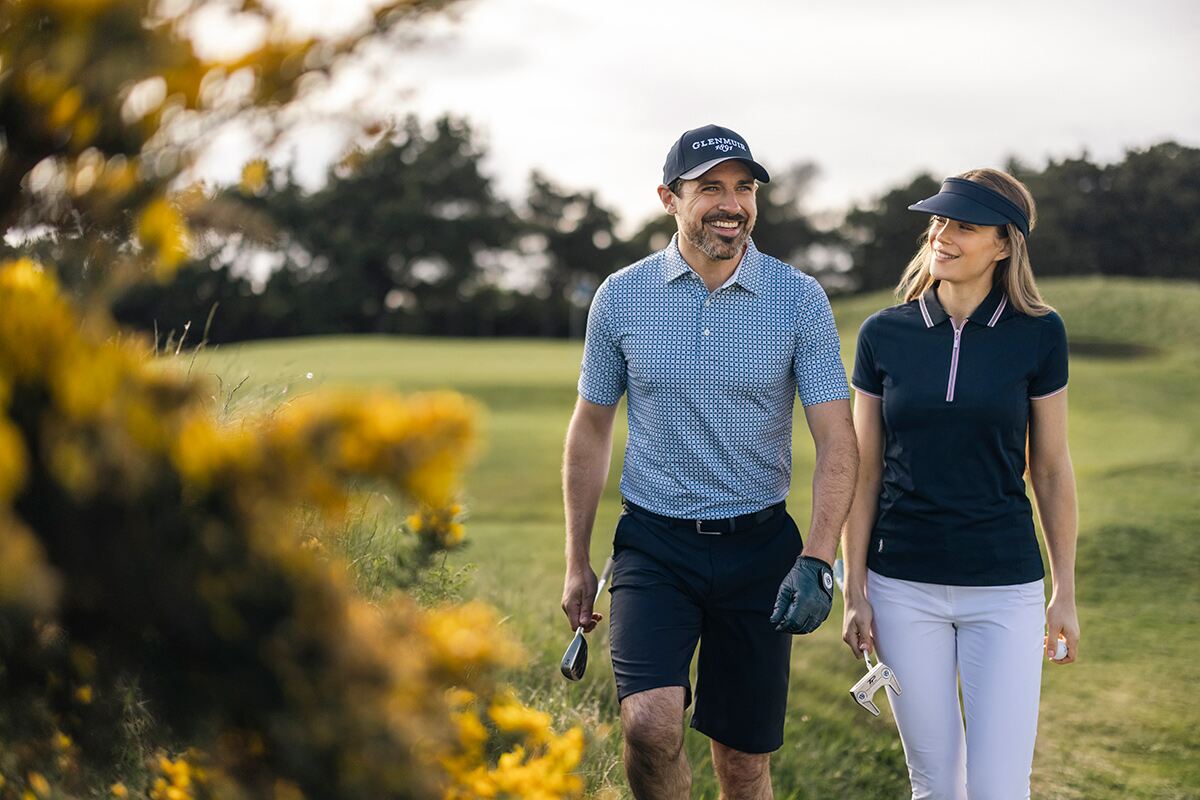 Many golf clubs still have a dress code to maintain a certain level of decorum and etiquette, both on the golf course and in the clubhouse.
A golf dress code was traditionally used to create an atmosphere of professionalism and respect. This is quite important for a sport that requires such dedication and skill as golf.
Additionally, some clubs want to ensure that their members and guests dress in a manner that reflects well on the club and its members.
Typical golf dress code rules
While each golf course is different, a few golf dress code rules generally apply to most golf clubs. Bear these in mind when choosing clothes for the summer months:
All members, guests and visitors must wear smart and appropriate attire.

Trousers or golf shorts should be tailored and mid-length. You should never wear shorts that are too short.

Shirts must have collars and must be tucked in.

Sleeveless shirts are not permitted.

Shoes must be golf shoes or smart and clean sports shoes.

Jackets or jumpers should be smart and appropriate for the time of year.

Hats and caps should be removed when indoors and at all times when in the clubhouse.

Tracksuits, shell suits, sportswear and sportswear-style clothing are not permitted.

No form of inappropriate or offensive clothing is permitted.
What you definitely should not wear golfing
While many golf clubs are becoming increasingly relaxed when it comes to what men and women can wear on their golf courses, there are still, generally speaking, some BIG no-nos. These include the following:
Jeans or denim of any kind

Cut-off shorts or 'short' shorts

T-shirts or tank tops (some courses may permit you to wear a t-shirt - check the dress code before arriving)

Sweatpants or other non-golf apparel

Flip-flops, sandals, or open-toed shoes

Athletic apparel such as running shorts or leggings

Baseball caps without the bill facing forward

Sweatshirts or hoodies

Non-collared shirts or blouses

Jewellery, such as earrings, necklaces, or charms
Golf clothes should be all about comfort. In the summer months, choose light, breathable fabrics with a fit and style you are happy with. It's also really important to accessorise wisely with hats and socks that will allow you to keep your cool no matter what the weather - and golf course - throws at you.
Below is a list of key factors to keep in mind when choosing the right golf clothes for warmer weather. These will also keep you within the limits of a golf dress code.
Comfort
First and foremost, when you wear golf clothes, they should be comfortable to wear, walk and play in. Look for lightweight, moisture-wicking fabrics, such as cotton, polyester, and nylon, to keep you cool, dry and feeling your best on the course.
Style
Choose the clothes you like. Consider your personal style and the golf dress code at your club when selecting shirts and pants. If you wear golfing clothes that don't suit your taste, you aren't going to feel comfortable on the golf course.
This can also affect your gameplay. Being self-conscious on the green because you are wearing something that isn't "you" will ruin what is meant to be a fun, exciting experience.
Fit
This might sound obvious, but you'd be surprised to learn just how many men and women order golf clothing online and end up with the incorrect size. Know your measurements and check the product description before placing an order. You need the correct fit that allows for a range of fluid motion.
Quality
Get the very best value for your money. Poor quality clothing may be cheaper initially, but ultimately, it can end up costing you more to regularly replace golf shirts or golf shorts that aren't up to standard.
High quality doesn't always mean a high price tag, however. At Glenmuir, we are dedicated to providing premium quality golfing attire at prices that won't break the bank.
Price
It's a good idea to have a firm idea of how much you are willing to spend in mind before shopping. This will help you not to overspend and potentially go over budget for golf shoes, clothing and accessories.
It isn't just clothing choice that affects how protected and comfortable you'll be on the course. Consider these other tips to keep you cool on the green:
Use umbrellas: Invest in a good quality umbrella that can provide you with some shade when it's too hot. If you're playing with a group, make sure to coordinate so that at least one person has an umbrella.

Take breaks: Take frequent breaks during your round to stay cool. Make sure to find some shade and drink plenty of water during these breaks.

Eat light: Avoid eating heavy meals during your round, as this can make you feel sluggish and tired. Instead, opt for light snacks such as fruit.

Bring water: Staying hydrated is an essential part of staying cool on the golf course. Make sure to bring at least one water bottle with you to stay hydrated throughout your round.
With a strong emphasis on both style and performance, Glenmuir offers an unparalleled selection of golf clothing and accessories for both men and women.
From polos and trousers to lightweight sweaters and waterproof jackets, Glenmuir has something for every single golfer, whether you are an amateur or pro! Our extensive selection of performance and lifestyle apparel ensures that your game is never hindered by weather conditions or uncomfortable clothes.
With performance fabrics that work hard to keep you cool and dry, and styles for on the course and off, Glenmuir has something for everyone. Plus, Glenmuir offers an array of accessories to complete any look.
Whether you're playing a casual round at your local course with friends, or are competing in a competition, Glenmuir has you covered. We understand that golfers want to look and feel great while playing. Therefore, we are committed to providing you with only the best high-quality golfing fashions.
Are there any particular fabrics to avoid when choosing golf clothing for the summer?
Avoid wearing wool and thick cotton, as they can quickly make you feel hot and itchy while playing. And - a very important consideration - don't wear anything too tight! This can make your game of golf uncomfortable and restrict your movement.
Should I wear a vest while playing golf in the summer?
A vest can be a great addition to your golf outfit in the summer if you want to add a little extra protection against the sun. Look for a light, breathable vest made of fabrics like cotton or linen.
Do I need an undershirt as part of a golf outfit?
Whether on the driving range or golf course, an undershirt is a great way to avoid unsightly sweat marks in warmer weather. What's even better is they are virtually invisible under your clothes.
Is it necessary to wear a belt when playing golf in the summer?
If you usually wear a belt when playing golf, the summer months shouldn't be an exception. Look for a lightweight, breathable belt that won't be heavy or cumbersome.
Can I skip wearing socks in the summer months?
You should definitely not skip wearing socks, especially in the summer.
Moisture-wicking socks create a layer between your foot and the shoe, minimising the risk of friction caused by grass, dirt, debris, and, yes, you guessed it, sweat. Going without socks will not make your feet cooler - just grubbier.
Does colour matter when it comes to choosing golf clothes for the hotter months?
Yes, colour does matter when it comes to choosing golf clothes for the hotter months. Darker colours absorb and retain more heat and keep you warm. Wearing light colours such as white, light blues and beiges can help to keep you comfortable.
Additionally, breathable fabrics such as cotton can help you stay cool in hotter temperatures.
What type of underpants should be worn on a hot day on the golf course?
The same rules apply to underwear as they do to other items of clothing in warm weather. Choose breathable underwear specifically designed for sports. Moisture-wicking fabrics are best, as they will help keep you cool and dry.
Golf isn't an easy sport - no doubt about that. Nor is choosing the correct clothing, it seems, especially when you have to factor in high temperatures and sunshine.
Thankfully, however, you should now have a solid understanding of what clothes you need to look and feel your very best on the golf course.
The key thing to remember is to choose clothes that are light, breathable, moisture-wicking, and, just as importantly, comfortable to wear. And just make sure you adhere to the golf dress code at your chosen golf course.
See on you the golf course.