Table of Contents
We all want to look and feel good on the golf course, but sometimes the weather has a way of making this more of a challenge than it should be.
Whether you're braving wet and windy conditions, or are on the golf course while the sun is shining, the clothes you wear will make a difference to how you perform.
Winter weather allows us to layer up with stylish waterproofs to protect us from the rain. But what happens in hot weather, when the sun is beating down and you can't stop sweating?
Many people might just give up and wait for a cooler day. This guide, however, may help; as we take you through all the best golf shirts for sweaty golfers.
That's right - we have the lowdown on the best golf polo shirt options to keep you looking and feeling fresh, even when you want to play golf in warm weather.
Whether you're enjoying a round of golf at home or are on holiday in a warm climate and visiting a local golf course, you might be worried about playing in extreme heat.
If you're enjoying an activity like golf and the weather is warm, you will probably sweat.
Some clothes can make this a bit of an issue - garments can become weighed down by sweat, exacerbating the problem.
Finding a golf shirt that is suitable for warm weather will minimise sweating and help to keep you cool and dry.
Looking for the following benefits in golf clothing will improve your confidence and performance.

UV protection
Golf shirts offering protection from harmful UV rays are ideal for those looking to play golf in summer or in sunnier climates.
The amount of UVA and UVA radiation that reaches your skin through a piece of fabric is measured by the UPF (Ultraviolet Protection Factor).
A fabric with a UPF factor of 50 will only allow 1/50th of the sun's rays to penetrate it. To put it another way, it offers 98% protection from the harmful effects of harsh sun.
Fabrics offering UPF sun protection include shiny silk or satin polyester materials, as they reflect the radiation.
The natural linings in unbleached cotton absorb UV. Plus, chemical UV absorbers can be manufactured and used to treat clothing.

Moisture-wicking material
Have you ever wondered how some workout clothes keep you feeling dry and comfortable during physical activities? It's all thanks to moisture-wicking fabrics!
To put it simply, moisture-wicking is the process of moving moisture away from your skin. The main purpose of these fabrics is to rapidly transfer sweat to the fabric's surface to dry fast and prevent your sweat from soaking through. This is similar to how a candle wick will draw up melted wax and evaporate it.
These materials help to keep you warm in winter and cool during summer. They're often made from specially engineered synthetic materials like polyester, polypropylene, spandex or nylon.
Sweating is healthy - it's your body's natural way of regulating your temperature. Unfortunately, if sweat stays on your skin it isn't effective for cooling down.
| | |
| --- | --- |
| | |
Wool is a great natural alternative to synthetic materials. It can wick moisture and doesn't develop strong odours like synthetics. Apart from that, it's also more eco-friendly - a huge plus.
Blended-wicking fabrics can also be effective. Merino wool and bamboo blends combine the benefits of synthetic and natural materials: dealing with sweat and preventing strong body odours.
Some people refer to these fabrics as "breathable," because they allow air in and sweat out. Breathable showerproof and waterproof fabrics have tiny pores that let water vapour molecules escape, but stop raindrops from soaking through.
Capillary pressure is the force responsible for moving moisture through a fabric. It uses surface tension and narrow gaps or pores.
The term "permeability" refers to a fabric's ability to transport moisture. This depends on the size of the spaces and the connections within them.
Various factors will affect a fabric's wicking properties. A yarn twist, contact angle, knit or weave can all make a difference.
Polyester and nylon have a similar chemistry to plastic: they are water-resistant and also won't absorb water. The droplets stay on the fabric's surface and move around by running along the weave until they reach the outside of the fabric and evaporate.
A moisture-wicking golf shirt won't absorb moisture. This means they dry faster during heavy sweating. This makes them perfect as a single layer for sports activities, allowing sweat to evaporate directly into the air.
Avoid wearing cotton for strenuous training, as it absorbs sweat and can become heavy and uncomfortable during workouts. If you're engaging in low-impact exercises like yoga or golf, however, cotton blends can still be a suitable option.
Breathability
Breathable golf shirts allow air to pass through them. The benefit of a breathable golf shirt is that it helps sweat evaporate quickly and keeps the body cool.
Materials like linen, cotton, and rayon are great examples of breathable fabrics. They're lightweight options that minimise the risk of overheating.
Breathable fabrics are not always moisture-wicking, but the best moisture-wicking fabrics are also breathable.
Fabric type
Golf polos are a great choice for people who are prone to sweating, as they are typically short-sleeved and come in a range of materials.
Different golf polo shirt materials offer a range of benefits. Some of the best fabrics for golf apparel include:
Synthetic Blends
There are many synthetic materials that are suitable for hot weather. These include:
Polyester

Polypropylene

Nylon

Micro modal
Synthetic blends typically make use of quick-drying technology. Unfortunately, there is a risk that odours can stay trapped, making it possible for bacteria to grow.
The breathability of these fabrics will vary depending on the weave. Synthetic blends can often be less comfortable than natural fibres.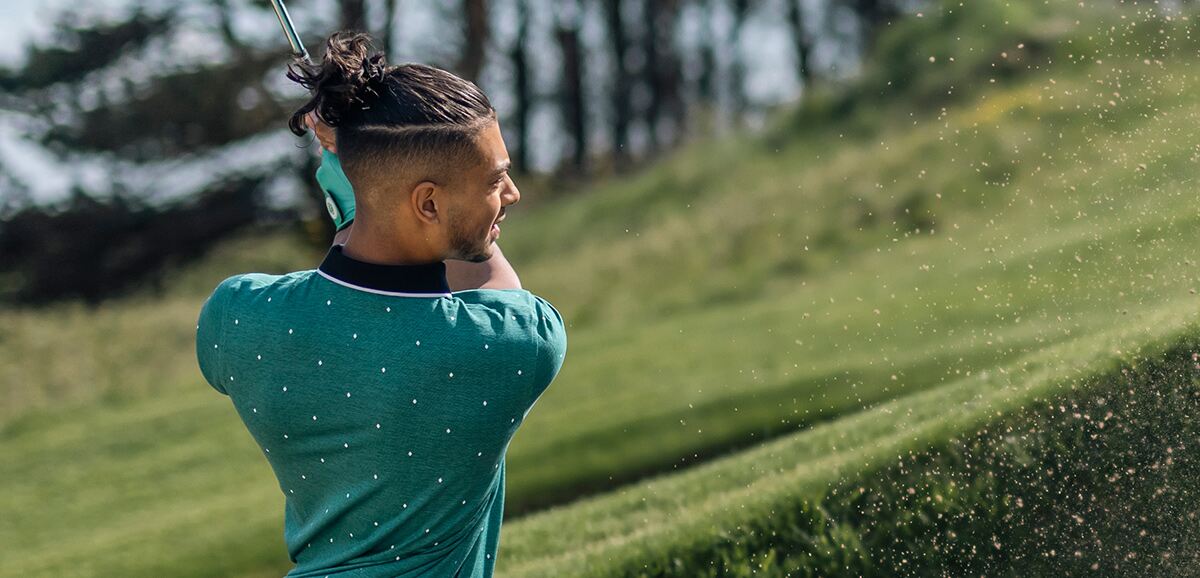 Cotton
Cotton golf shirts are popular - a classic choice. They look stylish and feel great on the course, but can be a poor choice for golfers who sweat a lot in the heat.
Why? 100% cotton golf shirts are not moisture-wicking. They are breathable, but the polo shirt will still absorb sweat and won't dry quickly.
This can lead to a heavy polo shirt that clings to the body. Not a look we would recommend.
Cotton blends are a great way to incorporate moisture-wicking or sweat-wicking technology into stylish and comfortable golf shirts.
Merino Wool
Merino wool is one of our favourite materials - it's breathable and light. This natural fabric also wicks moisture from the body, helping you dry quickly.
It's a popular choice for luxury sportswear that doesn't retain odours, making it ideal for golf shirts and clothing.
Performance
Our selection of performance wear is ideal for golf on sunny days. Our collection of performance golf polo shirts offers +40 UV protection, breathability, and moisture-wicking capabilities.
The performance polyester and elastane blend gives you a good range of motion that will help with your swing.
You'll also have a great choice of styles and colours to stay cool (and look cool) on the course.
Bamboo viscose
Bamboo is another natural fibre that is naturally wicking. It's great for regulating body temperature, making it an ideal year-round golf shirt.
We also carry a great range of bamboo socks that are perfect for keeping your feet dry and comfortable on hot days.
Bamboo is also a sustainable material. This means that you can combine looking cool and staying cool with helping the planet.
Will a long-sleeve polo shirt hinder my golf swing?
A golf polo shirt with long sleeves will not hinder your swing - as long as it fits well. While long sleeves will be slightly warmer than a short sleeve golf shirt, it will protect your forearms from the sun's rays.
Do all golf polo shirts have moisture-wicking technology?
Not as a rule, but the best golf polo shirts are made from moisture-wicking fabric. Investing in a breathable golf shirt with wicking properties will make a significant difference on warm days.
How do I find golf attire that performs well in heat and adheres to golf club dress codes?
The Glenmuir men's and ladies' golf wear collection offers an extensive choice of the best golf shirts for hot weather. You can look and feel great under the hot sun without worrying about sweat.
How can I prevent a sweaty golf shirt from smelling?
Some synthetic materials retain odours, while natural materials like bamboo or merino wool generally do not. Some modern blends also contain anti-odour technology.
The best golf shirts for hot weather combine the ability to wick moisture from the body with breathability. Additional sun protection is also beneficial for warm-weather golfing.