Table of Contents
The polo shirt's history is rich and complex. It spans the globe, taking in a diverse set of cultural references along the way; from Indian aristocratic jerseys, to British buttoned collar shirts, to the modern incarnation born on the polo grounds of a Maltese estate.
Throughout its evolution, the polo shirt has achieved the improbable, by simultaneously crossing divides – whether that be ethnic, cultural or class – it has become a universal and eternal statement within the history of clothing that permeates across the generations.
It's inclusive of all who wear it, with a subtle touch of exclusive elegance ingeniously combined with its functional practicality.
The polo shirt is ubiquitous. Versatile and unyielding to fickle fashion trends – iconic.
In this article, we'll delve into the world of the golf polo shirt, its unique characteristics, and how it differs from a regular polo shirt.
A golf polo shirt, as described in its title, is a polo shirt designed specifically with the golf course in mind. But, it doesn't have to be worn with specific golf attire – such as golf shoes or golf trousers, for instance.
It can be worn with a suit, or even jeans and trainers – more versatile than a tennis shirt and even your average polo shirt.
Often chosen as part of a smart dress code, golf polos create a sleek, sophisticated look without the stuffiness typically associated with other formal wear.
They have the classic polo shirt look but with some noticeable tweaks – especially when it comes to their fabric.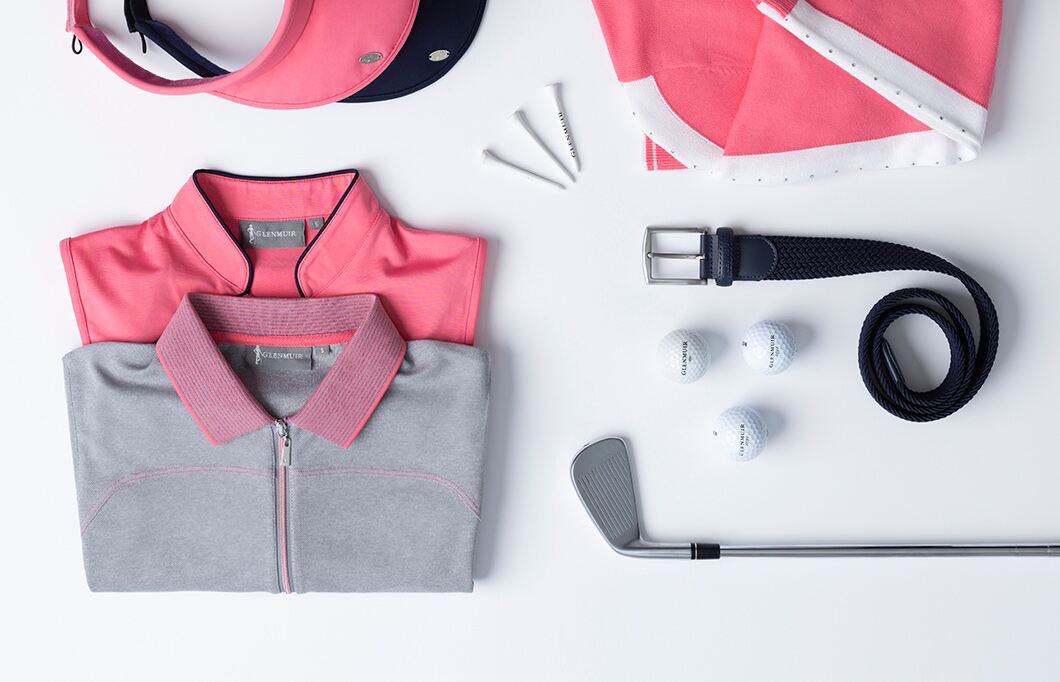 A distinguishing quality you may notice at first with golf polos is the feel of their refined, high-quality fabric in comparison to your regular polo shirt. This is due to their intricately woven material – typically cotton, cotton blends or polyester-based – being treated through a process known as mercerisation.
This process is designed to improve the durability of the fibres and to ensure colour retention even after repeated wear. It's also key in ensuring the fabric maintains its integrity and adaptability, especially for climatic changes – essential in assisting your performance on the green.
Every detail counts when it comes to setting your focus and performing in any field of life; and out on the green it's certainly no different.
This includes things as obvious as the golf clubs themselves, right down to the gloves, tees, outerwear accessories – and yes – the colour of your shirt. When expressing yourself on the front nine, a plain garment could equal a plain performance!
Black, navy blue, green, grey, pink, purple, red, white and yellow – to name just a few! Golf shirts come in a wide variety, so you'll be hard-pressed not to find a colour that will match your style – and your golf shoes!
Breathable
Golf shirts naturally have breathability carefully built into them, courtesy of their moisture-wicking attributes.
Intricate capillary networks are meticulously constructed into the fibres, drawing sweat upwards and away from your body. This means the shirt is quick-drying and has enhanced ventilation.
Lightweight
Due to their high-quality material, superior build and intelligent design, golf shirts feel as light as a feather when worn, in comparison to standard cotton-made shirts.
Unrestricting
The durable and robust fabric used in golf polo shirts is also highly flexible and allows for a complete range of motion while you're in full swing.
UV protection
Being open to all the elements is par for the course... when you're out on the course.
With reactive thermoregulation technology and essential UV protection built into the fibres, along with an anti-curl collar that stays firm and protects your neck when the heat is on, you'll be positively assured while wearing your golf shirt in the great outdoors.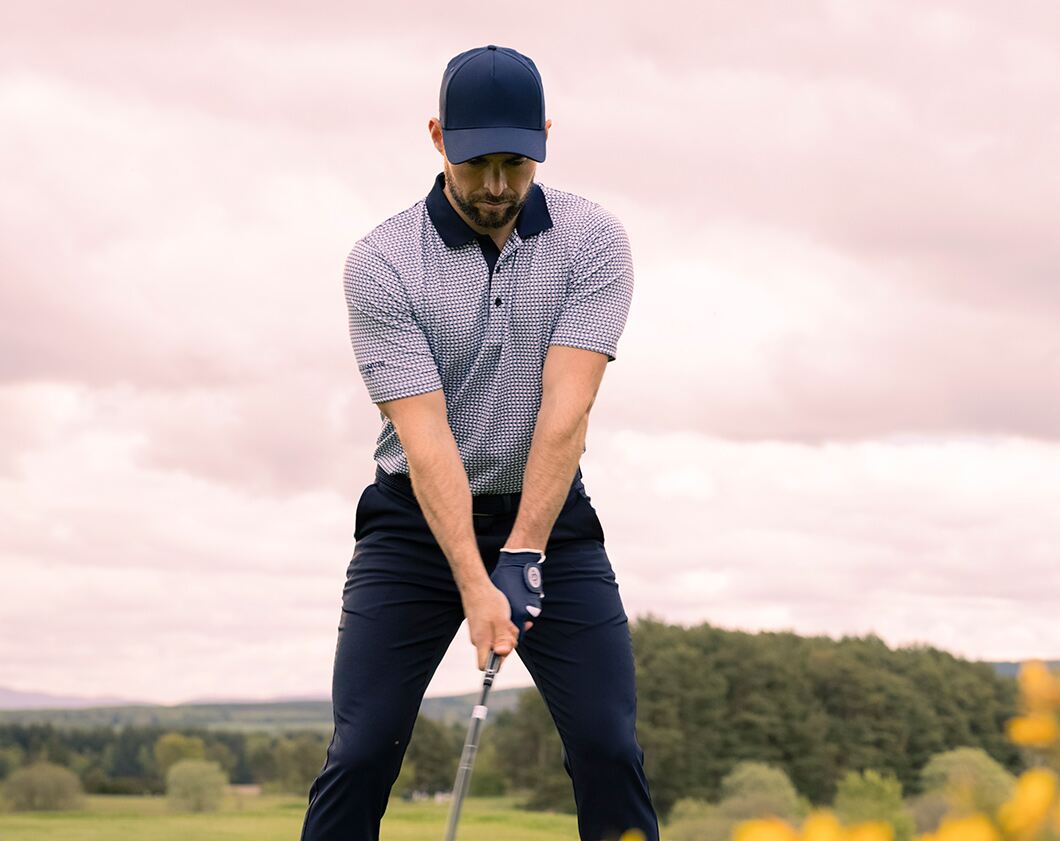 Longer sleeves
Although both naturally have short sleeves, manufacturers set the length of these shirts slightly differently.
The untrained eye might not be able to spot the subtle differences between polo shirts and golf polo shirts. Golf polos tend to be slightly longer than standard polo shirts, around 1 or 2 centimetres closer to the elbow.
More formal
When attending an event that calls for a smarter look, golf shirts remain the preferred choice due to their pronounced button-down form, which complements formal wear, and their finer quality silkier material, providing superior comfort and ergonomic stretch.
Materials
With an equal emphasis on sleek style, desired functionality, and superior performance, golf shirts and golf polos don't prescribe to a traditional clothing approach.
They represent a gold standard of design excellence, with their mercerised cotton construction, providing much-improved comfort during performance. A golf shirt will help you sail majestically down the fairway, whereas other garments may result in your poor golf balls being sliced in to the bunker!
Looser and less restricting
Regular cotton shirts can typically lack the necessary flexibility due to their weighted focus on a tailored slim-fit style rather than functionality. On the other hand, golf shirts tend to focus on a distinct blend of the two, providing a loose fit allowing for greater stretch capacity (even more so than how a standard polo shirt fits you).
What makes a golf shirt a golf shirt?
Golfers are required to assess their shirts slightly differently, in comparison to normal polo shirts, and should carefully deliberate their purchase – more so than they would for their gloves, tees, golf balls and other outerwear accessories!
A golf shirt sets itself apart by abandoning a more traditional clothing approach. Its effective use of revolutionary fabrics and painstaking attention to detail help to achieve its key fundamental goals: maximum comfort, excellent durability, enhanced flexibility, outstanding performance and distinct style.
Can you wear any polo for golf?
Theoretically, yes, but in practice, it's not that simple, as many standard polo shirts do not have a button-up collar like a golf shirt does. A minor detail, yes, but depending on the particular golf club or resort you're attending, it could fall short of the desired standard of clothing etiquette.
Are polo shirts the best option for golfing attire?
Regular polo shirts aren't strictly designed with the back nine in mind, meaning they can lack the advanced attributes required to perform at a high level, something only a golf polo can provide.
Choosing the right shirt, and clothing in general, can be tricky in any aspect of life, whether that be for a business-casual bespoke event, or simply clothing that offers you maximum comfort during your work and play.
When it comes to polo shirts, it's important to thoroughly research and look to expertise to ensure you're purchasing a unique item of distinctive clothing that exhibits the highest standards of modern craft and design.