Table of Contents
There's nothing quite like hitting the golf course on a beautiful day. But making sure you don't overheat and feel uncomfortable while playing golf in sunny weather is a different story entirely.
Your golf clothes can make a significant difference to your performance at the best of times. They are even more important in hot weather.
In this guide, we'll take you through the best clothing for golf in sunny weather so you can concentrate on topping up your tan and enjoying your round.

Before we look at the best golf clothing options for sunny days, let's take a look at some important considerations you will have to make.
Dress Code
The dress code in different golf courses will differ. It is important that you familiarise yourself with the rules and regulations before playing.
Dress codes are designed by golf clubs to maintain high standards of etiquette and decorum on the course and in clubhouses.
Some of the most common dress code rules include:
Smart attire that is appropriate for the course

Trousers or mid-length shorts

Collared shirt (short or long sleeve shirts)

Shirts must be tucked in

Golf shoes or smart sports shoes

No headwear is to be worn in the clubhouse

Sports or leisure-style clothing is prohibited

No large branding or slogans
To ensure you do not fall foul of dress code regulations, you can check online or call the club before visiting.
Fit
Ordering your golf clothes online gives you a great choice, just look at the extensive collection available here at Glenmuir!
If you like to shop online, it's important that you know your measurements and check those of the items that interest you. Item descriptions will also give you more information on the fit and style.
Loose clothing is best suited for hot weather. However, you don't want your clothes to be too loose or it may hinder your movement or comfort. A relatively snug fit that isn't tight will allow breathability and won't hinder your golf swing.

Style
When choosing your style, you should consider what you like and what aligns with club rules.
Light colours are a great choice for good weather. Not only does their style suit the weather, but lighter clothing won't absorb as much heat.
Comfort
One of the most important aspects of golf clothing is comfort. You need good mobility to perfect your swing, and you will also want to look good while doing it!
The correct fit and materials will play a big part in your comfort on a hot day.
Material
Getting hot and sweaty during your round will affect your comfort and performance. Investing in moisture-wicking fabrics to help you keep dry and cool is a great idea.
Light materials like nylon, polyester, and cotton are great options. The Glenmuir men's performance and ladies' performance collections provide a great selection of golf clothes. The active smart fibre used thermoregulates temperature changes and releases excess heat for a comfortable performance.
Short-sleeved collared shirts are best suited for golf on warm days. A merino wool, performance, or cotton golf shirt will help golfers stay cool in the heat.
Long sleeve men's golf shirts can help those that burn easily in the sun. This extra layer of protection will protect your skin and keep you looking smart on the golf course.
You should choose a fit that allows you to move freely without being too loose. Bright and light colours are great for summer golfing and will also help you to stay cooler.
Shirts with moisture-wicking fabric and UV protection will help you stay dry and cool.
If you want to wear a t-shirt or collarless golf shirt, you should first check whether there is a dress code that prohibits this.
Choosing a ladies' golf shirt that is suitable for sunny weather is relatively easy because of the great choice available to you.
Lightweight, breathable fabrics are best for staying cool and you'll stop you from getting burned or too sweaty.
A performance or cotton shirt is a good option. Collared polo shirts also adhere to dress codes while staying comfortable.
Women also have greater choice when it comes to sleeve length. Long and short sleeves both have their benefits, but some clubs allow women to wear sleeveless collared shirts.
Sleeveless shirts are a great choice for those that don't want to end up with noticeable tan lines where their golf shirt sleeves end.
If you choose to wear sleeveless or short sleeve shirts, be sure to apply sun protection to your arms!
Some of the most popular colours for women's gold shirts include light, pastel colours like blue, pink, and yellow. This is ideal for sunny days.
Men's golf trousers and shorts must also adhere to dress codes. They should be smart, but thankfully there are lots of lightweight options that are ideal for the heat.
Some great men's golf trouser materials include lightweight wool, cotton, and linen.
A slightly loose fit that doesn't reach the baggy stage will allow your legs to breathe and keep you looking great. Slightly flexible or stretchy trousers will help with your swing and movement.
A tapered style should result in a good fit through the thighs and down to the calves.
Dark trousers look smart but will absorb the heat more quickly than light-coloured options. Chinos are allowed in some dress codes but it is always worth checking first.
Shorts are another great option for keeping your legs cooler. However, they don't offer the same protection from the sun as trousers. If you choose shorts, make sure to check the dress codes for permitted lengths. Don't even think about short shorts, mid-length tailored shorts are usually advisable.
Women's golf apparel tends to offer a bit more choice than men's. Choosing between trousers, shorts, skirts, and skorts in warm weather is an example of the wide range available.
Choose lightweight trousers that take advantage of moisture-wicking technology. Women can also choose between full-length trousers or capris pants that fall between the knee and ankle.
Alternatively, shorts or skirts can be a great way to get some air about your legs.
As always, check the club's dress code for advised lengths. Women can also invest in skorts that combine the style of skirts with the functionality of shorts.
Sun protection is a must if your legs are exposed on sunny days.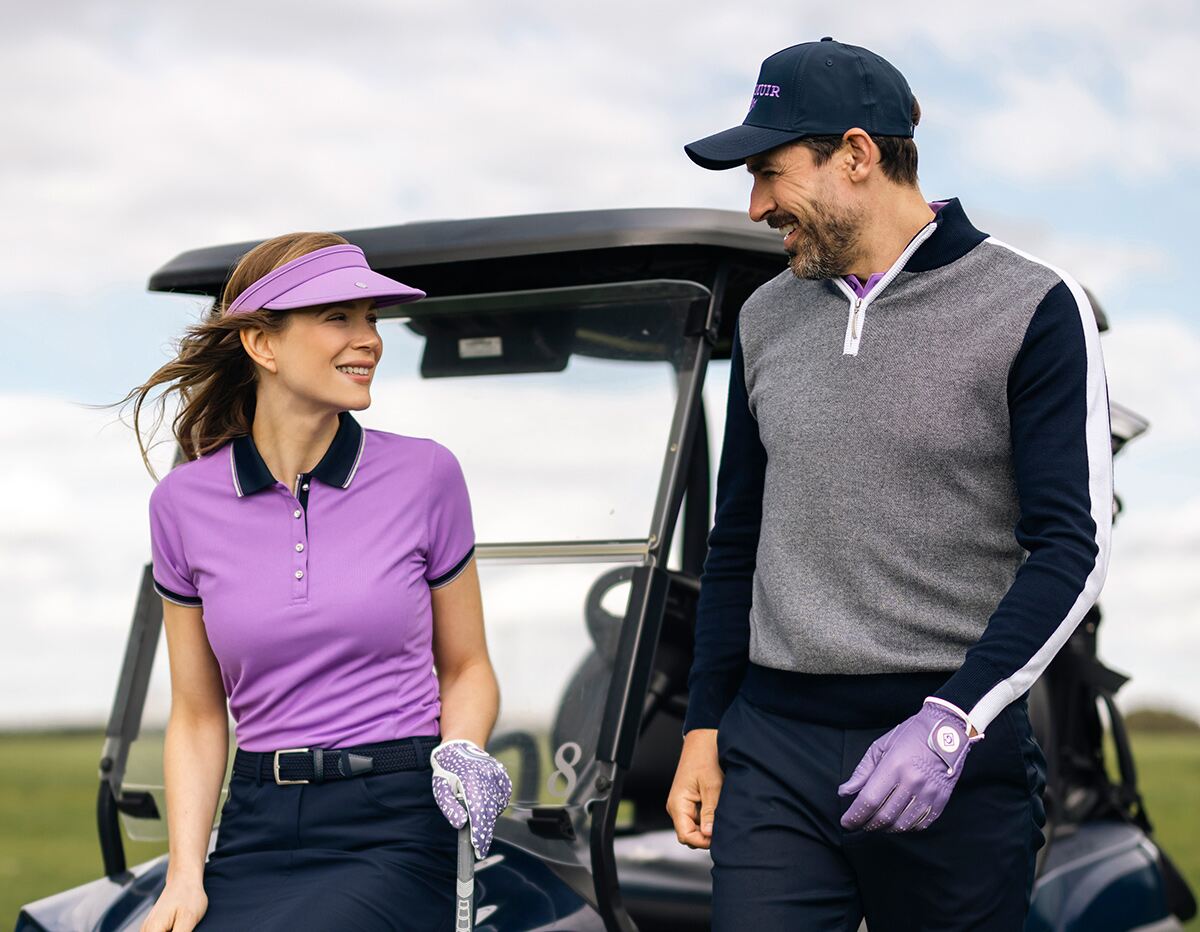 Let's take a look at the accessories that can also help you stay cool and protected from the sun.
Hats
Caps and wide-brimmed hats are great for protecting your head and face from the sun.
Reflective golf hats that protect the wearer from UVB and UVA rays are a great choice. Hats that incorporate sweatbands into the design can also minimise the risk of sweat getting in your eyes while playing.
You shouldn't neglect to apply sun protection to your neck, ears, and face. However, a hat can provide another level of protection.
If you find your head gets too hot wearing a hat but you want some glare protection, a visor could be a great choice. Alternatively, you might want to invest in a pair of sunglasses.
Sunglasses
Sunglasses are the ideal way to protect your eyes from UV rays and glare. This will improve your performance and can also minimise the risk of headaches. Plus, you'll also look great out on the green!
Socks
Some people avoid wearing socks in hot or humid weather, but this can leave your feet feeling sweaty inside your shoe.
High-quality golf socks with moisture-wicking capabilities will keep your feet dry and comfortable on the golf course.
When is the best time to play golf during the summer?
Early mornings or evenings are the best time to play golf during the summer. Try to avoid the midday heat and take advantage of lighter nights to play when it's cooler.
What else is important when playing golf on sunny days?
Using sun protection when playing golf in sunny weather is important. This will minimise the risk of burning or sun damage.
Always apply sun protection before and during your round, to ensure you are properly protected.
It is also essential that you stay well hydrated, and no, we don't mean visiting the "19th hole" for refreshments.
Some courses may have beverage carts doing the rounds, but don't rely on this. Always have a hydration plan and take water or a sports drink to refuel along the way.
What material are performance socks made from?
Glenmuir has a great selection of bamboo performance socks. This breathable material wicks moisture from the feet. This provides a dry and comfortable golfing experience.
What underwear is best for golf on hot days?
Underwear that is designed for sports and incorporates moisture-wicking fabric will help to keep you comfortable on the course.
It's easy to stay cool and look great with our great selection of lightweight and performance golf apparel for men and women.
Choosing the right golf clothes for warm weather is important. Moisture-wicking technology is a great way to ensure your clothes don't get sweaty and heavy on the golf course.
Get ready for the summer by investing in our quality range of performance golf clothes. You'll be able to make the most of the great weather in style. They might even improve your performance!