Table of Contents
If you have been invited for a round of golf with your boss, this could be your opportunity to impress them with your great ideas.
The last thing you want to do is embarrass yourself or your boss by turning up and looking completely out of place.
The first thing you should do if you are a bit rusty is head to your local driving range or putting green. Getting some practice in and blowing away the cobwebs could help you impress your boss on the course as well.
One important thing about playing golf with your boss or colleagues is to dress appropriately; you don't want to turn heads for all the wrong reasons.
Thankfully, we can help. Keep reading to learn more about styling an outfit for a game of golf with your boss. We have even included a section advising you what not to wear, and what you could wear in the clubhouse after your game.
Playing golf with your boss is a big step for anyone. It shows that they like you enough to want to spend time with you away from work. It could even be that they want to discuss certain projects or your career.
Making sure you look the part will help to improve their image of you even further. The following recommendations will help you look and feel great on the course. After all, impressing the boss is one thing, but you still want to be comfortable.
The first thing you should do is check to see if the golf club has any dress codes that you should adhere to. In some cases, women are required to wear skirts rather than shorts, for example.
Here is a rundown of suitable clothing for golf with your boss:
Tops
Some golfers go for bright patterned clothing. It is best to avoid this and go for smarter, more neutral tones. A collared shirt is typically required on the course.
A collared polo shirt is a great option because it looks smart and won't hinder your game, and you will have a wide choice of materials to choose from.
The weather will play a big part in what will be best for you. In poorer weather, you will most likely wear a jumper or light jacket.
If you choose to layer, make sure the fabrics work well with one another. or are great options to keep you warm and comfortable.
You should always ensure that your clothing goes well together and avoid anything too bright or distracting. Collared shirts will be visible below sweaters so complementing or matching colours is a must.
You can use your first game of golf with your boss to get a better idea of what they are wearing. You should never copy them directly, but you can take inspiration.
Always ensure your clothes are clean and ironed. If you regularly play golf, make sure yours aren't mud splattered.
Bottoms
Well-tailored smart trousers will make an outfit and a belt can help to make it even smarter, so trousers with belt loops are advisable. You can also wear chinos on many courses.
Shorts are also an option if it is too warm for golf trousers. Shorts should be smart and long enough to cover your kneecaps. You should avoid the hem of your shorts going either 4 inches above or below the knee.
Women will have the option of wearing skirts as well. Skirt/shorts combinations (skorts) are perfect for sports like golf. Alternatively, capri pants are a good option. These are cropped, slim trousers that are also suitable for women to wear on many golf courses.
Shoes
Wearing golf shoes is not a requirement at every golf course, but it will improve your look and performance. Spiked golf shoes are designed to improve grip on the course and this can be useful in wet or slick conditions. Spikeless golf shoes have a style similar to regular trainers. They are a light and comfortable option that is great for less formal settings. Golf shoes are available in a range of materials that are suitable for wet or hot conditions.
Spikeless shoes typically have rubber-dimpled or studded soles that aren't too dissimilar to astroturf football trainers. Spiked golf shoes are probably best for wet conditions, but spikeless alternatives can also perform well. Spikeless golf shoes are a more versatile option. They can be worn away from the course or on the driving range as well, should your boss want to hit some balls before the game.
Check with the course what kind of footwear is acceptable. Some courses may have concerns about the damage that spikes can cause. Soft spike or spikeless shoes are most commonly worn in these cases.
Outerwear
Anyone that has played golf will know that outerwear is essential for certain conditions, so investing in breathable, waterproof outerwear can be a great option. This will protect you from the rain and ensure you don't overheat or get too sweaty.
A great tip for finding the best outerwear for your needs is to try it on in the golf shop; this way you can practice your swing and ensure you still get full flexibility without restrictions.
Neutral or dark-coloured outerwear is a good idea for playing golf with your boss. Brighter jackets are more accepted when it comes to golf clothes, but don't wear anything too garish.
Accessories
You cannot go wrong with some classics while on the greens with your boss.
Caps and visors can be worn to keep the sun from your eyes and golf gloves will help your game. They are designed to help with grip and should be worn on the weaker hand. Customarily just one glove is worn.
If you choose to wear golf clothes, you won't go too far wrong by avoiding bright garish colours or designs. Huge logos should also be avoided.
You want to look smart and understated on your first game of golf with your boss, so checking with the course about dress codes before should also help.
Here are some items you should avoid:
Denim

Sports shirts

T-shirts

Tracksuits

Short shorts

Three-quarter-length shorts

Drawstring shorts

Sundresses

Short skirts

Gym wear

Steel spikes

Heeled shoes

Sandals

Flip flops

Large hats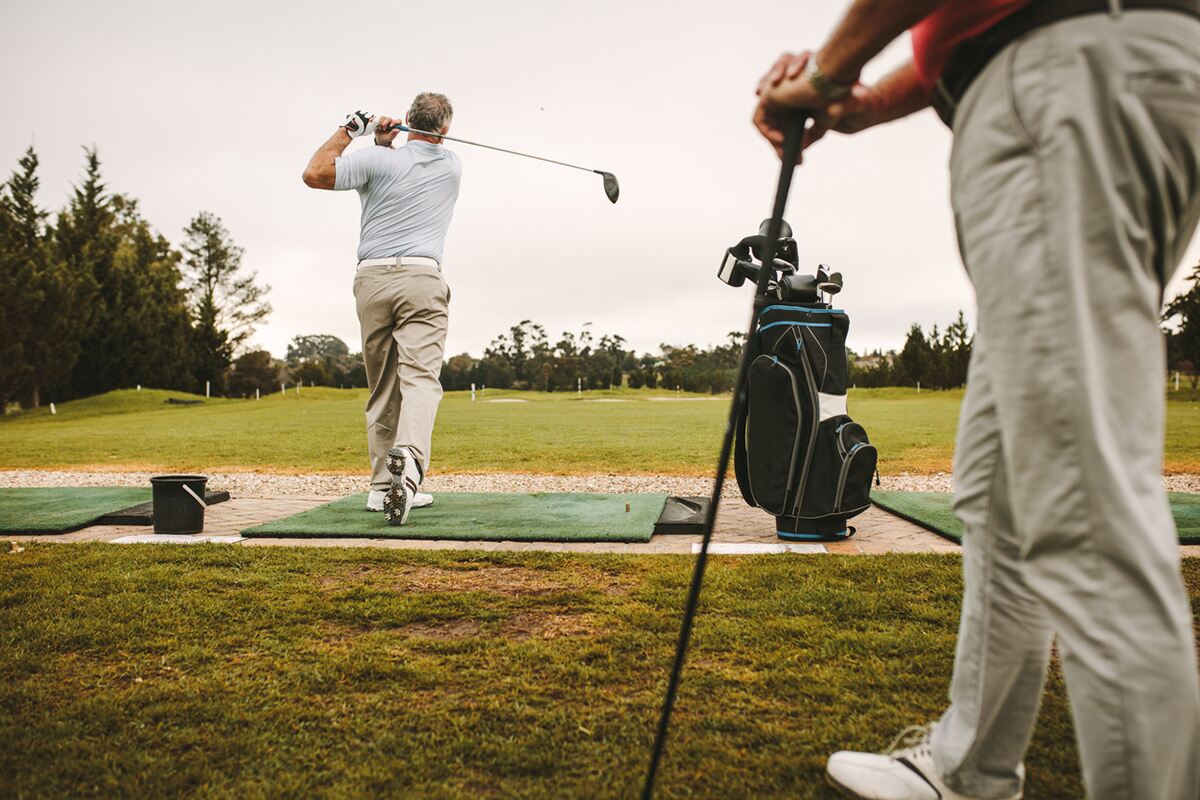 If the course has a clubhouse you will want to make sure you have the right attire for this. Your will typically be suitable, but could be a bit sweaty after the game.
If the course has shower facilities, make sure you bring a smart change of clothes similar to your golf wear.
Your footwear will be important and bringing smart footwear that matches your clothing for the clubhouse is advised.
Playing golf with your boss will give you the opportunity to show your best side, including how you cope under pressure and your general conduct. Reacting well to setbacks and replacing divots are just two ways that you can display good conduct on the golf course.
Brushing up on golf course etiquette is advisable before you hit the course, this way you will know what is expected of you. You could also research the golf club before you visit, this will let you know about their facilities and you will get a better idea of how formal a setting it will be.
At Glenmuir, we provide an extensive range of golf attire for men and women. We have provided high-quality golf attire to amateurs and professionals since 1891.
Explore our wide selection of to find the perfect outfit for your first game with your boss.
Will the golf course have a dress code?
Many golf courses will have a dress code. This can be checked online before you visit or by calling ahead.
Do I have to wear golf shoes on a golf course?
The right footwear is essential for performance. It must also adhere to the club's dress code and match your other clothing.
Visiting the club beforehand and seeing what other people are wearing can provide inspiration, or give the club a call.
Can I wear shorts to a golf club?
You can wear shorts to a golf club. Shorts should be smart and it is best to avoid drawstring shorts or gym wear.
What hats are suitable for a golf course?
Avoid large hats as they are not built for performance. Have you ever seen golfers in cowboy hats at your local course?
Baseball caps can be suitable, but specially designed are your best bet. They should not carry large slogans and avoid ones showing sports affiliations. You should never wear caps backwards on the course.
Making a good impression when playing golf with your boss is important. Try to stay away from loud colours and adhere to the golf course's dress code and code of conduct.
Your golfing outfit should help you present the correct impression to your boss. Wearing neutral, understated golf attire on your first game will help you understand what is expected of you.