Table of Contents
Choosing the best fabric for golf clothes isn't purely down to style, although that should play a part. For professional and amateur golfers to be at their best, they need comfortable clothing that performs well in different weather and allows freedom of movement.
There is a wide range of fabrics to choose from in the world of golf, and some suit specific conditions better than others. Here at Glenmuir, we believe in providing our customers with a great variety of options.
We use the best fabrics for golf to ensure all of our golf apparel is perfect for the course or clubhouse.
Finding the best golf shirt material (or any other golf garments) can be tricky. There are so many choices it is hard to know which will offer the best performance. The materials listed below are a great place to start.
A cotton golf shirt is a staple of most wardrobes. This fabric is typically soft and stretched, so it won't negatively affect your golf swing. It is breathable but can absorb moisture and take longer to dry.
We offer an extensive collection of cotton golf clothes at Glenmuir. This includes the stylish men's tartan trim polo shirt with thermoregulating fibres and an anti-curl collar. The mercerised cotton improves durability and colour retention.
Our 100% combed cotton ladies v neck sweater is another great example of the versatility of cotton. This provides the wearer with comfort and breathable performance.
Benefits of Cotton
Comfort
Cotton golf shirts are naturally soft and comfortable, this allows golfers to focus on their game as they won't be distracted.
Durable
Cotton is a durable fabric that can withstand a lot of wear. This means an investment in a cotton golf polo shirt will give the golfer a long-lasting garment.
Versatile
Cotton can be used on its own or with different fabrics to create blends with different benefits. It can also be dyed easily, making it the perfect choice for style gurus that want their outfits to match.
Different types of cotton offer different benefits. For example, Pima cotton is known for being a luxuriously soft and hard-wearing material that is ideal for comfortable golf shirts.
Low-maintenance
Cotton is easy to look after and can be machine washed or tumble-dried without the fear of it losing its shape.
Comparing lambswool with the wool of adult sheep is like comparing apples and oranges. This is because lambswool is naturally softer and warmer. This is because it must protect the lamb through the early stages of its life but hasn't had the opportunity to become coarse and tough.
Lambswool is best suited to sweaters and similar items as you will see from our men's and ladies' lambswool collections.
Benefits of Lambswool
Comfort
Lambswool is an incredibly soft and comfortable fabric. This makes it a great choice to wear on a golf course or in the clubhouse.
Warmth
Lambswool sweaters or vests have natural insulation that is created by trapped air between the fibres. This can be a great choice to help golfers stay warm in cooler temperatures.
Moisture-wicking properties
Lambswool has natural sweat-wicking abilities that will prevent the wearer from getting clammy on the course.
Breathable
As well as wicking sweat from the body, the breathable fabric can allow excess heat to escape.
Odour resistance
Natural antibacterial properties in lambswool reduce bacteria growth and minimise the risk of odours developing.
Flexible
Lambswool has a natural elasticity that allows it to be flexible without stretching out of shape or becoming damaged.
Hypoallergenic
Lambswool has natural hypoallergenic properties that make it a great choice for people with allergies or asthma.
UV protection
When you are on a golf course for hours at a time, you will be exposed to UV rays. Lambswool offers +40 UV protection against potentially harmful rays coming into contact with the body.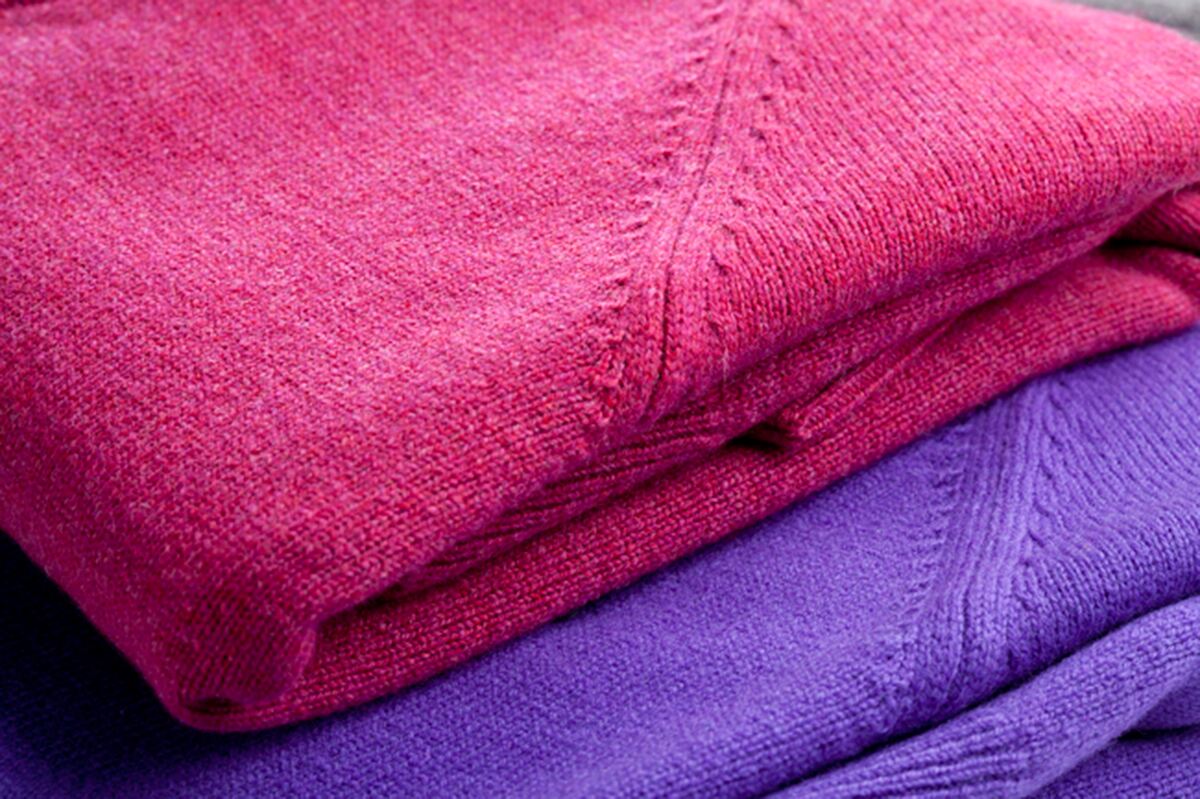 Merino wool comes from Merino sheep which are most commonly found in Australia and New Zealand. Merino wool is a high-quality, luxury material comparable to Cashmere and perfect for golf shirts and sweaters. If you are wanting to know more about merino wool for golfing, click here!
Benefits of Merino Wool
Regulates body temperature
Merino wool has excellent thermoregulatory properties. They help to keep golfers warm in cold weather and cool when it is warmer.
Moisture wicking
Merino wool also has natural moisture-wicking capabilities. This helps golfers stay cool and dry in warm conditions.
Odour resistance
The antibacterial and moisture-wicking properties of Merino wool minimise the risk of odours. This is perfect for those that love to play golf in warm conditions.
Soft and comfortable
Merino wool is comparable in softness and comfort to Cashmere. This luxury fabric combines comfort and performance to create the perfect fabric for golf clothes.
UV protection
Merino wool also boasts an impressive +40 UV protection. This means that only 1/40 or 2.5% of harmful UV rays will be able to penetrate it and reach the skin.
Allergen friendly
Merino wool is a naturally hypoallergenic material that is very unlikely to cause issues for those with skin conditions.
Durable
Merino wool is a long-lasting, durable material that will withstand the rigours of golfing.
Eco-friendly
Because Merino wool is a natural product, it is more sustainable. It is also biodegradable which makes it a more eco-friendly option.
Cashmere is widely regarded as the most popular luxury wool. It comes from specific goat breeds including Cashmere goats and Pashmina goats. It is known for its quality and rarity, and because of this, it is one of the more expensive materials you might find for golf wear.
Benefits of Cashmere
Comfort
Cashmere is famous for being one of the most comfortable luxury materials on the market. This makes it a great choice for golf polo shirts and sweaters.
Lightweight
Enjoy the warmth and insulation of this high-quality material without being weighed down. This will help with performance on the golf course.
Moisture wicking
Cashmere's natural moisture-wicking capabilities are perfect for keeping golfers cool and dry while playing.
Odour resistance
Like Merino wool, Cashmere has natural odour resistance which is ideal for sweaty golfers on hot days.
Style
If you want to look and feel great on the golf course or in the clubhouse, Cashmere is the perfect choice.
Glenmuir's performance clothing combines contemporary style with the latest technologies for the best golf shirts, jackets, mid-layers, and more.
You can explore the extensive men's performance wear collection for the latest style and designs. Our ladies' performance collection is also full of fashionable and functional golf clothing.
Performance polyester and elastane blends result in comfortable and stylish clothing that regulates body temperature. They also wick moisture from the body and provide a full range of movement.
These collections will allow you to excel on the golf course while looking great.
Benefits of Performance Fabric
4-way stretch
The 4-way stretch of Glenmuir performance fabric gives golfers fluid movement with no restrictions.
Thermoregulation
Smart fibre technology allows excess heat to be released and keeps the wearer cool and comfortable.
Low maintenance
This machine-washable fabric is easy to care for and rarely even needs to be ironed thanks to its wrinkle-free properties.
Lightweight
As well as allowing good movement, the lightweight fabric will make your round of golf as easy as a walk in the park.
| | |
| --- | --- |
| | |
What material is good for golf trousers in the winter?
Glenmuir's technical water-repellent performance trousers are the perfect solution for winter golf.
They are made from 96% performance polyester and boast a thermal brushed fleece lining. The finish is designed to repel wind and water while the 4% elastane allows freedom of movement for the perfect form.
What is the best fabric for golf socks?
A bamboo blend is perfect for golf socks because it provides the wearer with comfort and performance. Bamboo acts as a naturally moisture wicking material that helps to draw moisture away from the foot., and a great sustainable material that grows with the use of pesticides making it very environmentally friendly.
Why should I look for men's golf shirts made from a lightweight fabric?
Typically, the best golf shirts are made from lightweight fabrics with moisture-wicking properties. This is because golfers must enjoy a full range of motion while playing.
The mark of the best golf shirt is that the wearer doesn't even know they are wearing it. This is because it is not heavy and does not hinder performance.
The ability of your golf shirt to wick sweat will also keep you cool and dry, this is essential for a comfortable round and concentration.
Finding the best golf shirts and materials doesn't have to be a struggle. With more than 130 years of experience in creating ladies' and men's golf shirts, you know you are in good hands.
Explore our different collections and materials for a range of high-quality golf polo shirts, sweaters, outerwear, and trousers.
The materials we have explored today each have their benefits. Our performance range is designed to keep you looking and feeling great while enjoying the competitive advantage of wearing high-quality golf clothes.